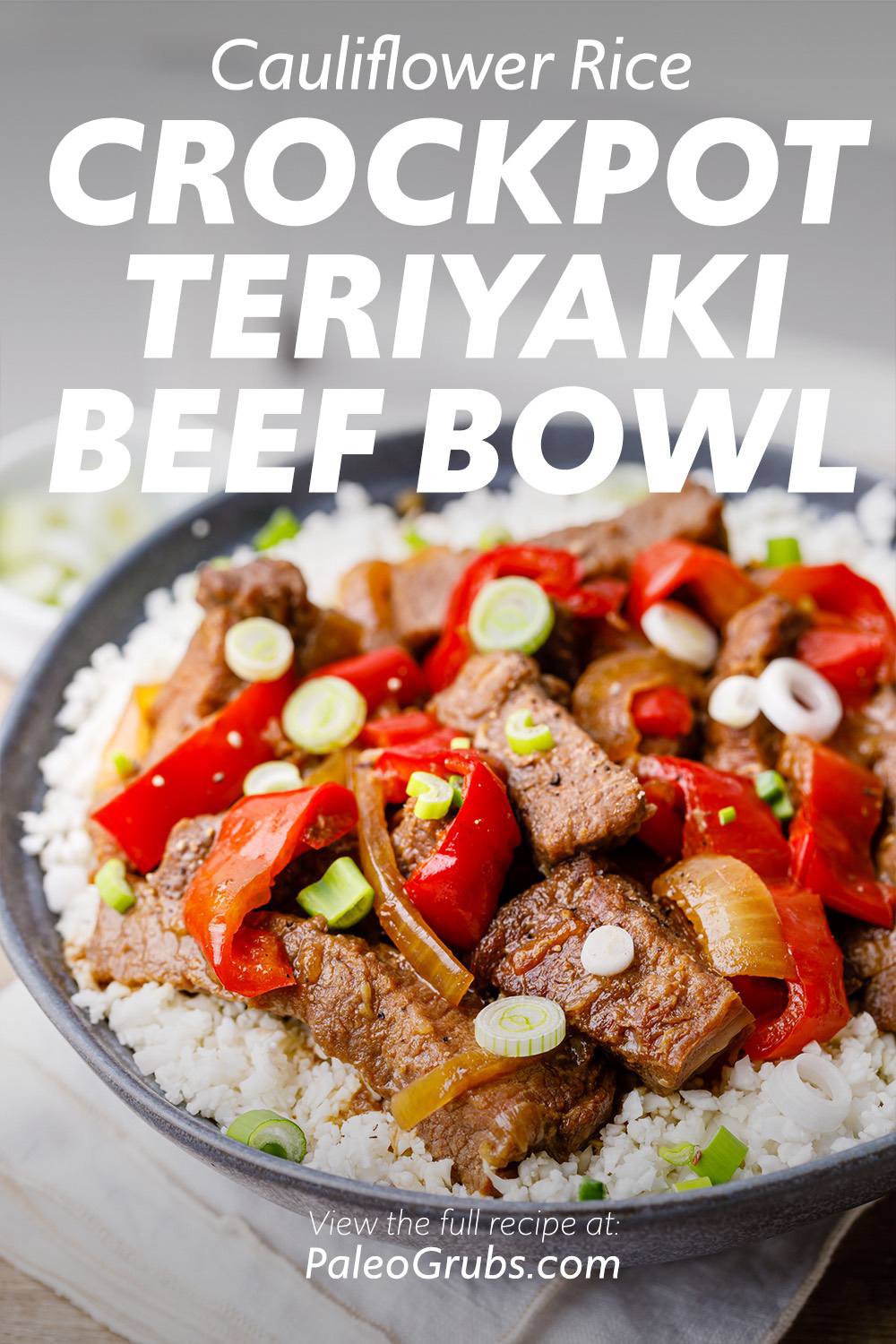 You'll be surprised how quick and easy this recipe is considering how tasty it turns out!
With key ingredients like fresh ginger and coconut aminos, you'll be getting your Asian fix without all the unnecessary ingredients typically used in many traditional Asian recipes.
(You may also like: Cilantro Cauliflower Rice Chicken Bowl)
---
For the teriyaki beef:

1 ½ pounds flank steak, cut ½-inch strips
1 ½ tbsp honey
½ cup coconut aminos
2 garlic cloves, minced
½ inch fresh ginger, peeled and grated
½ tsp paleo fish sauce (optional)
1 tsp sesame oil
2 bell peppers cut into strips
1 medium onion, sliced
2 tbsp arrowroot flour
salt, black pepper to taste

For the cauliflower rice:

4 cups cauliflower florets, riced
4 garlic cloves, minced
1 spring onion, sliced plus extra for serving
2 tbsp olive oil
salt, black pepper to taste
Add the steak, onion, garlic and ginger to a crockpot.
In a small bowl combine the honey, coconut aminos, fish sauce (if using), sesame oil and arrowroot flour.
Add the mixture to a crockpot and mix to combine.
Cover with a lid and cook on LOW for 5 hours.
Remove the lid.
Stir in the bell peppers.
Cover with a lid and cook for 30 more minutes.
Taste and season to taste with salt and black pepper.
To make the cauliflower rice, heat the olive oil in a large skillet.
Add the minced garlic and cook for one minute.
Add the cauliflower rice.
Season with salt and black pepper to taste.
Stir to combine.
Cover with a lid and cook for 3-5 minutes.
Stir in the sliced scallion.
Remove from the heat.
Divide the cauliflower rice between bowls.
Top with teriyaki beef.
Sprinkle with extra sliced spring onion and serve.