Roasted Paleo Stuffed Bell Peppers
17
Stuffed peppers have never failed me. I have made them for my parents, even for my boyfriend's parents. That's how confident I am that this recipe will turn out well and be enjoyed by any guests I have over for dinner. One stuffed pepper usually measures out to be enough for one person, especially if you serve it with a salad or a side dish like roasted broccoli. Bell peppers stuffed with turkey and zucchini prove to be a filling and delicious dinner choice.
The first step in preparing the peppers is to partially cook the peppers by boiling them for 5 minutes. Cut off the tops first (no one wants that part) and take out the seeds, then place in boiling water. After 5 minutes drain the peppers by placing them on a paper towel upside-down.
Zucchini adds some bulk to the filling, along with onion and ground turkey or beef. The onions and meat are cooked together first, and then the zucchini is added into the pan. I usually just use tomato paste to stir everything together, but you could also chop up some fresh tomatoes for the filling as well.
Finally you get to stuff the peppers with the meat mixture and bake them for 15 minutes. Hint- you could be roasting some broccoli at the same time for your side dish. As an added bonus, there is usually a little extra meat filling that doesn't fit into the peppers. I find this is good for snacking on while the peppers are baking, or to save for leftovers. Once the peppers are done, simply top with fresh parsley and serve.
One of my resolutions this year is to have more dinner parties, and you can bet that stuffed peppers will be one of the dishes served. This recipe, which I have made time and again, is always near the top of my list when I am looking for a tasty and satisfying meal.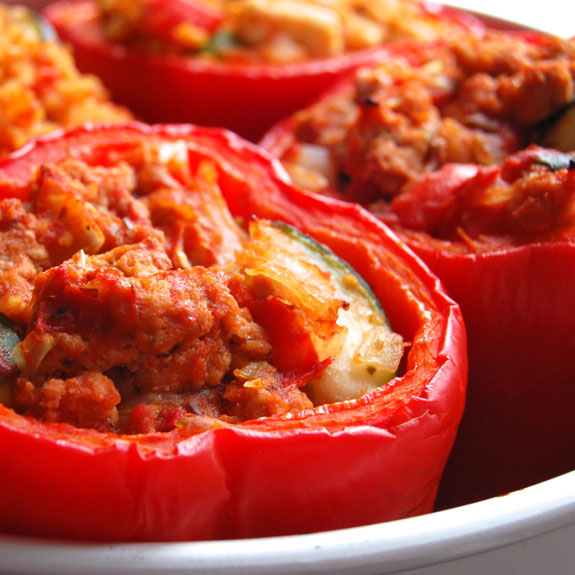 Roasted Paleo Stuffed Bell Peppers
2014-02-11 11:18:29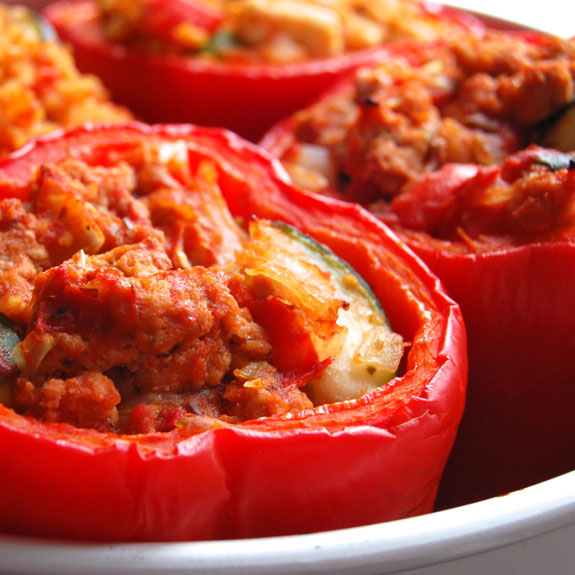 Ingredients
5 large bell peppers
1 tbsp virgin coconut oil, available here
1/2 large onion, diced
1 tsp dried organic oregano, available here
1/2 tsp organic sea salt, available here
1 lb. ground turkey
1 large zucchini, halved and diced
3 tbsp paleo-friendly tomato paste, available here
organic ground black pepper, to taste, available here
Fresh parsley, for serving
Instructions
Preheat the oven to 350 degrees F. Coat a small baking dish with coconut oil spray. Bring a large pot of water to a boil. Cut the stems and very top of the peppers off, removing the seeds. Place in boiling water for 4-5 minutes. Remove from the water and drain face-down on a paper towel.
Heat the coconut oil in a large nonstick pan over medium heat. Add in the onion. Sauté for 3-4 minutes until the onion begins to soften. Stir in the ground turkey, oregano, salt, and pepper and cook until turkey is browned. Add the zucchini to the skillet as the turkey finishes cooking. Cook everything together until the zucchini is soft, and then drain any juices from the pan.
Remove the pan from heat and stir in the tomato paste. Place the peppers upright in the baking dish and spoon the meat mixture into the center of each. Bake for 15 minutes. Serve warm sprinkled with chopped parsley.
Notes
Servings: 5
Difficulty: Medium
Paleo Grubs https://paleogrubs.com/
Want more Paleo recipes? Take a look at the Paleo Grubs Book. With 470+ easy-to-prepare Paleo recipes in 17 comprehensive categories it is the only Paleo book you will ever need.
+ Make sure to sign up for our free newsletter to get our latest healthy recipes delivered weekly (it's free).