I grew up in the Midwest so that means I grew up eating casseroles. Casseroles are traditionally one-pot meals: meat, vegetables, and starches, baked all together. And what holds all that stuff together is usually the starch – noodles or mashed potatoes are probably the most common.
For more easy and comforting casseroles, try this cauliflower sausage casserole and this mexican ground beef casserole.
Casseroles are generally pretty easy to make, they are usually pretty hearty and filling, and more often than not, easy on the budget. So I was on the search for a Paleo-friendly casserole recipe that ticks all those boxes (without the starch!) when I stumbled upon this one.
One of the reasons I love this eggplant ground beef casserole recipe is that I love eggplant and I'm always looking for new ways to incorporate eggplant into dishes. Eggplants are pretty fascinating berries – yup, I said "berries" – because that's what they are.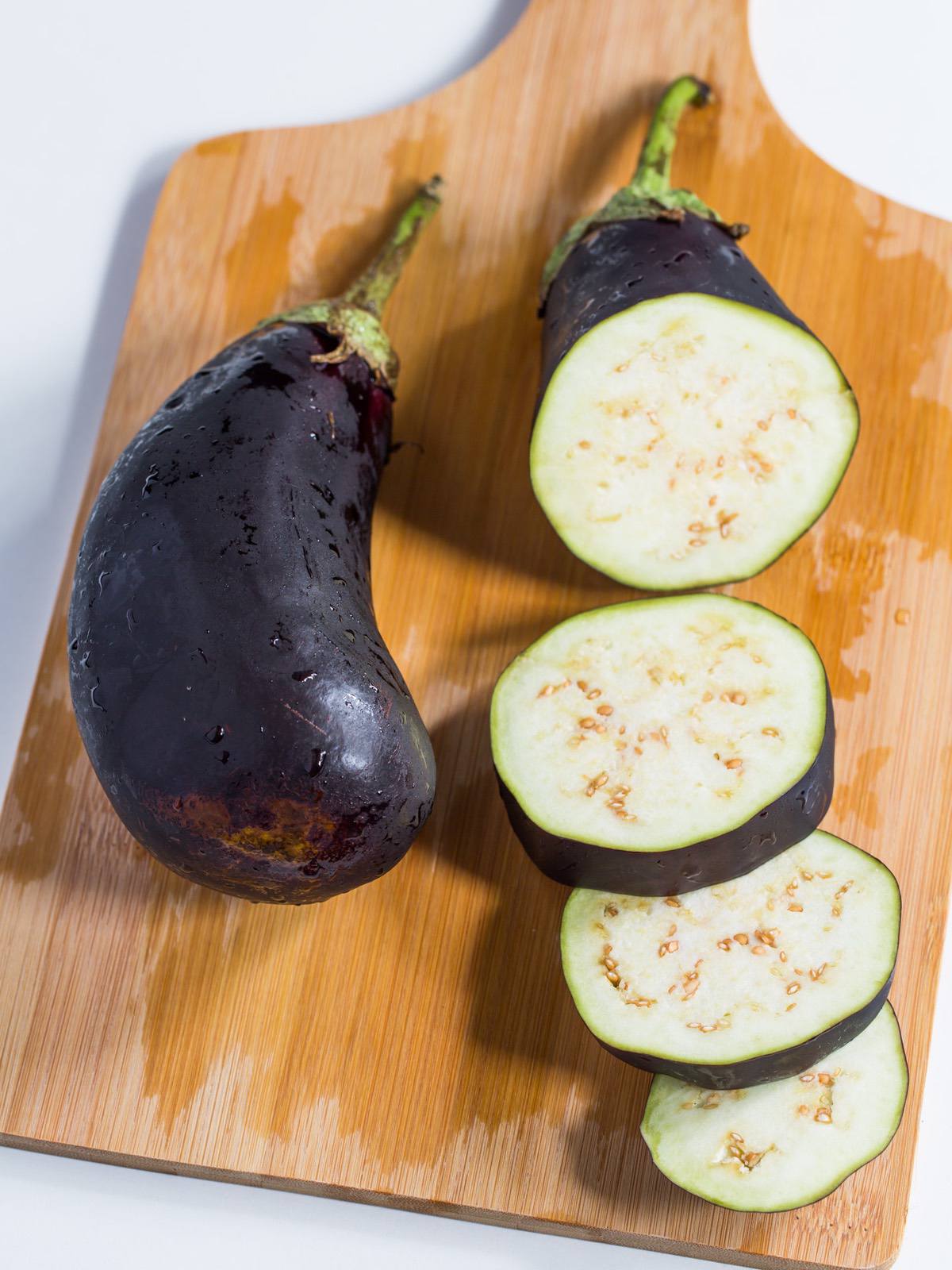 Related: Eggplant Bolognese
They are in the nightshade family and that means they are related to tomatoes, potatoes, bell peppers, and most kinds of spicy peppers. (And yes, that means that, technically speaking, all those things are berries too!)
Of course, eggplants don't taste a thing like what you might expect a berry or even a pepper to taste like. Their skin and white fleshy insides can be bland or even a bit bitter, but seeking out smaller eggplants and /or adding a bit of salt can temper that bitterness.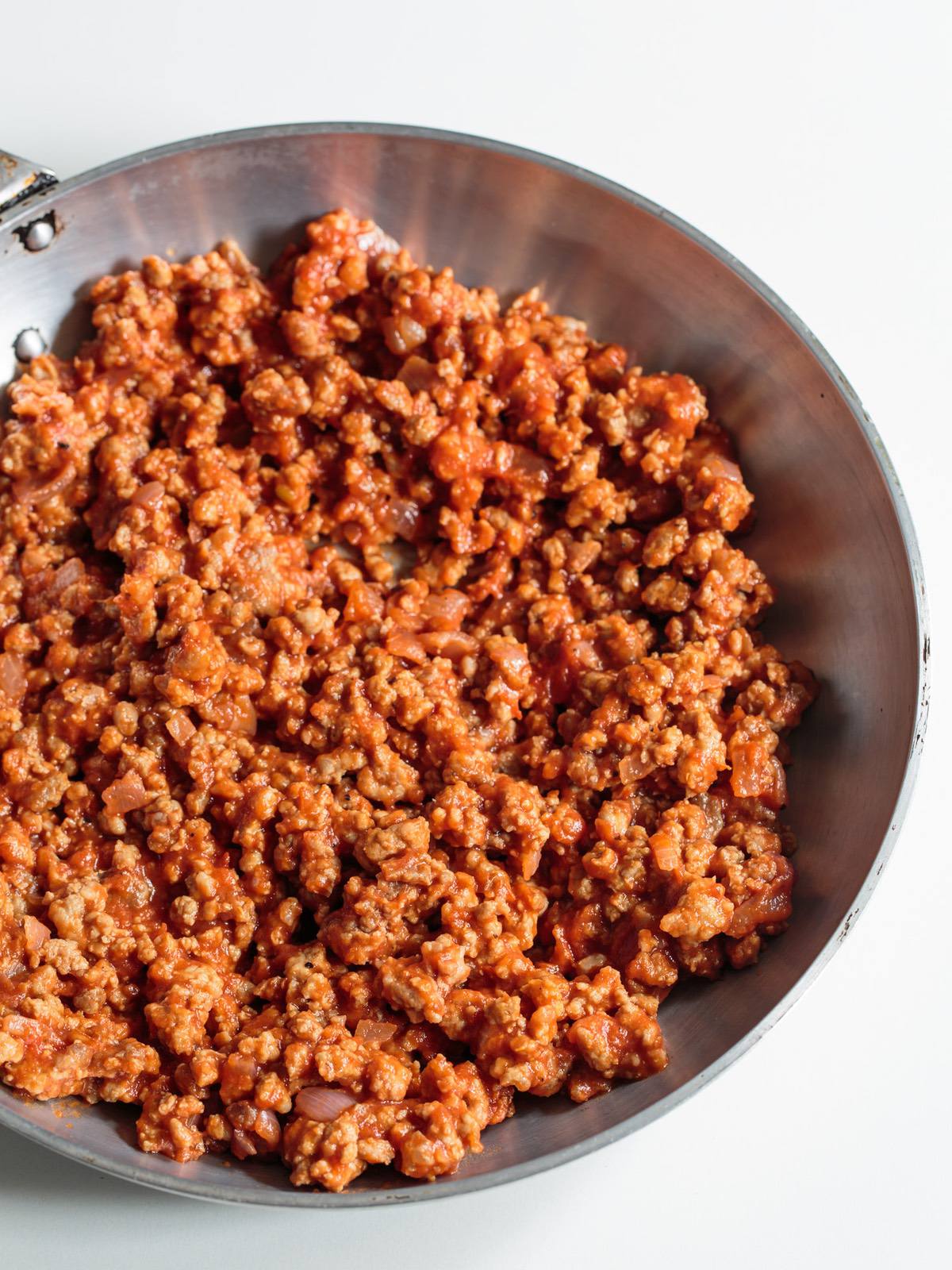 Not to worry, though – when cooked in a sauce like this recipe, you won't catch even a hint of bitter because eggplant tends to take on the flavor of what's around it so, in this dish, the eggplant will have a rich, tomatoey-beef flavor. Yum. And the good thing about a slightly bitter eggplant? That means it has more antioxidant phenolics in it. More cancer killers!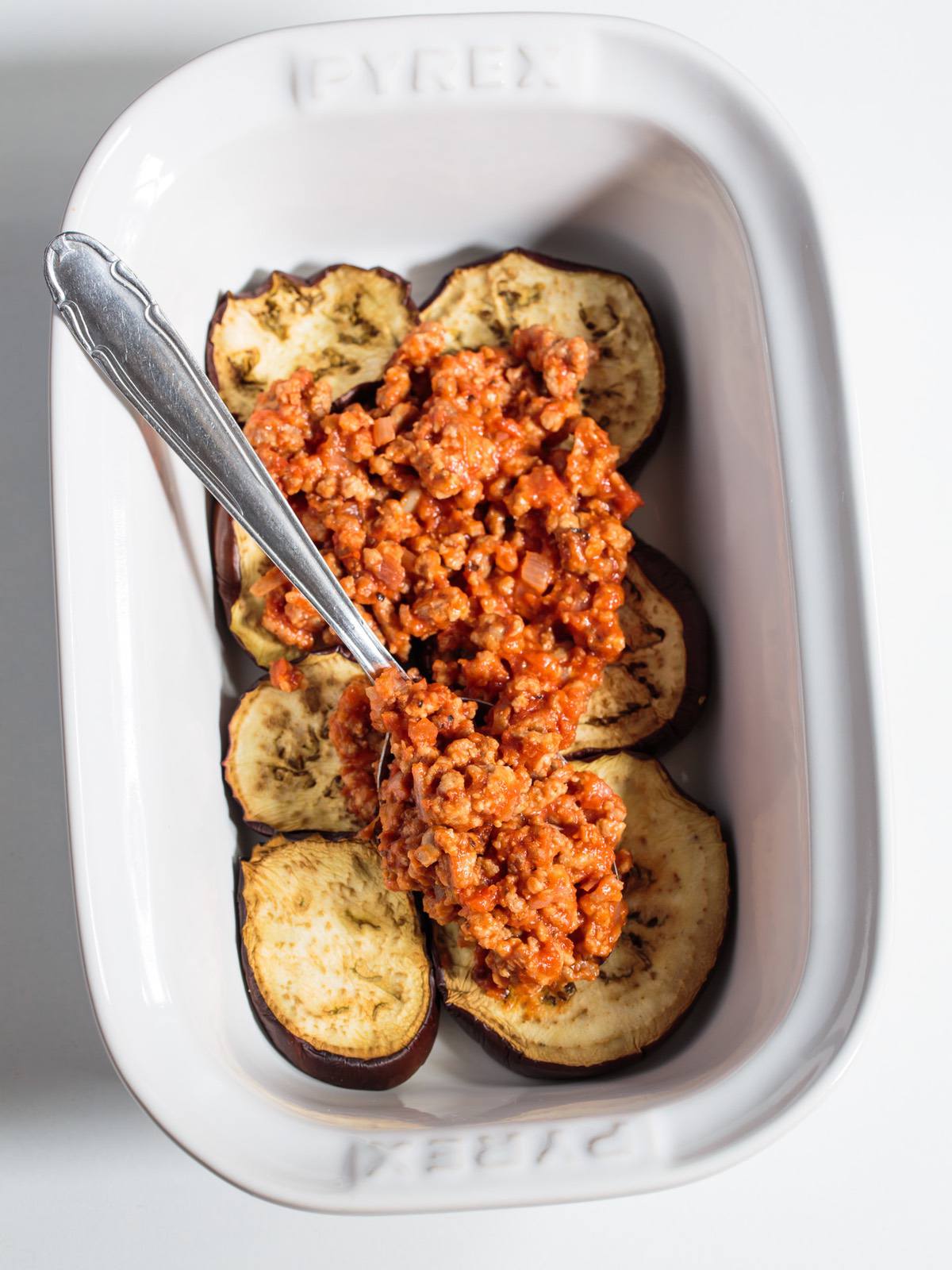 But back to one of my new favorite fall recipes…remember I mentioned starches holding it all together? Well, as a Paleo eater, I don't want all those potatoes or noodles in there so instead we're using a bit of egg. Not only does this do the trick of acting as a binder for the other ingredients, it adds even more protein to our dish. Double win!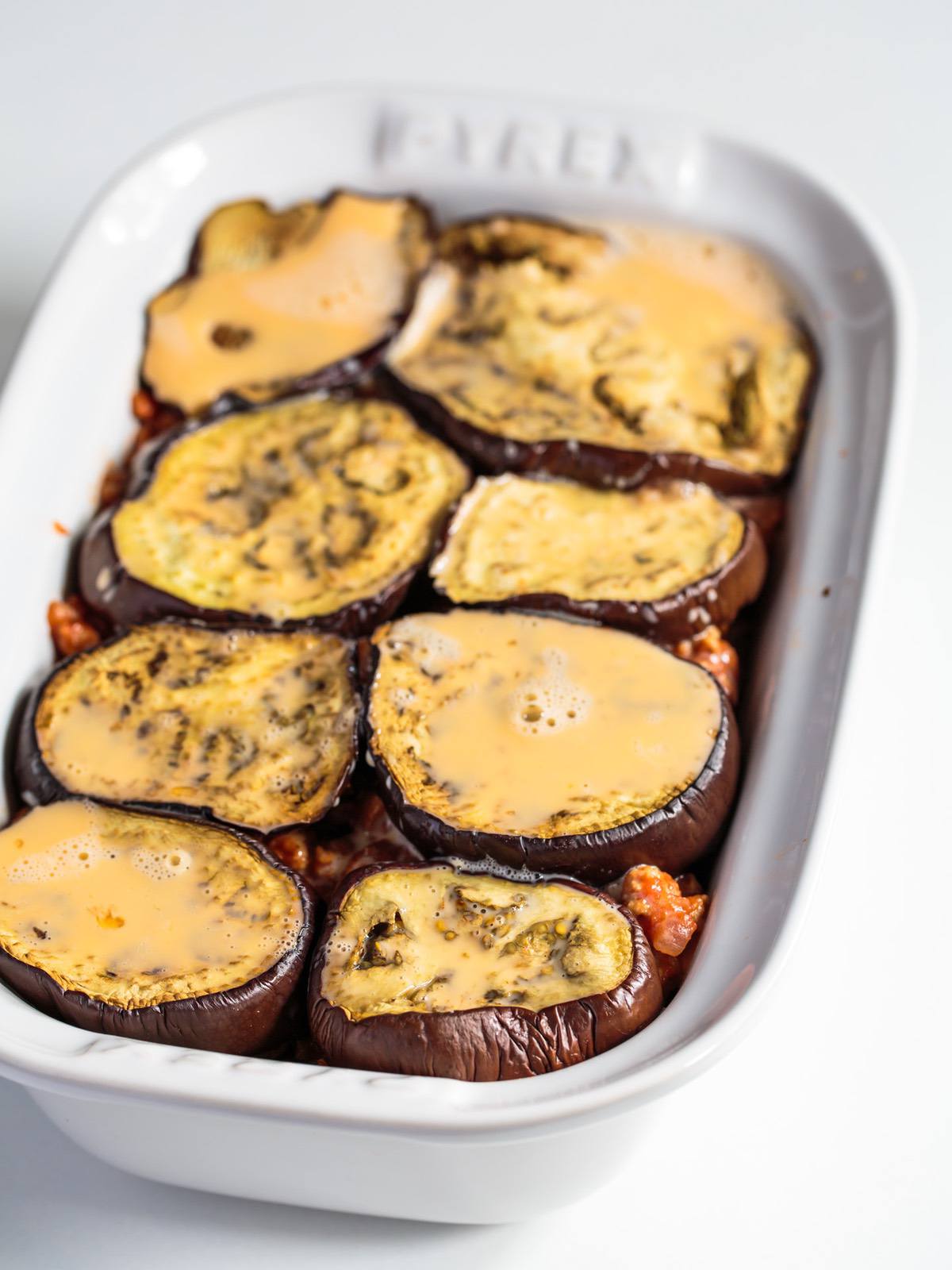 So if you're a Midwesterner like me, or you're just in the mood for a simple and not expensive, but still really hearty meal, I highly recommend this recipe. And now when you serve it to your friends and family, you can tell them all the stories about the mighty eggplant!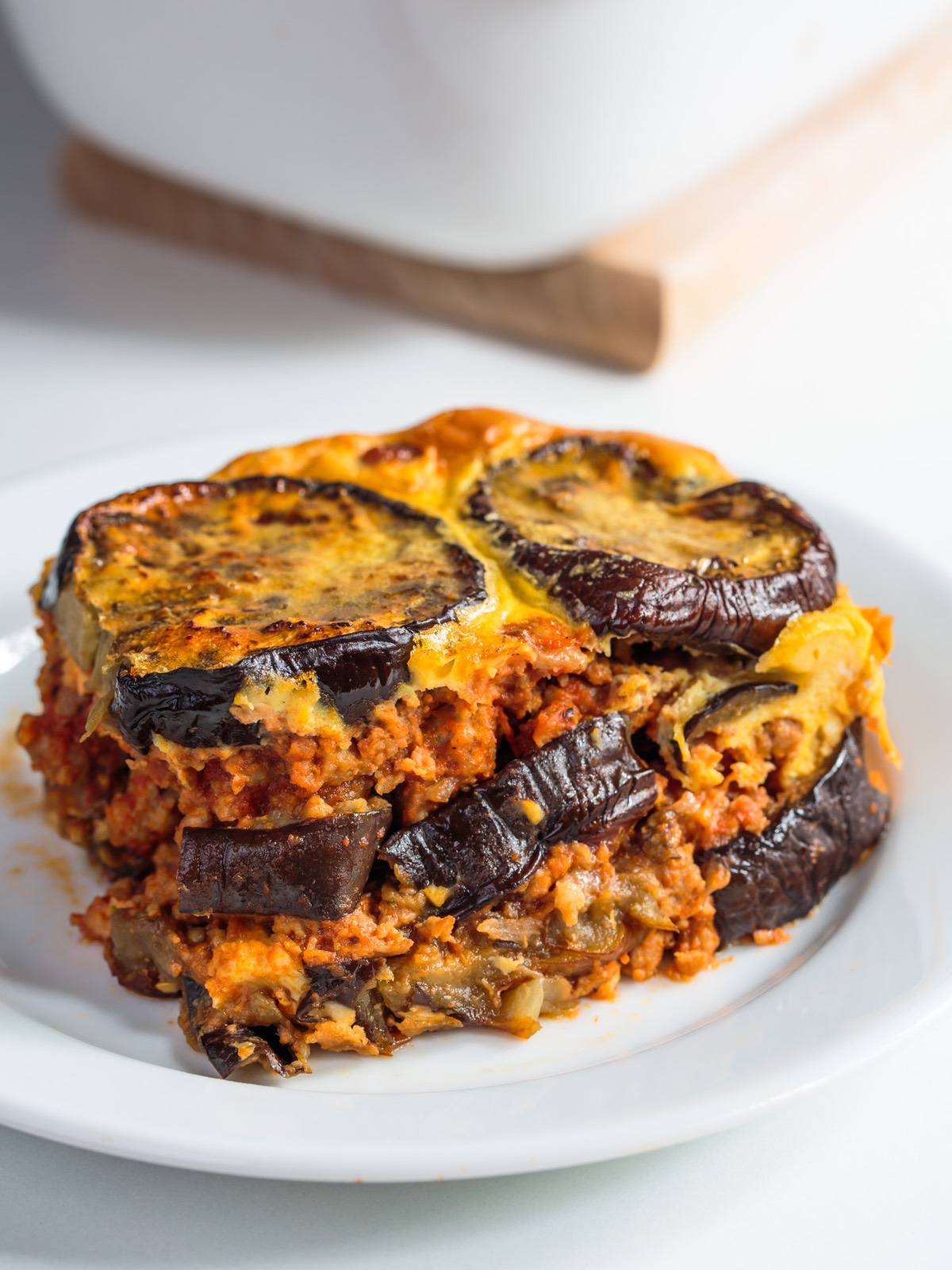 P.S. If you're looking for more hearty and no-hassle casseroles, you also need to try this tasty ground beef broccoli casserole: https://paleogrubs.com/broccoli-ground-beef-casserole
---
2 pounds eggplant
3 tablespoons olive oil
1 large onion, finely chopped
1 pound minced beef
1 pound tomatoes , chopped
1 tablespoon finely chopped fresh parsley or 1 teaspoon dry parsley
¼ teaspoon ground black pepper
½ teaspoon salt
2 eggs, lightly beaten
1 tablespoon almond milk
To make sauce, heat olive oil in a pan over high heat.
Add meat and onion and cook until well browned and all the liquid has evaporated, about 10 minutes. Add tomato and bring to boil. Reduce heat to low and simmer, covered for 20 minutes, stirring occasionally.
Remove lid, add parsley, salt and black pepper. Taste and adjust seasoning if necessary. Simmer for 10 more minutes and then set aside.
Preheat oven to 350°F. Cut the unpeeled eggplants into ½ inch slices. Line a baking tray with parchment paper, arrange eggplant slices in a single layer, sprinkle with salt and bake for 15 minutes. Divide the eggplant slices into 3 equal parts. Place a layer of eggplant slices on the bottom of the ovenproof dish.
Spread half of the meat sauce, add second layer of eggplant slices then the rest of the meat sauce and finish it with the last layer of eggplant slices. Bake for 35 minutes. Lightly beat eggs, pinch of salt and almond milk and pour over eggplants. Bake for another 10-15 minutes or until golden. Let it rest for 5 minutes before serving.