A Delicious, Healthy Balanced Dinner
There's obviously three main components to this recipe — the meatballs, the roasted veggies, and the teriyaki sauce. The first thing that you're going to want to do is make your meatballs. There's nothing too fancy here, and they're actually quite similar to other meatball recipes that we've shared. Mix your lean ground beef with the almond flour, egg yolk, green onion, ginger, and garlic. Season everything with salt and pepper and roll them into meatballs before placing them on a lightly greased baking pan. If you've never tried paleo meatballs made like this, then you're in for a real treat. Each and every bite has a delicious garlic and ginger aftertaste that is so distinctly Asian.
The next step is to add your mix of fresh veggies to the pan as well. Each one of these vegetables has been carefully selected for this recipe for the following two reasons — they all add a ton of flavor and more importantly, plenty of great health benefits to the meal. You can use your choice of Japanese or regular eggplant, which have an incredibly varied amount of essential nutrients, including vitamins B6, C, and K, folate, potassium, magnesium, and more. They've also been shown to be beneficial for your cardiovascular system as well. (1)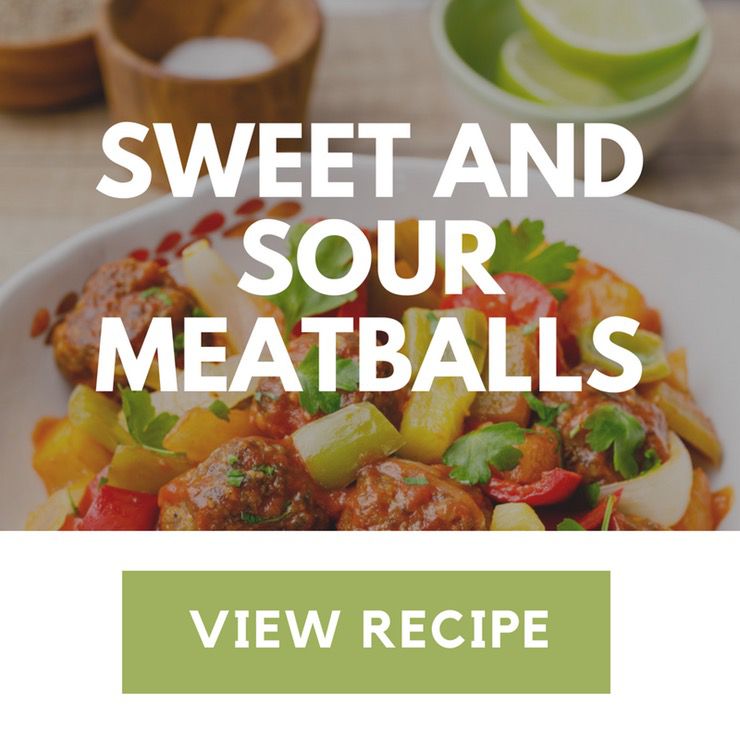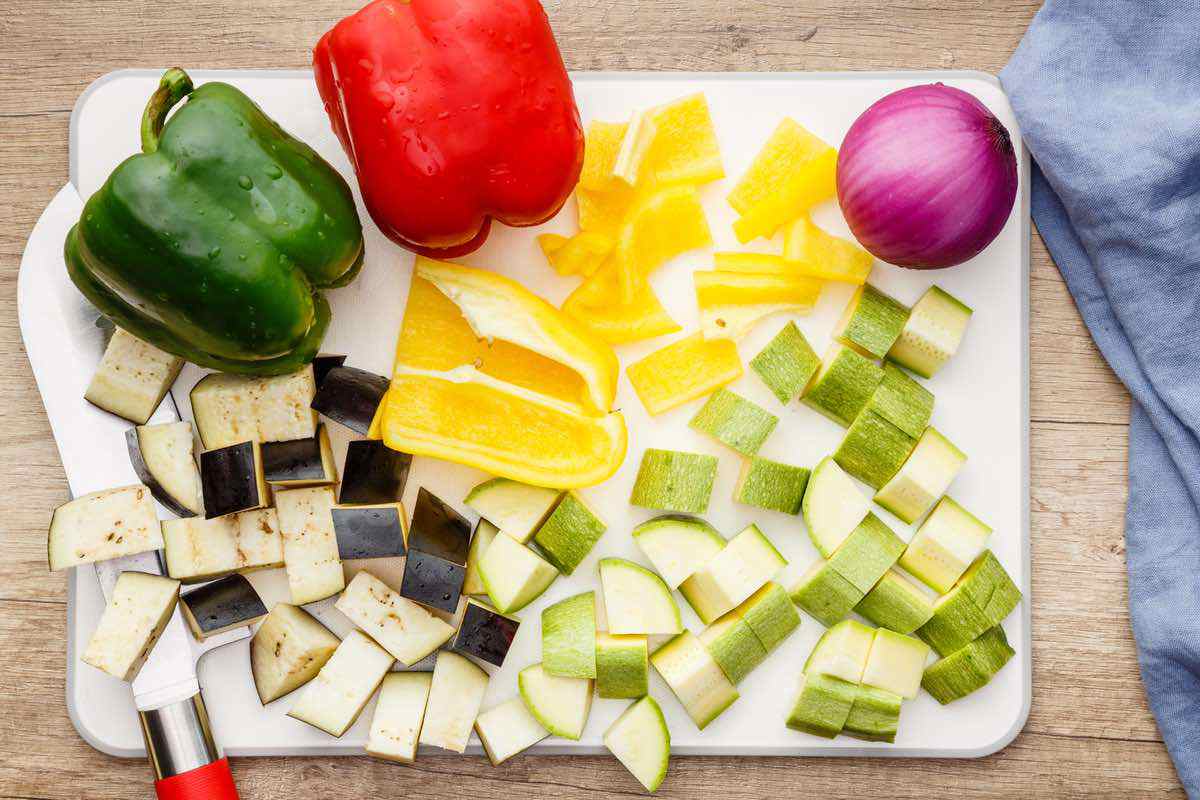 In addition to eggplant, you'll be adding zucchini as well and red onion wedges as well. These two veggies both continue the trend of adding immense amounts of flavor while also providing you with health benefits in the form of vitamins, minerals, and antioxidants. And finally, you'll be using a delightful mixture of red, green, and yellow bell peppers. All three varieties of pepper are excellent sources of vitamins B6 and C, folate, and dietary fiber. In addition, they all contain a beneficial compound known as capsaicin, and they're packed full of disease fighting antioxidants as well. (2)
Paleo Teriyaki Sauce
After adding all of your veggies to the pan, drizzle them with olive oil and then place everything into your preheated oven to bake for 25-30 minutes. As the meatballs and veggies are cooking, you can finally turn your attention to the homemade teriyaki sauce. It's incredibly simple to prepare — all you need to do is mix some arrowroot flour with water in one bowl, and then combine honey, garlic, ginger, chili flakes, and coconut aminos with it. I like to use coconut aminos when making teriyaki sauce as it provides the perfect amount of saltiness to it, meaning it's no problem to pass on using soy sauce. After mixing everything together, cook it over a medium heat until the sauce thickens.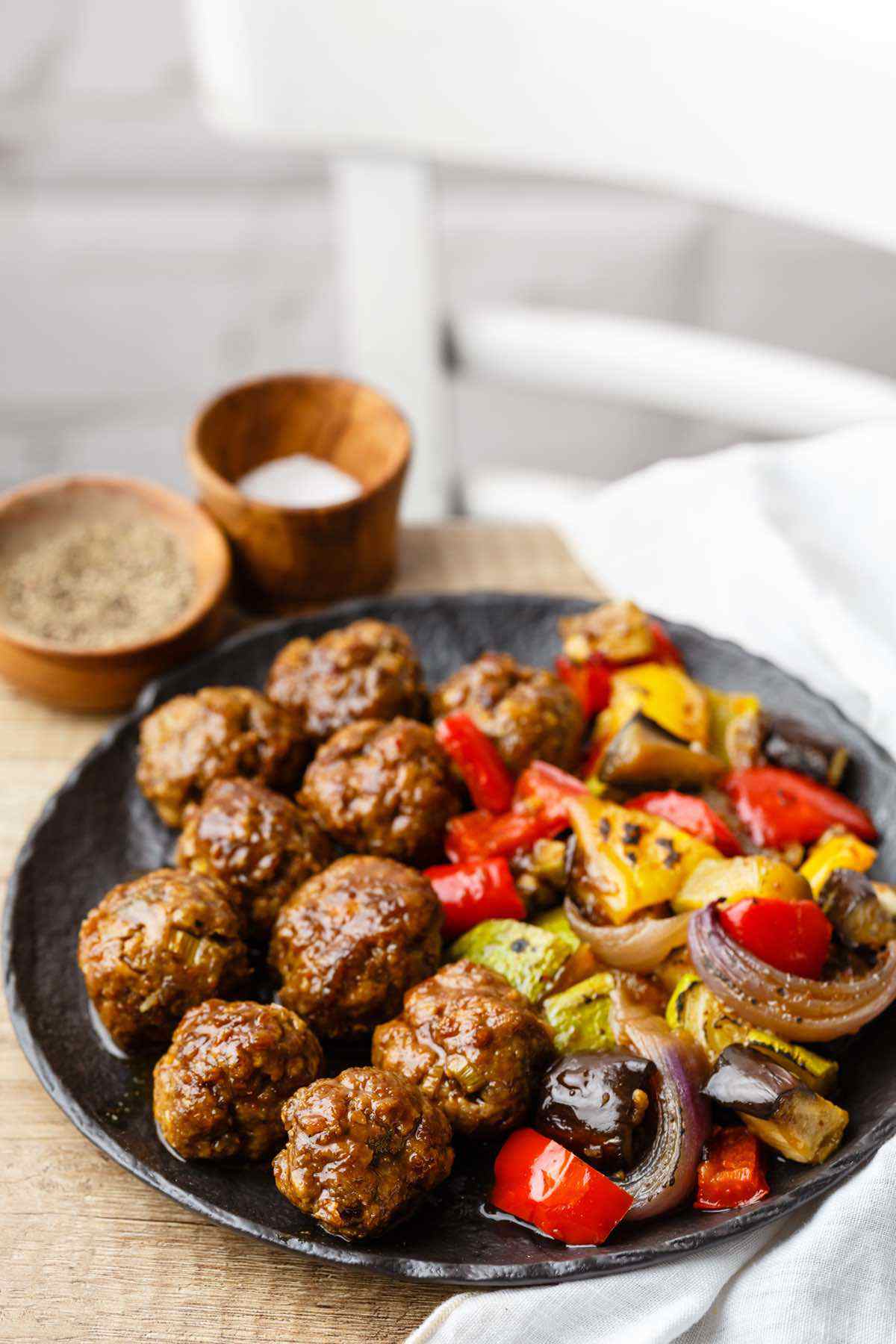 After removing your meatballs and roasted vegetables from the oven, you're going to want to coat them with your homemade sauce and then cook everything for an additional 10 minutes. With all of that done, you'll be all set to enjoy this incredibly delicious Japanese cuisine inspired meal. One of the great things about this recipe is that you can take parts of it for use to mix and match with other recipes as well, such as the meatballs or the homemade teriyaki sauce.
P.S. – If you enjoyed this recipe and you're looking for more great paleo meal ideas that make use of teriyaki sauce, then you might want to check out these great recipes as well:
Grill Pan Teriyaki Chicken Skewers
Beef Teriyaki Zucchini Noodles
---
For the meatballs

1 pound ground lean beef
¼ cup almond flour
1 egg yolk
1 green onion, thinly sliced
1 garlic clove, pressed
1 ½ tsp freshly grated ginger
¼ tsp white pepper

For the roasted vegetables

1 pound Japanese or regular eggplants, cut into 1 inch cubes
1 zucchini, cut into 1 inch cubes
1 red bell pepper, cut into chunks
1 green bell pepper, cut into chunks
1 yellow bell pepper, cut into chunks
1 red onion, cut into wedges
1 tbsp olive oil

For the teriyaki sauce

1 ½ tbsp arrowroot flour
¼ cup water
5 tbsp Coconut aminos
1 tbsp honey
1 tbsp fresh grated ginger
2 garlic cloves, minced
1/8 tsp chili flakes
Preheat oven to 425°F.
In a large mixing bowl place the ground beef, garlic, ginger, spring onion and almond flour.
Season with salt and black pepper to taste.
Mix to combine.
Form the mixture into 1 inch meatballs and place them in a lightly greased baking pan.
Add the bell peppers, Japanese eggplants, zucchini and onion.
Drizzle the vegetables with olive oil and toss to coat.
Bake in preheated oven for 25-30 minutes.
Meanwhile, make the sauce.
In a small saucepan combine the coconut aminos, honey, garlic, ginger and chili flakes.
In a small bowl combine the arrowroot flour and water and stir into coconut aminos mixture.
Cook over medium heat until sauce slightly thickens.
Remove the pan from the oven and pour the sauce over the meatballs and vegetables and toss to coat.
Return to the oven and cook for another 10 minutes.
Serve warm.