A Paleo Twist On A Comforting Classic
Making this mashed sweet potato recipe is actually incredibly similar to making regular mashed potatoes. The only difference is that you'll be using completely paleo friendly ingredients when making your dinner. If you're just switching over to sweet potatoes for the first time, it can be a little bit of an adjustment getting used to their unique taste. It's well worth it though, as they are extremely good for you. They are a great source of disease fighting antioxidants, B-complex vitamins, minerals, and fiber.
After bringing your sweet potatoes to a boil, reduce the heat to medium and let them simmer until they are nice and tender. After draining them, you can then add in the almond milk next. Using almond milk is a great dairy free substitute for cow's milk in this recipe, and it's also a good source of essential nutrients as well. Preliminary studies have even found that almond milk could perhaps be a viable nutritionally sound substitute for feeding infants who have allergies or an intolerance to dairy milk. (1) After adding in your almond milk, you can go ahead and begin to mash your sweet potatoes.
Finally, add in your melted ghee and fresh thyme. Some of you may be surprised to see that we include ghee in this recipe after just mentioning how the almond milk helps keep these potatoes dairy free. While it's true that ghee does contain dairy, if you are using pure clarified ghee, it often doesn't cause any issues for individuals who are normally lactose-intolerant. There are of course exceptions to this, but those cases generally involve people who are extremely sensitive to dairy. (2) Along with the fresh thyme, the use of ghee serves to add a lot of flavor to these potatoes, which is why it's included.
Before serving these mashed sweet potatoes, take your extra thyme leaves and use them as garnishment. One final tip that I have for you guys, especially if you love the distinct taste of garlic, is to add in a bit of garlic to your potatoes when you mash them with the almond milk. It definitely adds a lot of flavor to your potatoes and makes them even more addicting than they already are.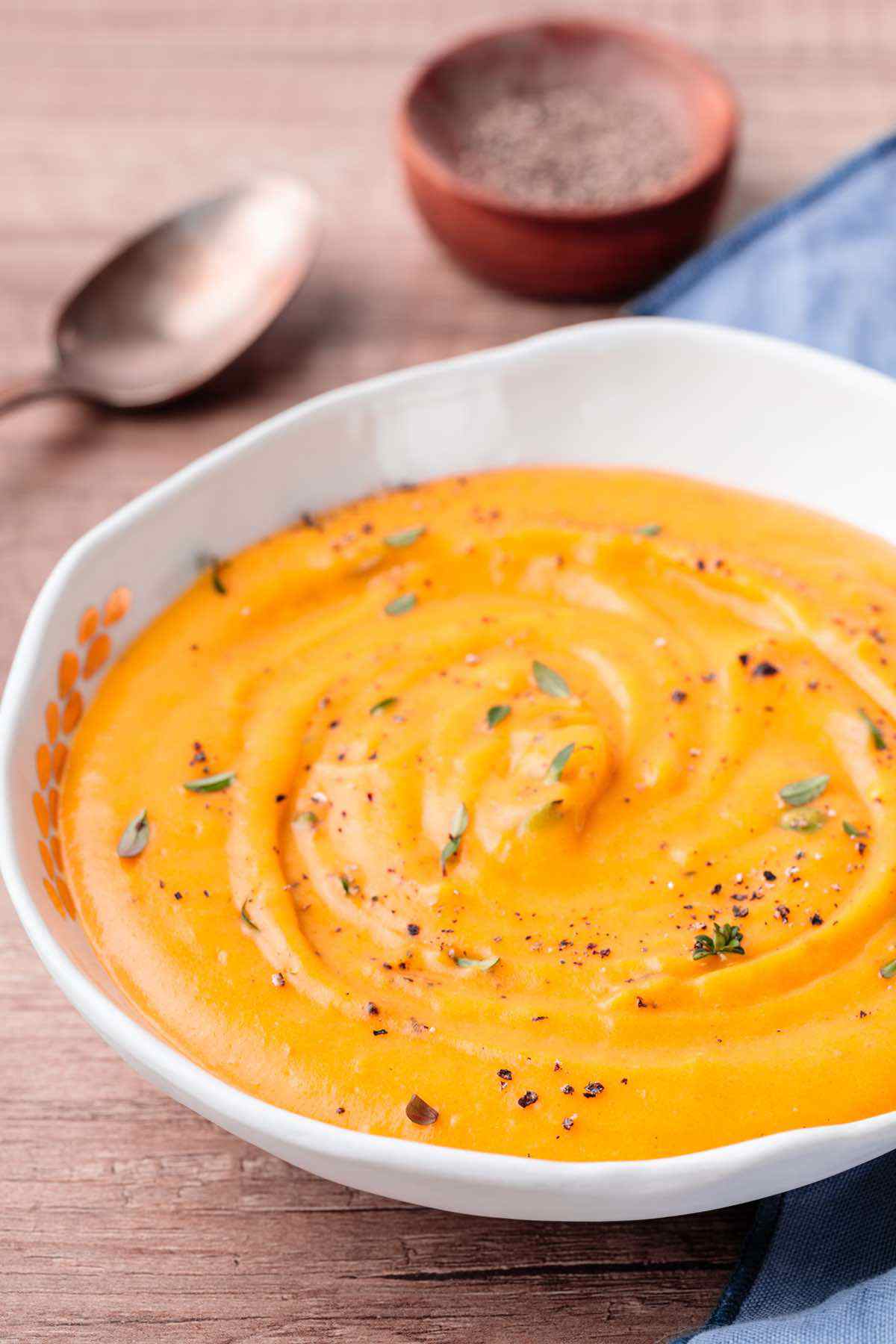 P.S. – Sweet potatoes don't just make a great substitute for mashed potatoes — here's a few other great paleo recipes where sweet potatoes show off some surprisingly versatile uses:
#1 – Paleo Pasta Puttanesca with Sweet Potato Noodles
#2 – Paleo Sweet Potato Pizza Crust
#3 – Paleo Sweet Potato Pancakes
#4 – Savory Spiralized Paleo Noodle and Chive Waffles
---
1 ½ pounds sweet potatoes, peeled and cubed
2 tbsp melted ghee
2 tsp finely chopped fresh thyme, plus leaves for garnish
¼ cup almond milk
salt, black pepper to taste
Place the sweet potatoes in a large saucepan and cover with water.
Bring to a boil over high heat then reduce the heat to medium, and simmer until the sweet potatoes are tender, about 20-25 minutes.
Remove from heat and drain well.
Return the sweet potatoes to the saucepan.
Add the milk and mash with an immersion blender or potato masher to desired consistency.
Add the ghee, thyme and season to taste with salt and black pepper.
Mix to combine.
Garnish with extra thyme leaves and serve.