How to Make Mashed Sweet Potatoes
Making this mashed sweet potato recipe is actually incredibly similar to making regular mashed potatoes. The only difference is that you'll be using completely paleo friendly ingredients when making your dinner. If you're just switching over to sweet potatoes for the first time, it can be a little bit of an adjustment getting used to their unique taste.
It's well worth it though, as they are extremely good for you. They are a great source of disease fighting antioxidants, B-complex vitamins, minerals, and fiber.
After bringing your sweet potatoes to a boil, reduce the heat to medium and let them simmer until they are nice and tender. After draining them, you can then add in the almond milk next. Using almond milk is a great dairy free substitute for cow's milk in this recipe, and it's also a good source of essential nutrients as well.
After adding in your almond milk, you can go ahead and begin to mash your sweet potatoes. Finally, add in your melted ghee and fresh thyme.
Before serving these mashed sweet potatoes, take your extra thyme leaves and use them as garnishment. One final tip that I have for you guys, especially if you love the distinct taste of garlic, is to add in a bit of garlic to your potatoes when you mash them with the almond milk. It definitely adds a lot of flavor to your potatoes and makes them even more addicting than they already are.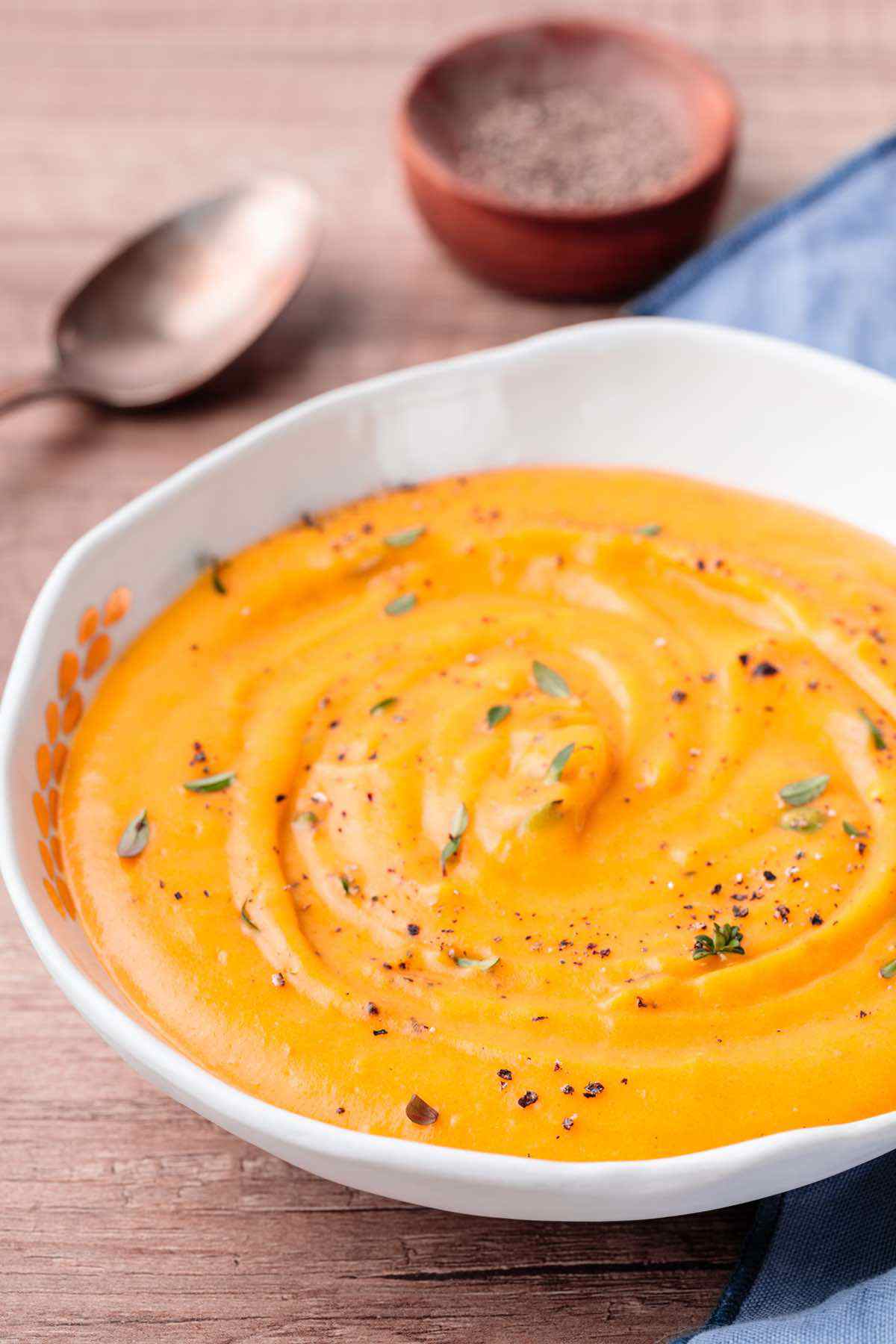 P.S. – Sweet potatoes don't just make a great substitute for mashed potatoes — here's a few other great paleo recipes where sweet potatoes show off some surprisingly versatile uses:
#1 – Paleo Pasta Puttanesca with Sweet Potato Noodles
#2 – Paleo Sweet Potato Pizza Crust
#3 – Paleo Sweet Potato Pancakes
#4 – Savory Spiralized Paleo Noodle and Chive Waffles
---
1 ½ pounds sweet potatoes, peeled and cubed
2 tbsp melted ghee
2 tsp finely chopped fresh thyme, plus leaves for garnish
¼ cup almond milk
salt, black pepper to taste
Place the sweet potatoes in a large saucepan and cover with water.
Bring to a boil over high heat then reduce the heat to medium, and simmer until the sweet potatoes are tender, about 20-25 minutes.
Remove from heat and drain well.
Return the sweet potatoes to the saucepan.
Add the milk and mash with an immersion blender or potato masher to desired consistency.
Add the ghee, thyme and season to taste with salt and black pepper.
Mix to combine.
Garnish with extra thyme leaves and serve.
More Good Mashed Sweet Potato Recipes
Mashed Sweet Potatoes with Coconut and Vanilla
For this side dish, cinnamon is added to baked sweet potatoes, a classic combination, along with vanilla bean paste, and coconut milk for added creaminess. If there are no vanilla beans on hand, vanilla extract can also be substituted. These mashed sweet potatoes are perfect for the colder months, especially for the Thanksgiving table.
Ingredients
2-3 sweet potatoes
1/4 cup coconut milk
1 tbsp honey
1/2 tbsp ghee
1 tsp cinnamon
1/2 tsp vanilla bean paste
Pinch of salt
Fresh parsley, for garnish
Instructions
1. Preheat the oven to 375 degrees F. Poke the sweet potatoes with a fork and place on a baking sheet. Bake for 50 minutes or until soft. Remove from the oven and let cool. Once the potatoes are cool enough to handle, carefully scoop out the flesh and place into a large bowl.
2. Meanwhile, heat the coconut milk, honey, ghee, cinnamon, vanilla bean paste, and salt in a saucepan and stir. Cook for 3-4 minutes until the honey is combined, then reduce heat to low.
3. Slowly add the warm milk mixture into the potatoes a tablespoon at a time and beat with a hand mixer until fluffy. Adjust seasonings to taste. Serve warm with chopped parsley.