I have written before about how much I like breakfast foods, and they are usually savory, except for the occasional pancakes. I find that savory breakfasts keep me fuller longer. They're more nourishing than fluffy pancakes or waffles.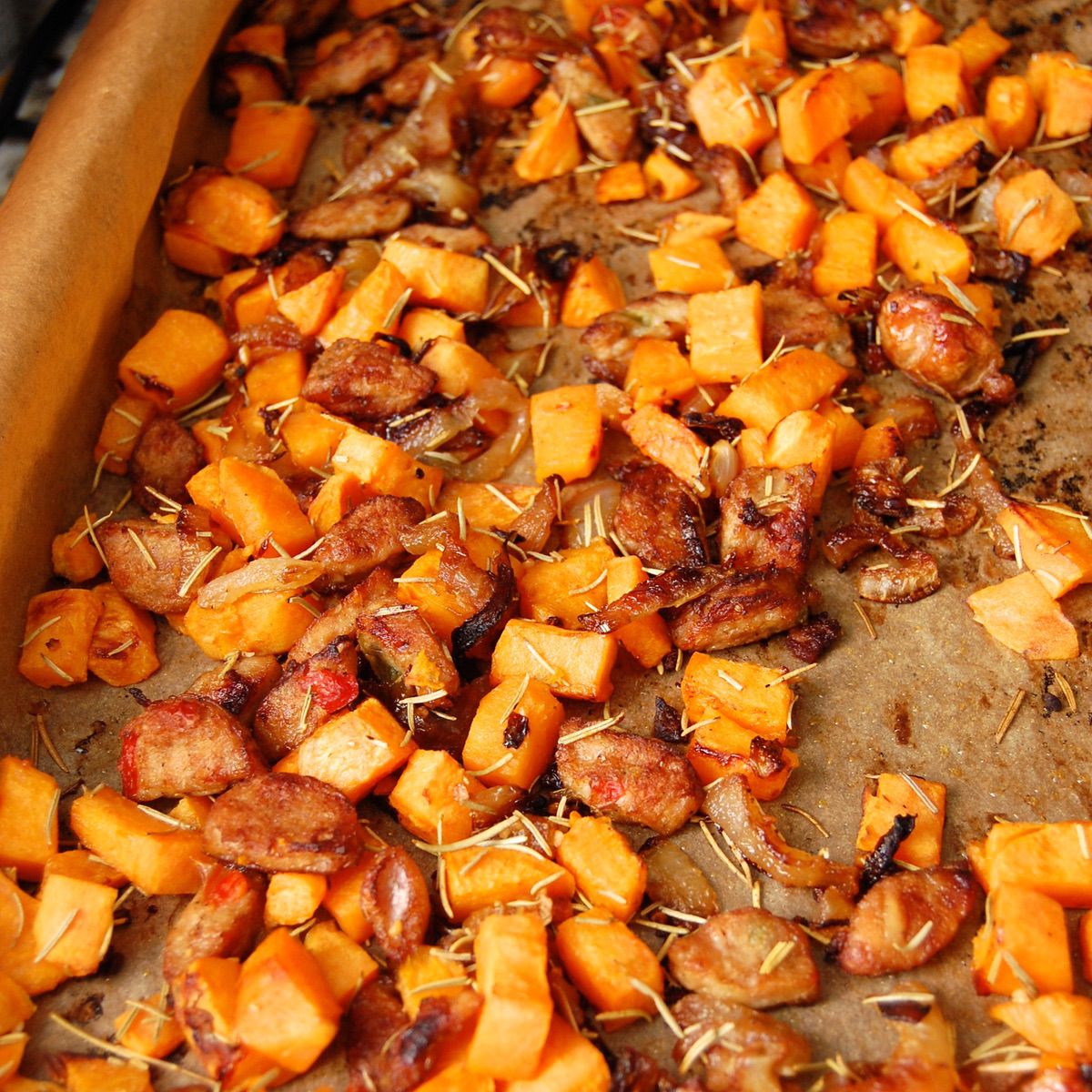 Sweet potato breakfast hash has quickly become a recipe that I enjoy making. It is flexible based on the ingredients that I happen to have on hand and can be made ahead of time.
If you love breakfast hash and want to try something different, this brussels sprout hash is to-die-for.
Taking the time in the morning to chop up and bake potatoes, not to mention caramelize onions, before I eat anything is not likely to happen. This hash, when made ahead, can easily be reheated in the oven with a few eggs cracked into the pan for a breakfast ready in 15 minutes.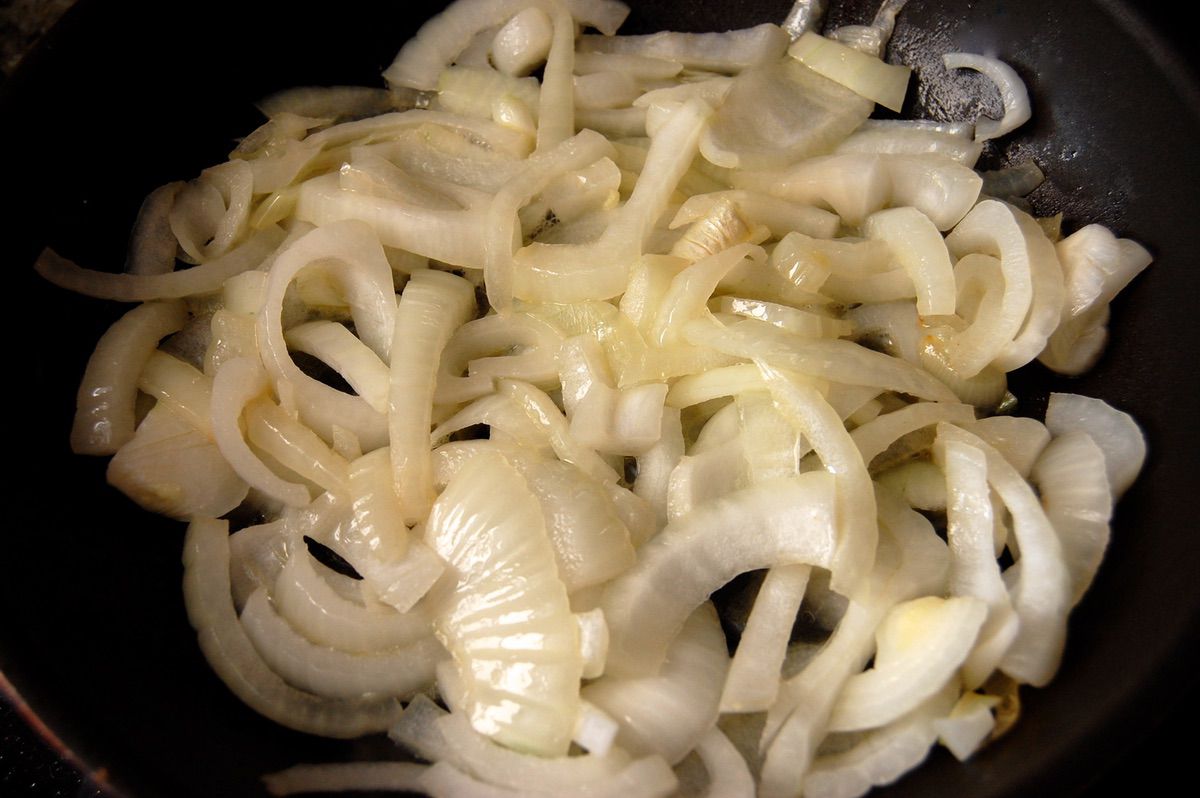 To make the hash ahead of time, you can use your multitasking skills. Instead of just using sautéed onions for the dish, I decided to caramelize them as a treat to my boyfriend, who lists caramelized onions as a favorite food.
Since the onions take at least 30 minutes, you can brown the sausages on the stove at the same time, as well as peel and chop up the sweet potato. You then toss everything together in a large bowl before spreading it out on a baking sheet to put in the oven. The sweet potatoes gain a nice crispiness while baking with the sausage and onions.
Related: Garlic Roasted Brussels Sprouts
When you want to serve the sweet potato hash, simply place it in a cast iron skillet or other oven-safe pan, and make small wells to crack the desired amount of eggs into. Bake everything together for 15-20 minutes, and a savory, nourishing breakfast is ready to go.
P.S. For more paleo-friendly breakfast ideas, take a look at this list: https://paleogrubs.com/paleo-breakfast-ideas
---
1 large onion, sliced
3 tbsp olive oil, divided
1/2 tbsp ghee
2 Italian sausages, diced
2 sweet potatoes
3 tbsp fresh rosemary
Salt and freshly ground black pepper, to taste
3 eggs
Preheat the oven to 425 degrees F. Line a baking sweet with parchment paper. Heat one tablespoon of olive oil and the ghee in a skillet over medium heat. Add the onions and sprinkle with salt. Cook on low heat for 30-40 minutes, until dark brown and caramelized.
Meanwhile, peel the sweet potatoes and chop into bite-size pieces. Place into a large bowl with the remaining two tablespoons of olive oil and rosemary.
In a separate skillet, cook the sausages until browned. Add the cooked onions and sausages to the bowl with the sweet potatoes and toss. Season with salt and pepper.
Spread out the sweet potato mixture evenly onto the prepared baking sheet. Roast for 30-35 minutes until the potatoes are soft and browned. Either refrigerate overnight at this point or proceed to the next step.
Place the sweet potato hash into a cast iron skillet and make three small wells to crack the eggs into. Crack eggs into the skillet and season lightly with salt and pepper. Bake for 15-18 minutes at 425 degrees F until the eggs are set.
More Good Breakfast Sweet Potato Recipes
Hasselback Breakfast Sweet Potatoes
This breakfast sweet potato recipe mimics the style of Hasselback potatoes to make a delicious and flavorful skillet. Sweet potatoes are topped with diced apple and chopped walnuts to produce a side dish that would be perfect for Thanksgiving. Raisins or cranberries could also be added to complement the sweet flavors.
Ingredients
3 large sweet potatoes, peeled
2 tbsp coconut oil, melted
2 tbsp maple syrup
1/4 cup walnuts, chopped
1 apple, finely diced
1 tsp cinnamon
Pinch of salt
Instructions
1. Preheat the oven to 400 degrees F. Thinly slice the sweet potatoes and place into a large bowl. Drizzle with the coconut oil and maple syrup and toss well to coat.
2. Arrange the sweet potato slices in a greased round baking dish or skillet. Sprinkle with cinnamon and salt. Top with diced apples and walnuts. Cover with foil and bake for 40 minutes. Remove the foil and bake for another 15-20 minutes, careful not to burn the topping. Let cool for 5 minutes before serving.