---
The chips are simple to make, and don't take as long in the oven as some other homemade chips – only 15-20 minutes. The trickiest part is slicing the sweet potatoes very thin. After peeling the potatoes, the easiest way to slice them would be to use a mandolin. You can also use a sharp knife, which takes a little more patience. The thinner that you can cut the sweet potatoes, the crispier they will become.
You simply toss the sliced sweet potatoes with melted coconut oil and any seasonings of your choice. You can add a variety of flavors to the sweet potato base. I chose rosemary because it is one of my favorite flavors with sweet potato. The combination of sweet and salty with a hint of rosemary is delicious.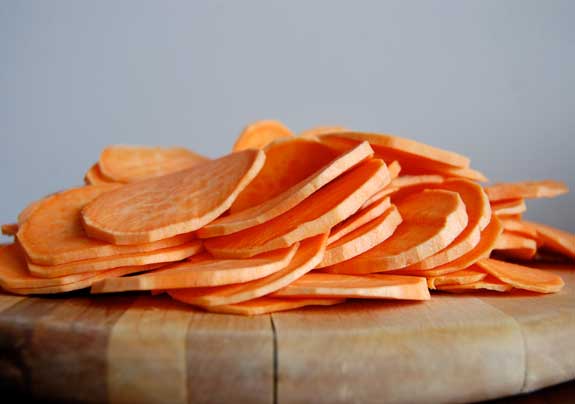 Next you spread the chips out in a single layer. You may have to do multiple batches since they probably won't all fit on one baking sheet. After about 10 minutes in the oven, you flip the chips over, and that is when you want to start keeping an eye on them. Some of the thinner chips will begin to brown sooner than the rest, and I suggest pulling those out so that they don't burn. Remove the crispy chips and keep baking the other ones. Every oven is different, but my chips were baked within 20 minutes.
I can't believe I haven't tried these sweet potato chips before. Making dried chips out of fruits and veggies is very popular in my kitchen. I believe it's a great way to get an extra serving of healthy food into your day. But these just might be my new favorite.
So next Sunday, when you are getting ready to settle in to watch the game, give these a try! Simple to make, guilt-free, and delicious.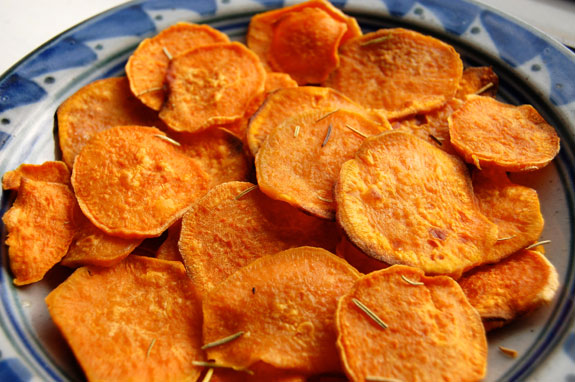 ---
-
2 large sweet potatoes
2 tbsp melted coconut oil
2 tsp dried rosemary
1 tsp pure sea salt
Preheat oven to 375 degrees F. Peel sweet potatoes and slice thinly, using either a mandolin or sharp knife. In a large bowl, toss sweet potatoes with coconut oil, rosemary, and salt.
Place sweet potato chips in a single layer on a rimmed baking sheet covered with parchment paper. Bake in the oven for 10 minutes, then flip the chips over and bake for another 10 minutes. For the last ten minutes, watch the chips closely and pull off any chips that start to brown, until all of the chips are cooked.
| | |
| --- | --- |
| Calories | 29 kcal |
| Potassium | 62.1 mg |
| Vitamin A | 128.2 µg |
| Vitamin C | 0.5 mg |
| Folic Acid (B9) | 2.4 µg |
| Sodium | 45.8 mg |