Slow Cooker Garlic Chicken (For Garlic Lovers!)
3
If you are not a fan of garlic, read no further. However, if you are like my family and cannot get enough of it, you should try this recipe for garlic chicken right away. Made in the slow cooker, this dish is simple and delicious, perfect for a weeknight dinner.
Tender, garlicky chicken is served with a heap of mushrooms and tomatoes to give this meal the feel of a rustic stew. The recipe makes a hearty chicken dinner hat is easy and tasty. Turn on the slow cooker and go about your business the rest of the day, then come home to a delicious main dish. There is definitely an appeal to throwing everything in a pot and knowing that your supper will be taken care of later.
I also like the fact that slow cooker recipes are dependable and difficult to mess up. The chicken is almost guaranteed to come out tender every time. Slight modifications are easy to make, whether you want more or less garlic or different herbs.
This recipe is all about the garlic. I didn't count the exact number of cloves that went into the bottom of the slow cooker, but it was two large heads of garlic. I daresay you could even add more. One shortcut for the recipe (although it hardly needs one) is to find garlic that is already peeled at the grocery store.
The garlic becomes soft and creamy as it slowly cooks, which also mellows the flavor. You can eat it with the chicken, or perhaps blend a little into mashed cauliflower. I love to serve this dish over mashed cauliflower since it soaks up the flavor and makes a starchy accompaniment to round out the meal.
If you ever feel like there are not enough hours in the day, make your meals simpler with a slow cooker recipe. This garlic chicken can be served to the whole family for a hearty and healthy dinner, simple comfort food at its finest.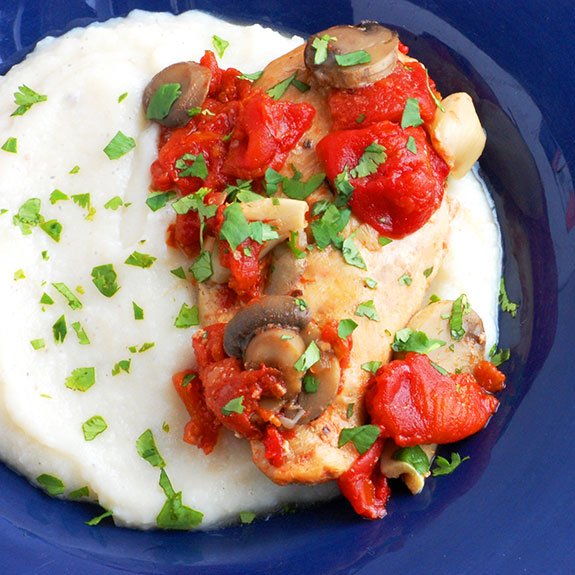 Slow Cooker Paleo Garlic Chicken
2015-02-16 08:56:21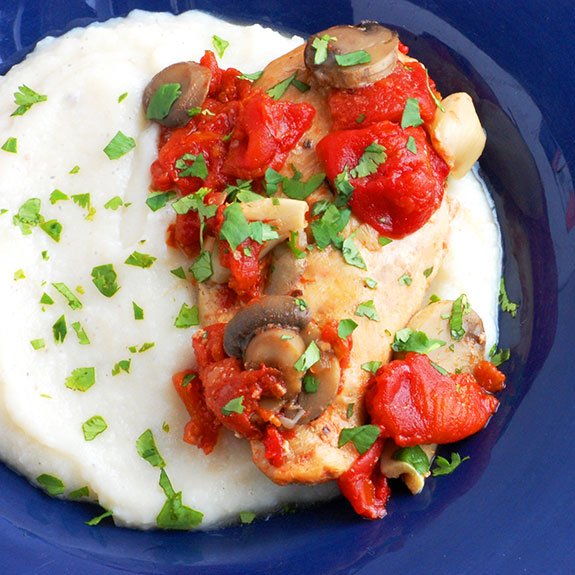 Ingredients
2 heads of garlic, peeled
1 1/2 lbs. boneless, skinless chicken breasts
Salt and freshly ground pepper
1 lb. mushrooms, sliced
1 14.5-oz. can stewed tomatoes
1 tbsp fresh oregano
4 leaves fresh sage
1/4 cup chicken broth
Instructions
Place the garlic in the bottom of the slow cooker. Generously season the chicken with salt and pepper and place on top of the garlic. Add the mushrooms, tomatoes, oregano, sage, and chicken broth. Cover and cook on low heat for 7-8 hours. Serve warm with the garlic.
Notes
Servings: 4
Difficulty: Easy
Paleo Grubs https://paleogrubs.com/
Want more Paleo recipes? Take a look at the Paleo Grubs Book. With 470+ easy-to-prepare Paleo recipes in 17 comprehensive categories it is the only Paleo book you will ever need.
+ Make sure to sign up for our free newsletter to get our latest healthy recipes delivered weekly (it's free).