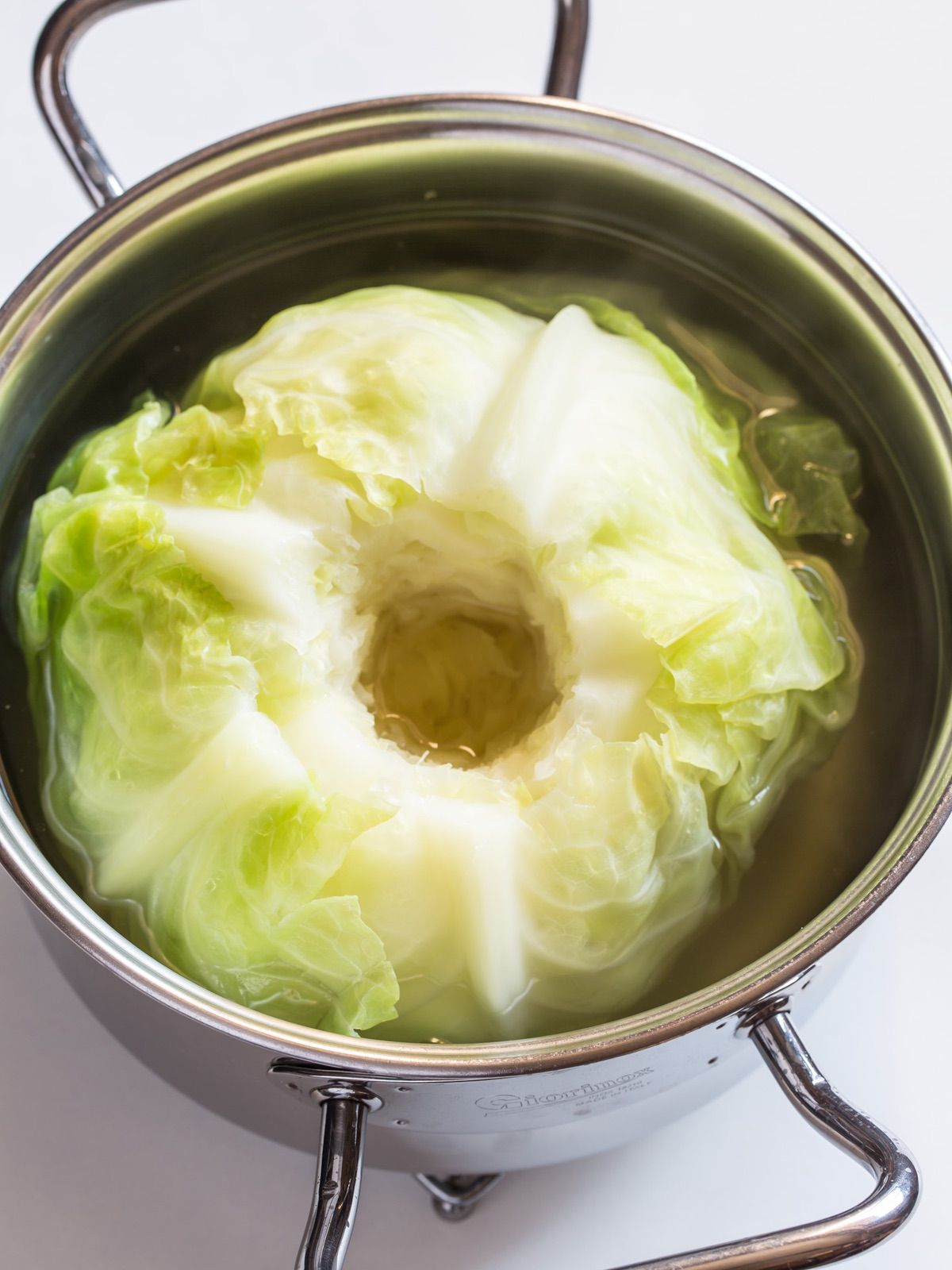 First, you core the cabbage. This is probably the most difficult part of the process but here's a tip: hold the cabbage firmly in both hands and position it so the core is at the exact bottom of the head of cabbage. Now, slam it on the counter or chopping block.
This will loosen the core (and, it's fun) so you can then simply take a long sharp knife and cut around the core – it should come out easily.
Before you boil the cabbage, put on a fan and open a window. I can't lie: boiled cabbage generally doesn't smell really good. But don't worry – while the dish slowly cooks, the aroma of garlic and tomatoes and cooking beef will trump the boiled cabbage smell.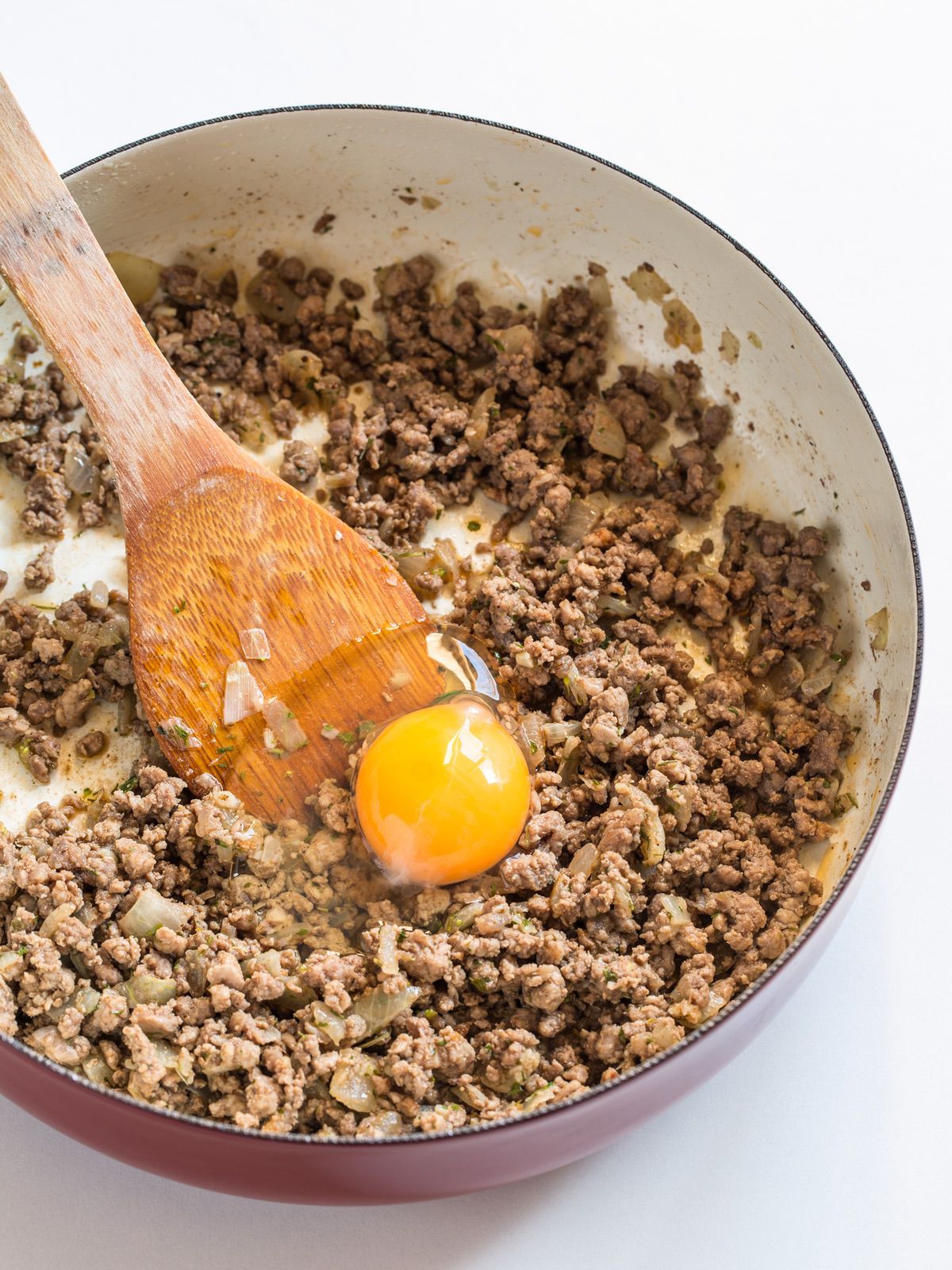 After you brown the meat and – this is important: take it off the heat – then you can stir in your egg. Make sure to take the meat off the heat and give it a second to cool because you don't want to end up with scrambled eggs in your meat. The egg is there to bind the meat together.
Most cabbage roll recipes use rice and blend it with the meat in order to make a meatball consistency, but since rice isn't Paleo, we use a bit of egg instead.
Now you get to make your little cabbage "burritos," as I think of them. Don't overfill them because you won't get the cabbage wrapped around the meat tight enough and the meat will come out while they cook. So make sure you get that cabbage nice and tight.
If you know me, you know I love slow cooker recipes and this is one of them! Days when I work from home, I'll spend a few minutes after lunch preparing a simple dinner to throw in the slow cooker and by the time I'm done working for the day, dinner is ready!
Next, we're going to make our own sauce by using organic tomato sauce and a cup of homemade soup, with a few extra spices. If the phrase "homemade soup" is a stumper for you – not to worry – check out our recipe on how to make your own homemade instant bouillon cubes.
Now it's time to sit back, relax, and let the slow cooker do the work of not only making your dinner, but making your home smell warm and wonderful. This meal is packed with protein and will warm you up and fill you up at the same time, all while keeping your Paleo diet right on track.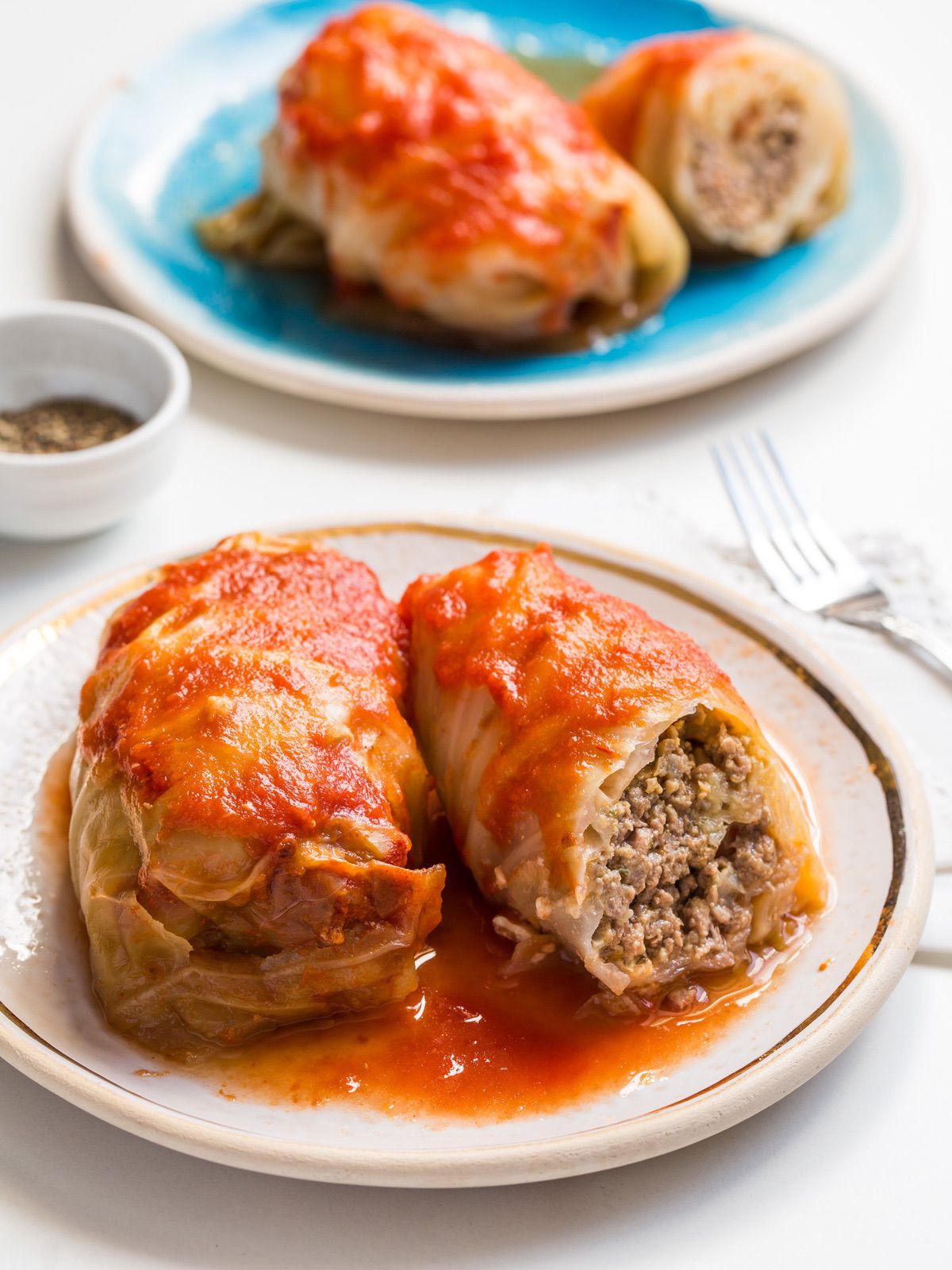 ---
1 cabbage head (about 2 pounds)

For the filling

1 ¼ pound ground beef
1 medium onion, chopped
2 garlic cloves, minced
1 ½ tsp dried parsley
½ tsp paprika
1 egg
½ tsp salt
½ tsp black pepper
1 ½ tbsp olive oil

For the sauce

2 cup organic tomato sauce
1 tbsp olive oil
1 garlic clove, minced
1 cup homemade soup
1 bay leaf
Core the cabbage. Bring a large pot of salted water, 4 to 5 quarts, to a rapid boil. Add the cabbage and blanch it for 15 minutes, turning often or until leaves are softened.
Remove the cabbage from the pot and cool under cold water. Gently separate leaves. Carefully cut out the center vein from 8 of the largest leaves and set the leaves aside.
To make the filing, in a medium saucepan, heat olive oil over medium heat. Add the onion and cook for 5 minutes. Add the garlic and cook for 30 seconds. Add the beef and cook for 10 minutes or until well browned and all liquid has evaporated.
Remove from the heat and add salt, black pepper, paprika, dried parsley and egg. Mix well to combine.
Place about 1/3 cup of beef mixture in the center of the cabbage. Fold bottom half of cabbage over filling, then fold in sides and roll up tightly.
Place the cabbage rolls side by side in rows, seam-side down, in a Dutch oven or slow cooker. The cabbage rolls should be tightly packed in a single layer.
To make the sauce, heat the olive oil in a skillet over medium heat. Add the garlic and cook for 30 seconds. Add the tomato sauce, bay leaf and chicken soup and cook for 5 minutes. Season to taste.
Pour the mixture over the cabbage rolls. Cover with a lid and cook for 2 hours on high or 4 hours on low.
Remove lid and serve warm.
More Good Stuffed Cabbage Roll Recipes
Oven Baked Pork Stuffed Cabbage Rolls
Stuffed cabbage rolls are a fun entrée to make for the weekend or a special meal. Cauliflower rice and ground pork make up the majority of the savory filling. Quickly boil the cabbage leaves first to help soften them before rolling. Top with tomato sauce or your sauce of choice when serving.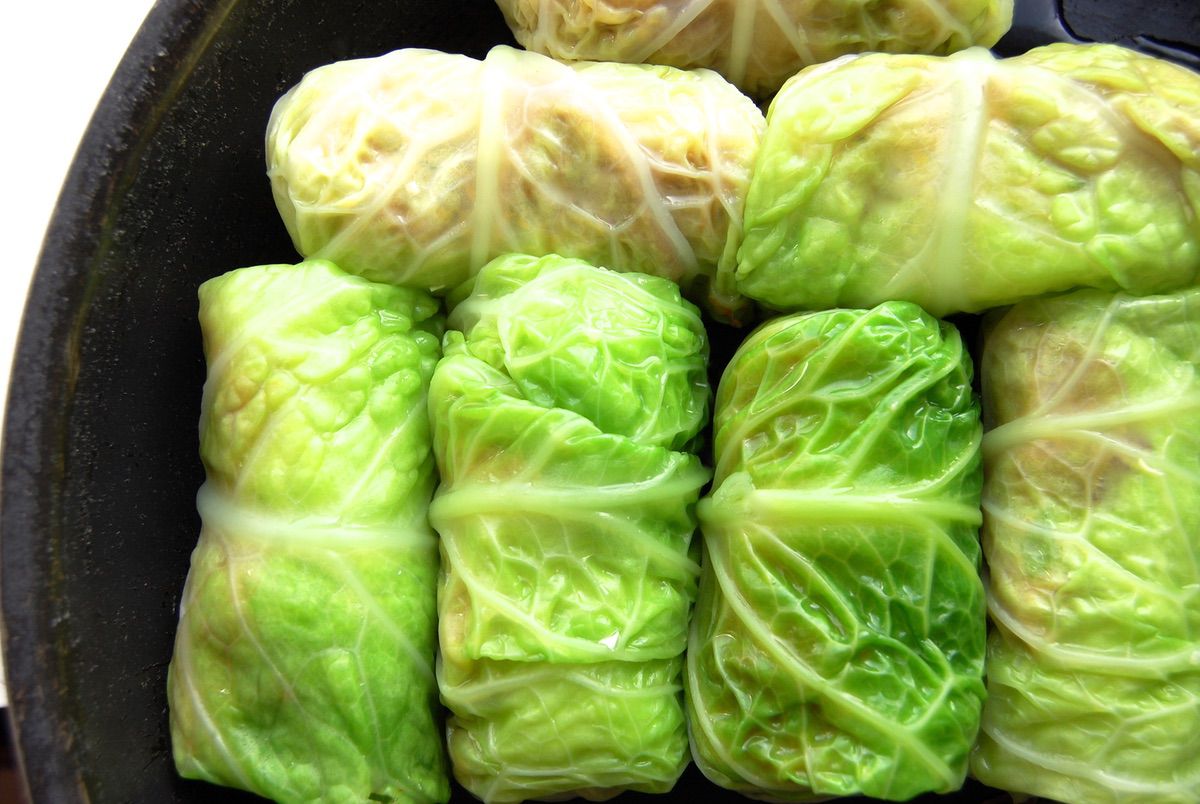 Ingredients
1 1/2 lbs. ground pork
1 head cabbage
1 large yellow onion, diced
1 tbsp extra virgin olive oil
1 tsp dried thyme
1 tsp dried basil
1/4 tsp paprika
6 cloves garlic, minced
3 cups raw cauliflower rice
1 egg yolk
1 29-oz. can tomato sauce
Instructions
1. Preheat the oven to 350 degrees F. Bring a large pot of water to a boil and add a pinch of salt. Boil the cabbage leaves for 2-3 minutes to soften, working in batches. Pat dry with a paper towel. Use a knife to carefully shave the thick spine of the leaves, so that the leaves bend more easily.
2. Heat the olive oil in pan over medium heat. Sauté the onions for 3-4 minutes until soft. Add the ground pork, thyme, basil, paprika, and garlic and cook for an additional minute. Remove from heat and stir in the cauliflower rice and egg yolk. Season with salt and pepper.
3. Place a couple tablespoons of the filling into each cabbage leaf and wrap tightly into a roll. Arrange the rolls with the seam side down in a large ovenproof skillet and pour the tomato sauce over the top. Bake, covered, for one hour. Serve warm.