Alright, so it might not have the most enticing name, but dump cakes are a pretty tasty way to get dessert to the table without a lot of fuss.
And it might not have the most attractive appearance. After you get a serving onto your plate it kinda looks like you might have dropped a piece of pie, picked it up and are now calling it cake.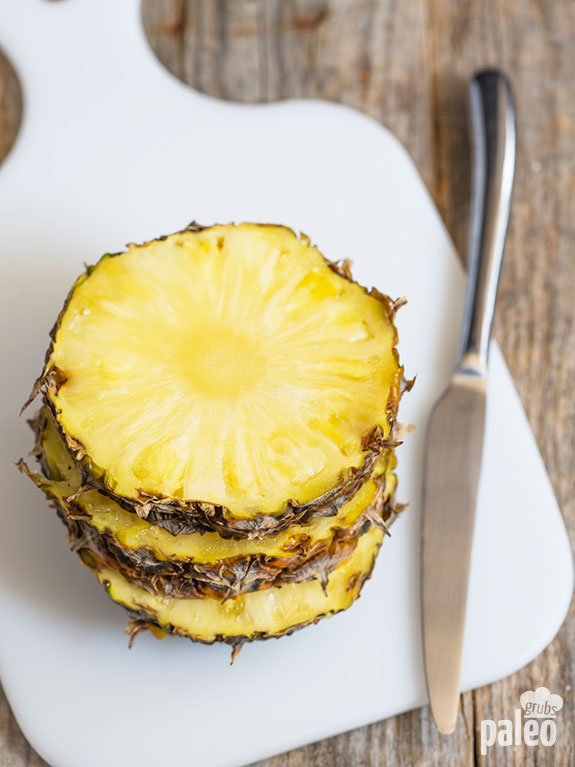 But misnomers and looks aside, let's get to the essence of this very yummy dessert.
It's true that dump cakes are fun to make because they're just so easy. It really is a matter of just mixing some ingredients together and then dumping everything into a baking dish. But just because something is easy doesn't mean it can't also taste good and be good for you.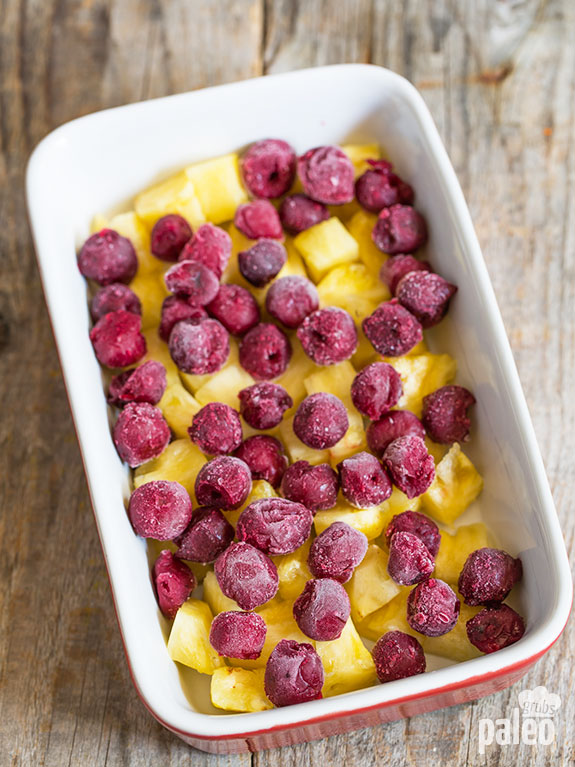 Sure, you could go the super easy route like one of the most popular cherry dump cake recipes goes and use cherry pie filling. But Paleo isn't really about taking the easy route when it comes to what goes into your body. And it's not that hard to make a nice cherry pie filling with real ingredients rather than trusting that goobery mess from a can.
Even though it's listed as optional I definitely recommend making the coconut whipped cream to go on top. One thing I've learned is that a lot of how your food taste is how it looks, and a dollop of this whipped cream on top of the cake makes it seem so much more fancy and irresistible. Also, it's pretty amazing how delicious this whipped cream is considering that there is no dairy or refined sugar in it.
What stands out most in this cake is the tartness from the cherries. It's balanced by the sweetness of honey and pineapple which provides a flavor contrast that you're sure to love.
The grain that you'd usually find in a dump cake has been replaced with the use of arrowroot flour so this is one crust you can eat without worrying what it's made from. I've noticed that after having a serving I feel good, without any bloating and without feeling like having another piece. That's what happens when you use quality ingredients designed to put a stop to your hunger, not increase it.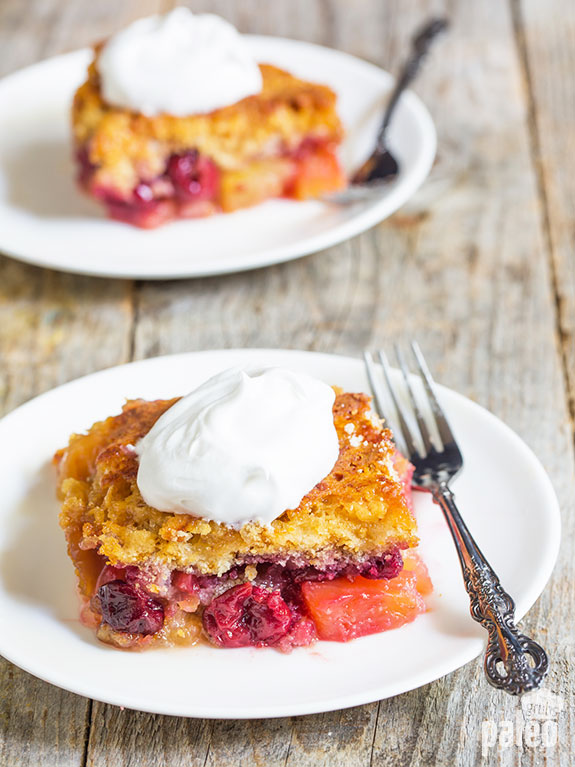 I hope you enjoy serving this up to your family and friends as a healthy dessert they're sure to love and ask you for the recipe.
---
½ cup desiccated coconut
½ cup arrowroot flour
1 tsp baking powder
1/8 tsp salt
¾ cup plus 2 tbsp of honey
2 tbsp almond milk
5 tbs liquid coconut oil
¾ cup frozen tart cherries
1 ½ cups fresh or canned chopped pineapple

For coconut whipped cream (optional)

1 can full fat coconut milk, chilled overnight
1 tbsp honey
1 tsp pure vanilla extract (optional)
Preheat oven to 350 °F. Place the coconut, arrowroot flour, baking powder and salt in a food processor and pulse a few time to combine. Sift the flour mixture in a bowl and set aside. In the food processor add the coconut oil, almond milk and honey. Pulse a few time until combine well.
Dump the cherries and pineapple into an 8×4 inch baking dish. Sprinkle evenly the coconut mix over the top of the fruit. Drizzle evenly the honey mixture over the surface of the coconut mix
Bake in the middle of the oven for 30 minutes, then cover with aluminum foil and bake for another 15 minutes. Serve warm or at room temperature with dollop of coconut whipped cream if using.
To make the coconut whipped cream, chill the coconut milk and remove the lid. Gently scoop out the coconut cream and put it in a bowl. Add the rest of ingredients and beat at medium speed with an electric mixer 2 minutes or until light and fluffy and soft peaks form.