How to Make Paleo Cake Batter
Every single part of this strawberry shortcake in a jar recipe is made entirely from scratch so you know exactly what is going into your dessert. Normally strawberry shortcakes are made with plenty of sugar and refined flour, both of which are rather unhealthy and definitely off limits for anyone following a paleo diet. So for this recipe, starting with the shortcake itself, you'll be using far healthier alternatives.
The cake batter is made with a mixture of healthy ingredients, including coconut flour, coconut oil, honey, almond milk, and apple cider vinegar. Along with eggs and baking soda, these ingredients make a cake mixture that's nearly identical to what you would get with sugar and wheat flour. Honey makes a far superior sweetening option than sugar as well. First off, it's naturally incredibly sweet but it also contains all kinds of beneficial nutrients and properties that help prevent many types of diseases. (1)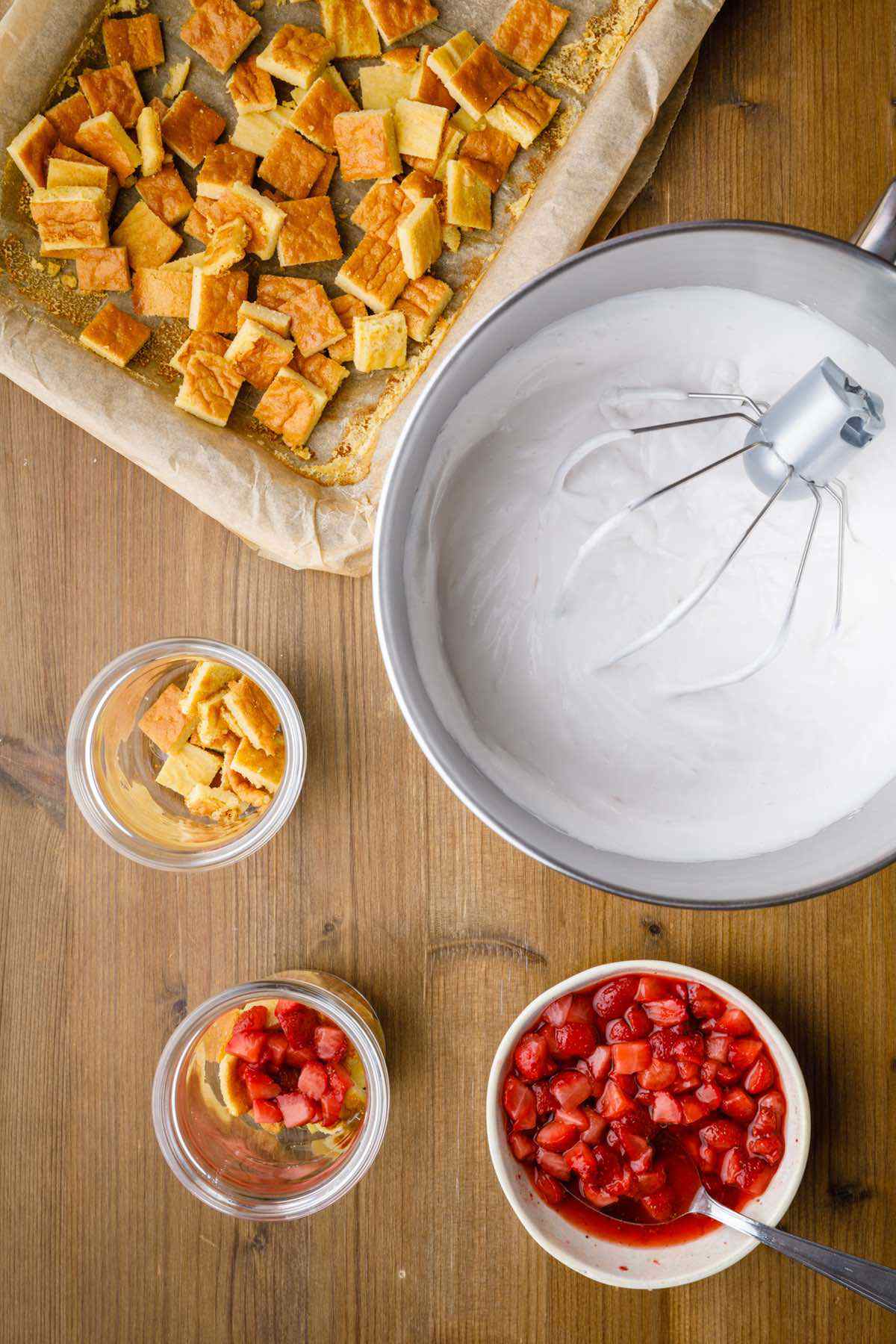 Dairy-Free Whipped Cream Topping
Moving on to the whipped cream topping, you're again going to be using honey as a sweetener. It's combined with full-fat coconut milk and vanilla extract to make a delightfully rich whipped coconut cream. The coconut milk adds plenty of healthy fats to this dessert and combined with the coconut flour and coconut oil used in the shortcake batter, the whole dessert has a deliciously mild coconut flavoring.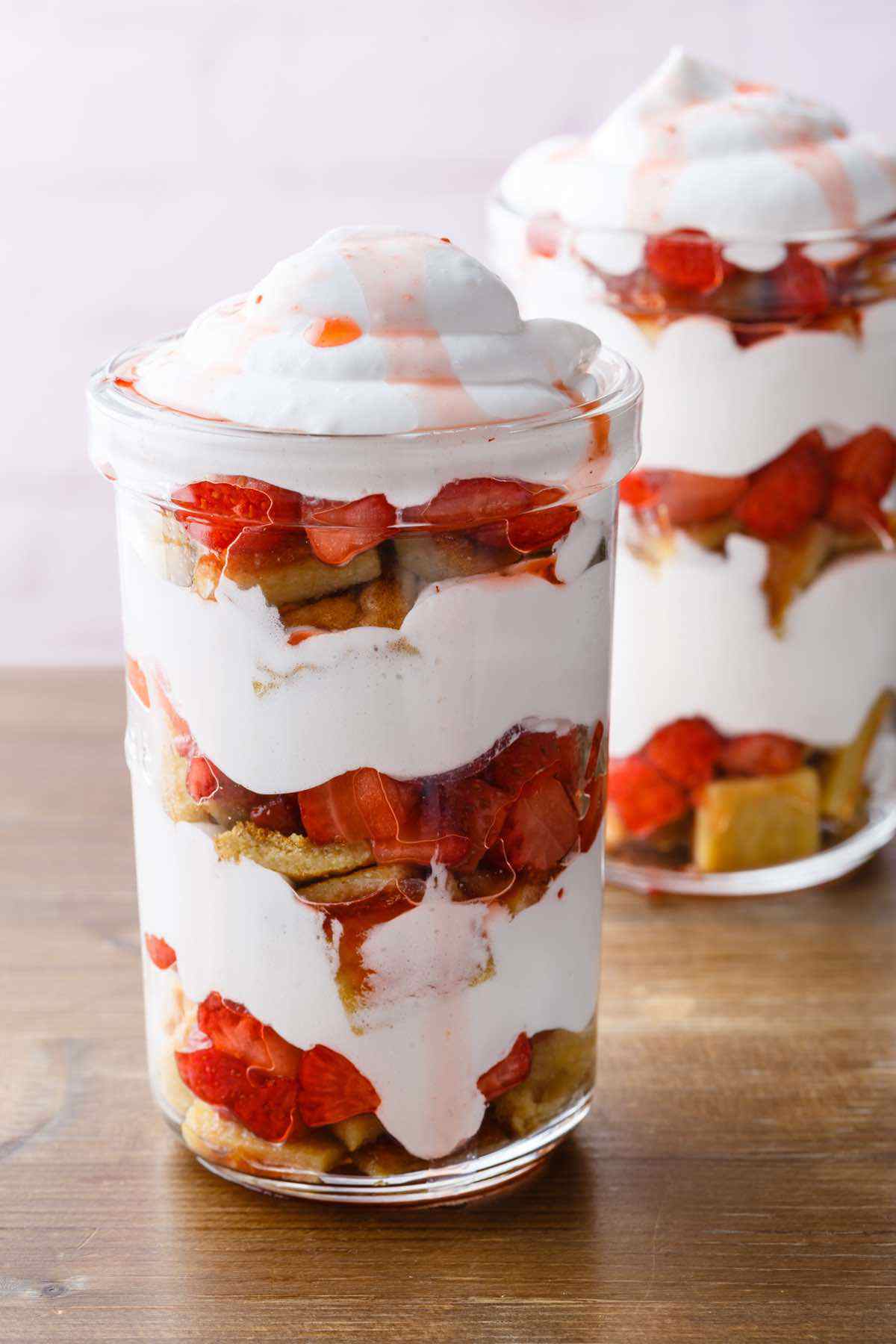 Finally, the homemade strawberry sauce. No strawberry shortcake could be complete without an excellent sauce to go with it and this one hits all of the right notes. Once again, you'll be using honey (it really does have so many uses in paleo desserts!) and simply mixing it together in a bowl with lemon zest and chopped strawberries. It's as easy as that to make a sauce that is not only delicious but quite healthy as well when you consider that fresh strawberries, as with most berries, are an excellent source of antioxidants. (2)
After you have prepared your shortcake, whipped coconut cream, and strawberry sauce all that remains is placing them together in your jars to complete this unique dessert option. This recipe makes approximately four servings of strawberry shortcake that is not only as delicious as its commercial counterparts but also an excellent dessert option for anyone who places an emphasis on healthy, nutritious eating. It's definitely one treat that you won't feel guilty about when you go for seconds, which is all but guaranteed to happen once you try it.
P.S. – If you love the great taste of strawberries and you're looking for even more great paleo-friendly dessert options that use them, I've got a few excellent recipes that you might want to check out:
#2 – No Bake Paleo Strawberry "Cheesecake"
#3 – 3 Easy Banana Ice Cream Recipes (Includes Strawberry Flavour)
---
For the shortcake

4 eggs
4 tbsp coconut flour
2 tbsp coconut oil
3 tbsp honey
3 tbsp almond milk
½ tsp lemon zest
¼ tsp baking soda
½ tsp apple cider vinegar

For the whipped coconut cream

2 (14 oz each) cans full-fat coconut milk, chilled for 24 hours
4 tbsp honey
1 tsp pure vanilla extract

For the strawberry sauce

2 cups chopped strawberries
2 tbsp honey
½ tsp lemon zest
Preheat oven to 350ºF.
Line a 7×11 inch baking tin with parchment paper. Set aside.
In a bowl combine the coconut flour and baking soda.
Using an electric mixer, whisk the eggs and honey together for 8-10 minutes until the mixture has tripled in volume.
Add the coconut oil, milk, apple cider vinegar and mix unit just combine.
Add the coconut flour mixture and mix until combined.
Pour into prepared baking tin and bake for 20-30 minutes or until golden brown.
Remove from the oven and let it cool completely.
Cut into small cubes and set aside.
To make the strawberry sauce, place the strawberries, lemon zest and honey in a bowl and mix to combine. Set aside.
To make the whipped coconut cream, open the coconut milk cans.
Scrape out the top, thickened cream and leave the liquid behind.
In a stand mixer bowl, add thickened cream, 2 tablespoons of honey, and lemon zest.
Whisk at the high speed for 10 minutes, or until soft and creamy.
To assemble the shortcakes, place a small amount of the cake cubes into the bottom of four jars.
Top with whipped coconut cream and strawberry sauce.
Repeat the layers of cake, whipped cream, and strawberries.
Serve immediately.