---
Lamingtons are cake, rolled in chocolate, and covered in coconut flakes. Sounds pretty good, right? Well they are pretty good and now you can try them out and still stick to your Paleo lifestyle.
We've made a few changes to a standard cake recipe in order to make these Lamingtons Paleo. The first step was replacing the wheat flour with coconut flour. You can find coconut flour in the health food aisle of most major groceries stores these days or if you're in a health food store, look for it with the other flours in the baking area. We also replaced the sugar in the cake with honey and I promise you won't know the difference.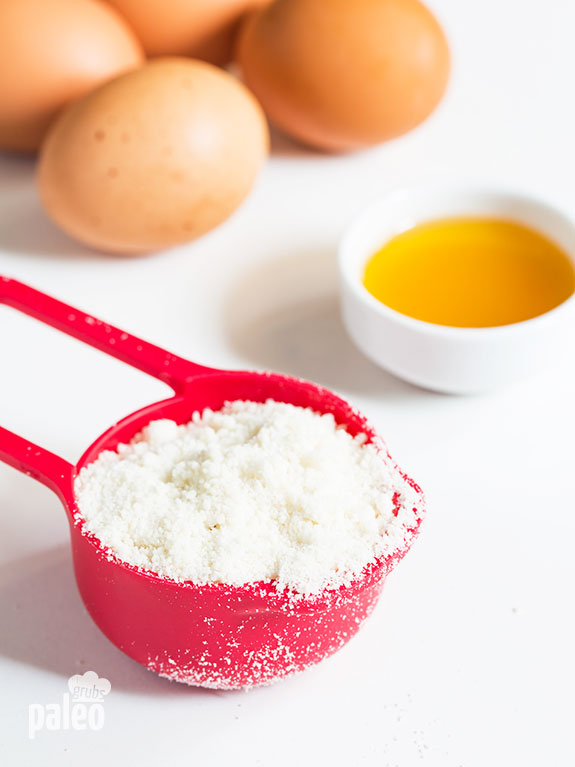 As my Lamington cake was baking, I wondered where their name came from. My first guess was that they were named after little furry lambs because the coconut flakes do make them look that way. But I took to the internet and learned that they are actually named for a late-nineteenth century governor of Queensland, in Australia, Lord Lamington. I wish I had a cake named after me!
The traditional icing for a Lamington is a chocolate glaze. We're making this from scratch, the Paleo way. Instead of store-bought chocolate icing, which is packed with unnecessary sugar, we're using honey, coconut oil, and cacao powder, a more raw form of chocolate, to make our icing. I actually prefer this chocolate frosting to store-bought because it's darker and richer and not overly sweet.
One tip: make sure your cake is honestly totally really cooled all the way when you cut it. The slightest amount of warmth still in your cake will make the icing run right off of it. That's not because it's Paleo – you'll know if you've ever made a cake, that's true for all cakes! When the cake is all the way at room temperature, then it's time for the frosting.
After you've given the cake bites a nice chocolate bath, roll them in the coconut and set the pieces aside to set…if you can. I'm woman enough to admit that I popped the first one right into my mouth!
But I saved enough that when I served coffee and my Lamingtons after dinner with friends, there were more than enough to go around, which was good, because they were a big hit. I like to surprise my friends by making things that they won't think are Paleo – and this was another success. There's no way to tell that you've used coconut flour and honey and cacao powder instead of the traditional ingredients – the taste and texture are just what you want!
So the next time you're looking for a tasty cake bite (goes great with tea in the afternoon, by the way), I highly suggest you try out these Paleo Lamingtons!
---
For the sponge cake

½ cup coconut flour
½ tsp baking powder
6 eggs
1/3 cup honey
1 tsp pure vanilla extract
4 tbsp coconut oil, melted

For the icing

2 tbsp honey
½ cup boiling water
1/4 cup raw cacao powder
2 tbsp coconut oil

For rolling
Preheat oven to 350 F.
Lightly grease an 8x8 inch baking pan and line with baking paper. Set aside.
Place the coconut flour and baking powder in a blender or food processor and pulse a few times to combine. In a large bowl beat the eggs with honey. Pour in coconut oil and mix to combine. Add the coconut flour mixture and stir to combine. Spoon batter into prepared pan and smooth surface.
Bake for 25 minutes or until golden. Remove from the oven and let it cool completely.
Cut cooled cake into 20 pieces.
To make the icing, combine all the ingredients in a bowl and stir until smooth. Place the shredded coconut on a plate. Dip the pieces of cake in icing and roll in coconut.
Set aside on a wire rack. Stand for at least 1 hour or until set.