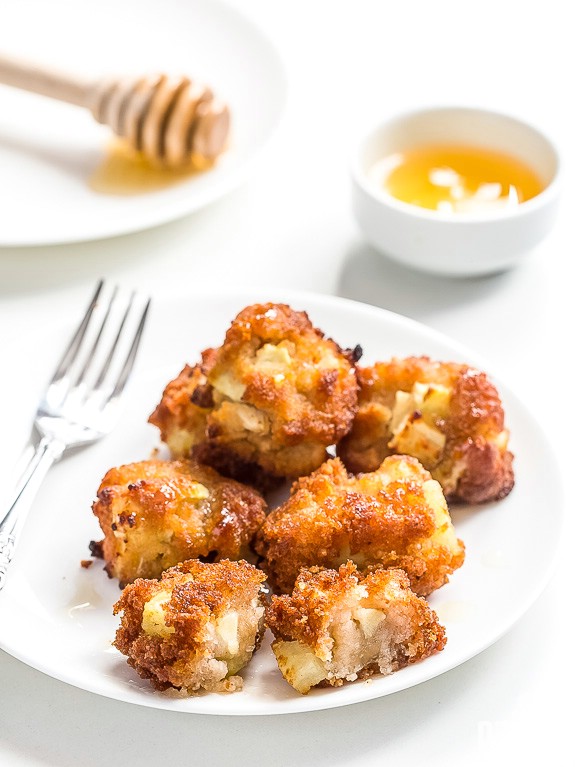 My Dad loves all things baked with apples. Apple pie. Apple tart. Apple crumble. Apple cobbler. He's an aficionado of baked apple dishes. So I just had to come up with a Paleo recipe for baked apple goodness, just for him. And fritters sounded good to me – who doesn't love a fritter?!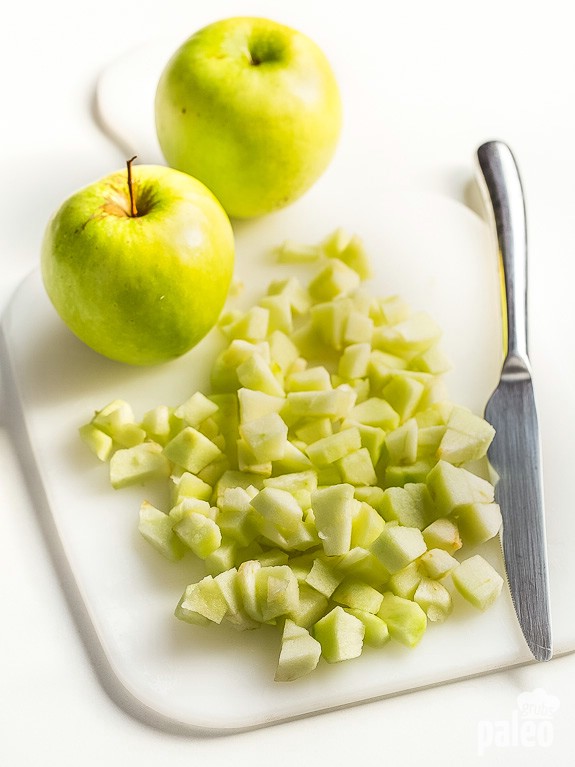 You might think that fritters are the antithesis of the food you might find on a list of Paleo-approved snacks. Little balls of dough, deep-fried …probably the antithesis of anything you'd find on any healthy diet plan. But not anymore! These are Healthy Oven Baked Apple Fritters and they are perfectly Paleo.
There's really nothing like baked apple, especially a green Granny Smith apple like we use in this recipe – you can really use any kind of apple, but I'll tell you why I like green Granny Smiths the best. They have an extra bit of tartness that red apples usually lack, so when you bake them and use them in recipes, you get a more complex flavor – sweet and tart. The tartness keeps the sweetness from becoming cloyingly sweet.
And a ball of dough is just about the perfect vehicle for baked apples bits. But we're keeping this ball of dough Paleo by making a few minor changes. First, we're using arrowroot and coconut flour instead of wheat flour. Arrowroot is a starchy tuber that has been a mainstay of South American diets for centuries. The arrowroot flour allows the dough to be dense and stick together well in its wet form.
That's why so many gluten free recipes use arrowroot. The coconut flour adds bulk and keeps the dough from getting too dense. And, of course, to get all that dough to stick together into nice little fritter shapes, we need a liquid. Instead of using milk, which wouldn't be very Paleo of us, we use just a bit of coconut milk. Make sure it's not sweetened!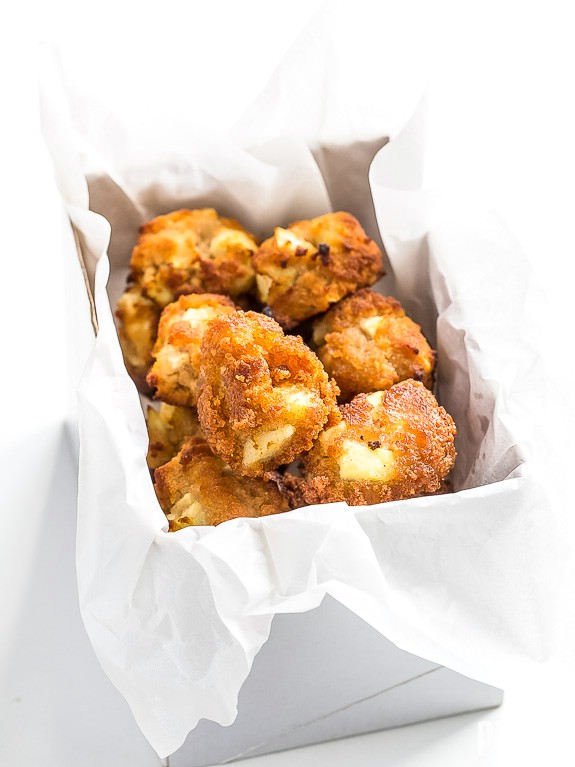 So mix up your bits of green apple and your dough and then drop spoonfuls of the dough onto your baking sheet. Don't try to make them perfect little balls of dough – that's the fun part about fritters: they're funky little imperfect dough balls! And, those imperfections in shape serve a function as well – a more crispy outside!
Dab a little coconut oil onto each of those bad boys and pop in the oven. That's right – we're baking these instead of deep-frying them. This keeps the fat content down but still leaves them cooked and doughy on the inside but crisp and tasty on the outside.
My Dad has finally learned that when I give him something to taste from my kitchen, even if he thinks there's no way it could be Paleo, it always is. And he rated these Healthy Baked Apple Fritters among some of the best baked apple treats he's ever had, so I think that's another win for Paleo and yet another example of why I love Paleo: it's about finding new ways to enjoy old favorites, while keeping healthy, inside and out.
(Make this next: Lemon Poppy Seed Baked Donuts)
---
¼ cup coconut flour
1/8 cup arrowroot flour
½ tsp baking powder
¼ tsp ground cinnamon
1 egg
2 tbsp coconut milk
¼ cup honey
1 medium Granny Smith apple, cubed into ¼ inch cubes
1 tbsp liquid coconut oil
Preheat oven to 375 F.
Line a baking sheet with parchment paper and set aside.
In a large bowl mix the coconut flour, arrowroot flour, baking powder and cinnamon.
Add the egg, honey and milk and mix to combine.
Add the apple cubes and mix to combine.
For each fritter, drop about one tablespoon of batter onto the prepared baking sheet, spacing the fritters about 2 inches apart.
Brush each fritters with coconut oil and bake for 15 minutes.
Serve the fritters in their own or, if you like, serve with a drizzle of honey.