A Complete Meal Using Just One Sheet
I love this recipe because it combines everything I love about the paleo lifestyle in one simple dish. It's high in lean protein thanks to the chicken breasts, low in carbs, includes a great healthy green vegetable, and the homemade glaze? It's quite remarkable in its simplicity, if I may say so myself. In order to make the marinade glaze, all you will need is a single lemon that has been juiced and zested, garlic cloves, honey, and olive oil. Just mix them all together in a small dish and then toss your chicken in the mixture before baking them for about 20 minutes.
After baking the chicken, the next step is to remove the tray and arrange the asparagus on it as well. Asparagus is without a doubt one of my top green veggies to eat. Not only is it fresh and crisp when drizzled with the lemon juice and garlic mixture in this recipe, but it's so incredibly good for you as well. It's an excellent source of vitamins B1 and K, it's a rich source of dietary fiber that helps to nourish the digestive tract, and it's got plenty of anti-inflammatory and antioxidant properties that help prevent cancer in your body. (1)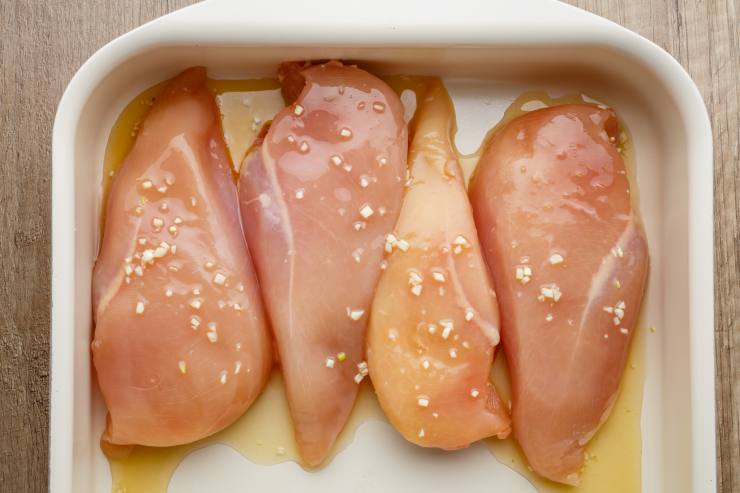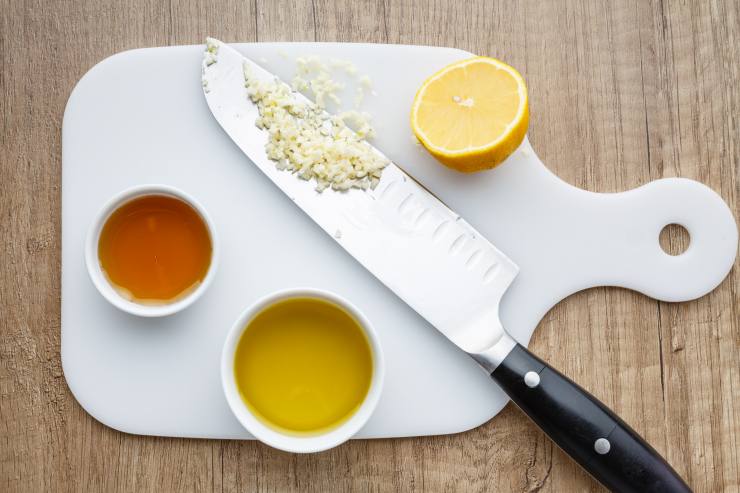 After drizzling the asparagus with olive oil and adding the remaining garlic cloves to it, place the tray back into the oven and broil for about 10 minutes or until you see it start to caramelize. By this point, you'll definitely notice the wonderful aroma wafting fro mthe oven thanks to the garlic included in the marinade. The garlic provides many anti-inflammatory benefits, just like the asparagus. (2) Once the tray finishes broiling, all that is left to do is drizzle the asparagus with the remaining bit of lemon juice and prepare to serve.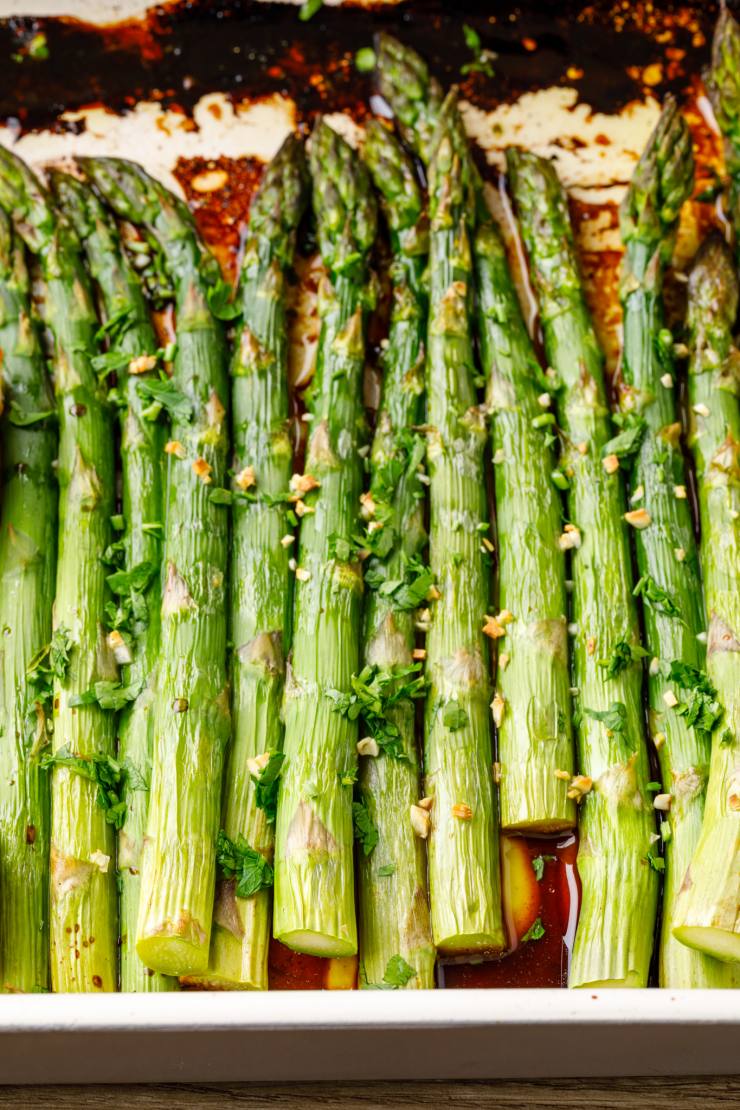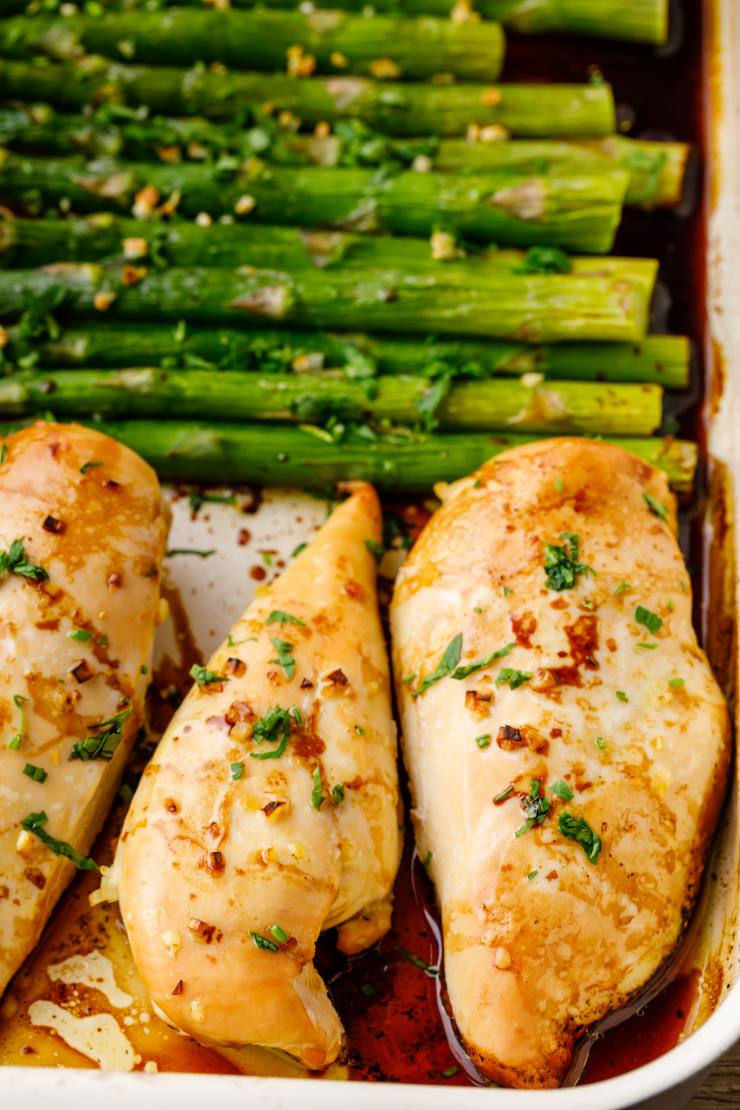 If you want to add a little bit extra to this chicken meal, you can some freshly chopped parsley leave as well. The flavor of the parsley blends in perfectly with the marinade glaze and the asparagus. The glaze is so naturally sweet and tasty that it might even get any kids who aren't the biggest asparagus fans to finally sit down and truly enjoy it. But without a doubt, the best part of this whole recipe is the flavor that the glaze ends up giving to the chicken. You won't believe it until you try it for yourself.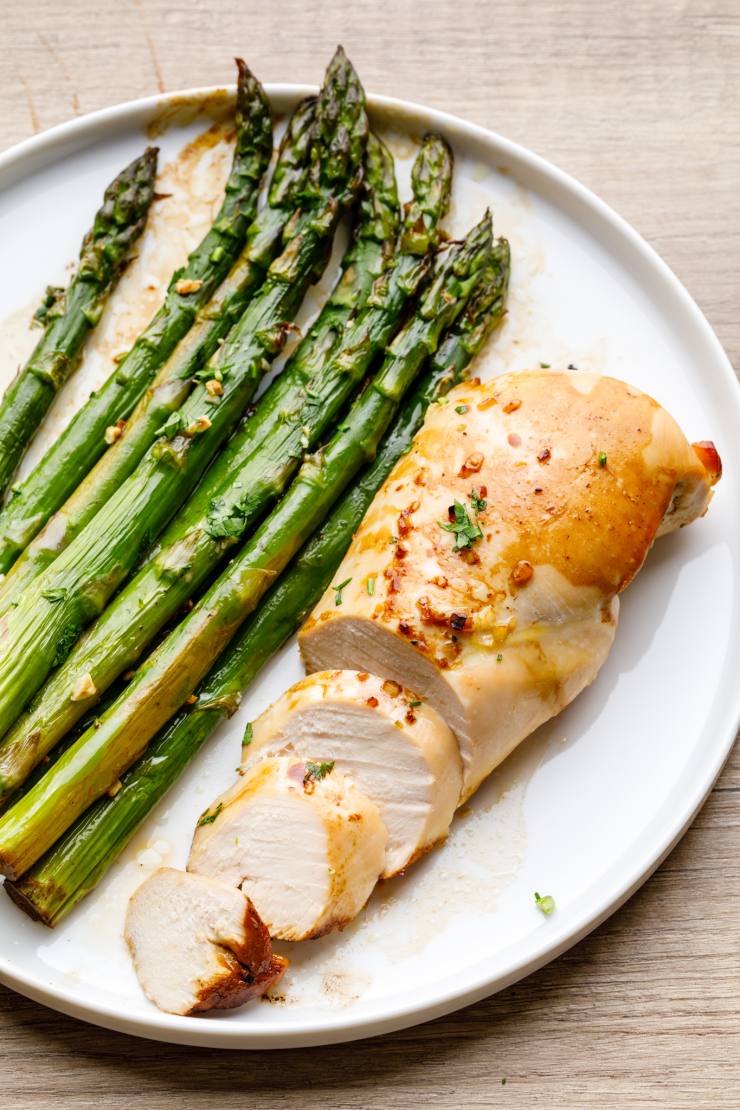 (You may also like: Sheet Pan Chicken Thighs with Sweet Potato and Broccoli)
P.S. – I know that I'm definitely not the only one who just can't get enough of these flavorful chicken recipes. If you're looking for a few other great ideas to enjoy chicken in a wide variety of different ways, then check out some of these:
---
4 large boneless, skinless chicken breast
1 ½ pounds asparagus, trimmed
2 garlic cloves, minced
1 tbsp honey
1 lemon, juiced and zested
2 tbsp olive oil
salt and pepper, to taste

Optional

2 tbsp chopped fresh parsley leaves
Preheat oven to 400ºF.
To make the glaze, place half of minced garlic, half of lemon juice and zest, honey, one tablespoon of olive oil in a shallow dish and mix to combine. Season to taste with salt.
Add the chicken and toss to coat. Marinate for minimum 30 minutes.
Remove the chicken from the marinade and place on a lightly greased roasting tray.
Bake in preheated oven for 20 minutes.
Remove from the oven and arrange the asparagus in a single layer on the tray.
Drizzle the asparagus with 1 tablespoon of olive oil and sprinkle with remaining minced garlic.
Season to taste with salt. Toss to coat.
Broil on medium high heat for 10 minutes or until everything is caramelized and slightly charred.
Remove the tray from the oven and drizzle the asparagus with remaining lemon juice.
Sprinkle with parsley (if using) and serve.
More Good Oven Baked Chicken Breast Recipes with Few Ingredients
1. Baked Tandoori Chicken Breast
This baked chicken breast recipe is an adaptation of the classic Tandoori chicken. Instead of being baked in the clay oven that the recipe is named for, this recipe is adjusted for the everyday Paleo cook. Tandoori chicken is easy to make, but takes a little advance planning so that it can have time to properly marinate. Serve with cauliflower rice and lime wedges.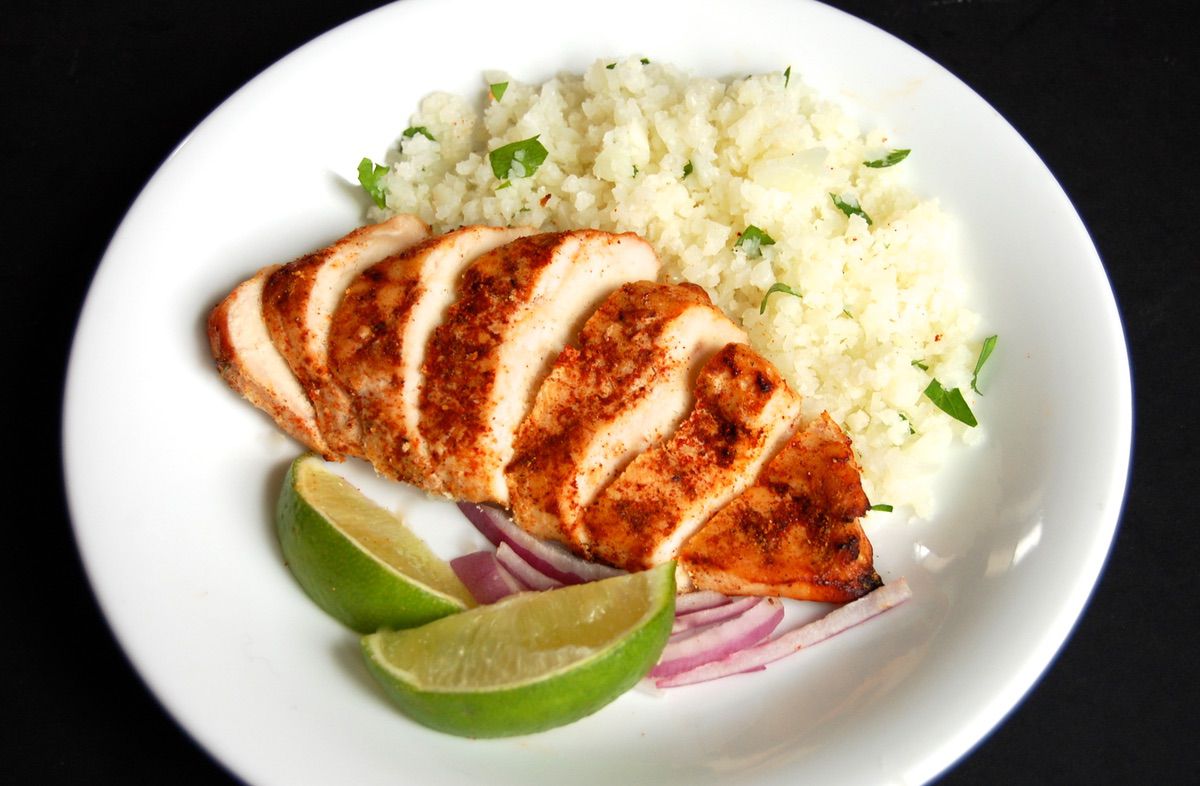 Ingredients
3 boneless skinless chicken breasts
1/2 cup full-fat coconut milk
1 tbsp fresh lemon juice
2 cloves garlic
1 tbsp tandoori seasoning
1 tsp salt
Smoked paprika, for sprinkling
Instructions
1. Mix together the coconut milk, lemon juice, garlic, tandoori seasoning, and salt in a large bowl. Add the chicken breasts to the bowl and use your hands to massage the marinade into the chicken. Cover the bowl and place in the refrigerator to marinate for 4-8 hours.
2. To bake the chicken, preheat the oven to 425 degrees F. Line a baking sheet with foil and coat with coconut oil spray. Place the chicken on the baking sheet and sprinkle lightly with salt and paprika. Bake for 25-30 minutes, turning once halfway through. Serve warm.
2. Baked Mustard Lime Chicken Breast
This tangy mustard lime chicken breast is baked rather than grilled to get the most flavor from the lime and mustard. Serve with a side of asparagus or another vegetable for a complete healthy dinner. Note that the chicken needs to marinade for at least one hour to let the flavors infuse.
Ingredients
1 lb. skinless boneless chicken breast
1/2 cup fresh cilantro, packed
1/3 cup Paleo wholegrain mustard
1/3 cup fresh lime juice
1 tbsp olive oil
1 tbsp chili powder
1/2 tsp salt
1/4 tsp pepper
Pinch of cayenne
Instructions
1. Blend together the cilantro, mustard, lime juice, olive oil, and spices in a food processor or blender. Place the chicken in a small baking dish and pour the marinade over the chicken. Cover and refrigerate for at least one hour, or up to five hours.
2. Preheat the oven to 350 degrees F. Bake the chicken for 20 minutes or until no longer pink on the inside. Spoon any extra sauce over the top to serve.