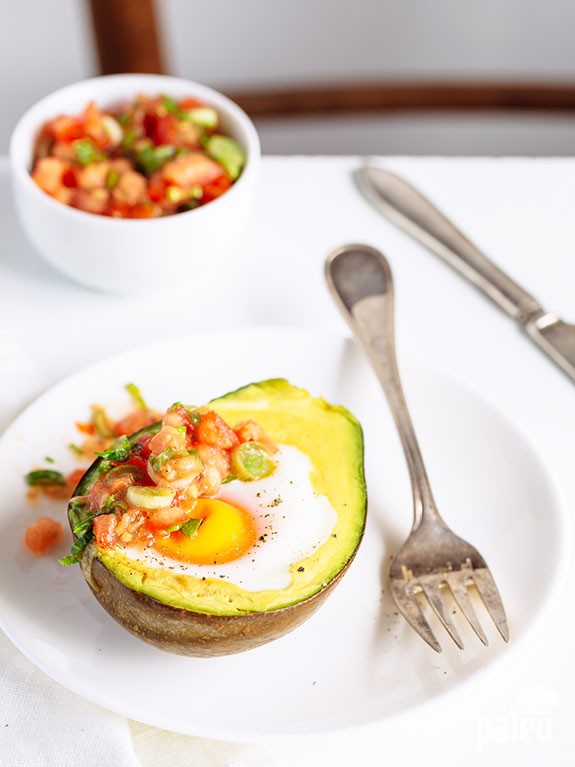 I LOVE making baked eggs in the morning. They're so easy, and so many yummy things can be stuffed into an avocado, like this chicken salad stuffed avocado.
What We Love About Baked Eggs in Avocado
It's protein-packed goodness: Enjoy a satisfying and energizing breakfast with a unique eggy twist that keeps you full for longer.
It's so simple: This baked avocado egg recipe uses only two ingredients and some salt and pepper to create a hassle-free and quick breakfast on the go. Perfect for busy days when time is of the essence.
It's an experimenter's dream: The versatility of this recipe is endless. Play around with the seasoning, add various toppings, and create a unique flavor every time. You can start by adding some salsa on top. It's super yummy.
You may also like: Breakfast Brussels Sprouts Hash
---
How to Make Baked Eggs in Avocado
Prepare the avocado: Slice an avocado in half and remove the pip. Scoop out a tablespoon full of flesh from each half to create some space for the egg. Put both halves in a small oven-safe bowl. Make sure they fit tightly.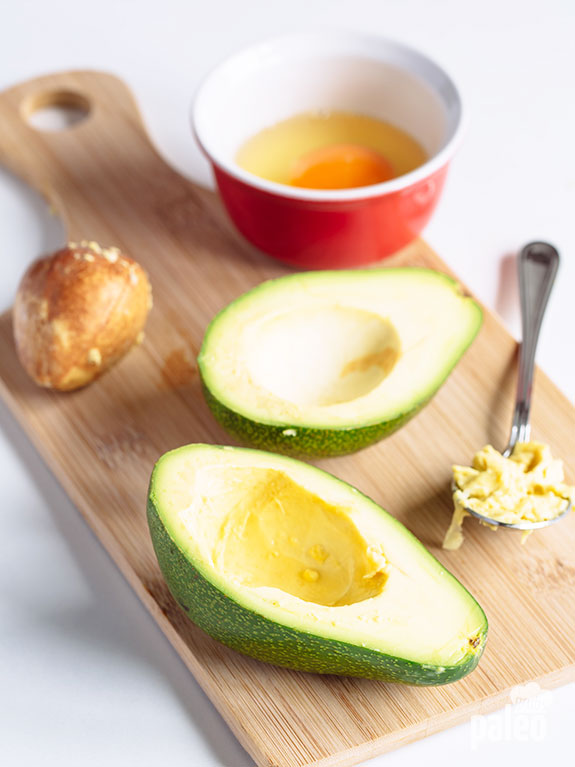 Add the egg: Crack one egg into a container or bowl and gently scoop the egg yolk into the avocado. Try to keep it intact. Scoop egg white into the hole until full. Move on to the next avocado and egg combo.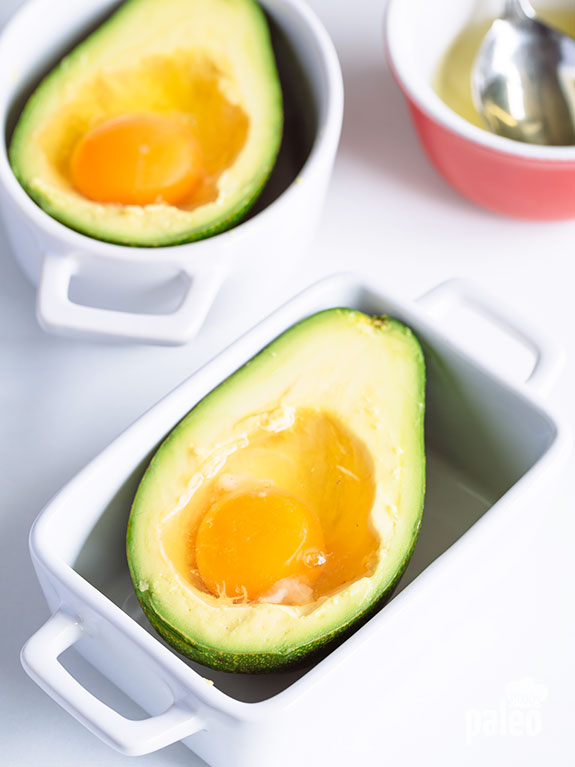 Bake: Bake the avocados for 15 to 20 minutes or until the egg whites are set. If you don't like soft eggs, bake for five more minutes until the yoke sets.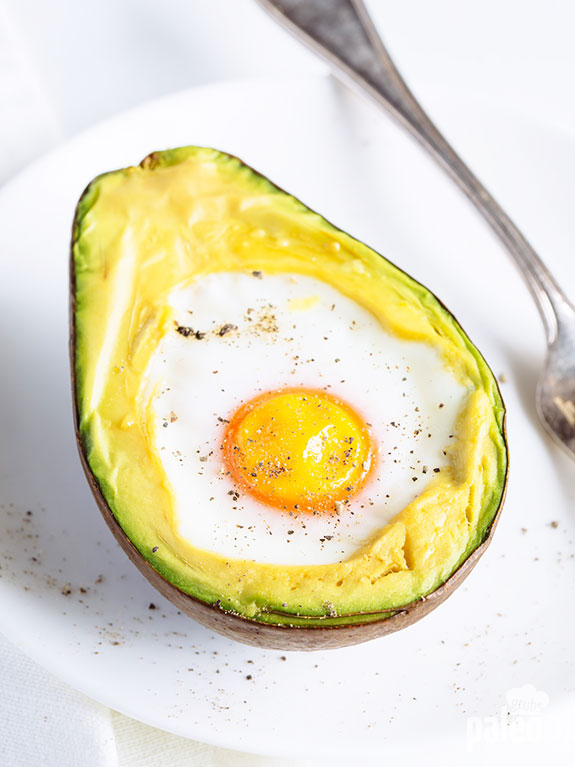 Related: Avocado Egg Salad
---
Storing and Reheating Instructions:
To Store: Baked eggs in avocado don't keep very well, so make them fresh if you can. If you have leftovers, store the baked avocados in an airtight container in the refrigerator and make sure to eat them within two days.
To Reheat: To reheat baked eggs in avocado, microwave the filled avocado in 30-second intervals until warmed through and eat immediately. Alternatively, cover the avocado in foil and bake for seven minutes or until warmed through.
P.S. If you're looking for more breakfast recipes, make sure to check out these ideas as well: https://paleogrubs.com/paleo-breakfast-ideas
---
1 medium or large avocado
2 small eggs
salt, black pepper to taste
Preheat oven to 425 F.
Slice avocado in half and remove pit. Scoop out about 1 tablespoon of the flesh from each avocado half.
Put avocado halves in small dish (make sure they fit tightly).
Crack one egg in a bowl. Try to keep egg yolk intact. Gently spoon egg yolk into avocado hole. Spoon egg white into the hole until full.
Repeat with remaining egg and avocado half.
Place in the oven and bake for 15 to 20 minutes or until your egg whites are set.
Use a large avocado: Use the largest avocado you can find, preferably the type with a naturally large pip. Make sure it's not overripe and kept at room temperature for the best results. When widening the hole for the egg, make sure to keep the hole as shallow as possible for even cooking.
For large and extra-large eggs: Separate the yolks from the whites, add the yokes to the avocado cavity first, and then pour in the whites to prevent overfilling.
Line your baking dish with foil: Lining the baking dish with greased foil will help prevent sticking and make cleanup much easier if the egg spills.
The yoke crust: Sometimes, the yoke develops a crust on top after baking for about 15 minutes. You can choose to remove the egg crust or leave it intact. The only difference is the way your dish will look in the end, so it's up to you.