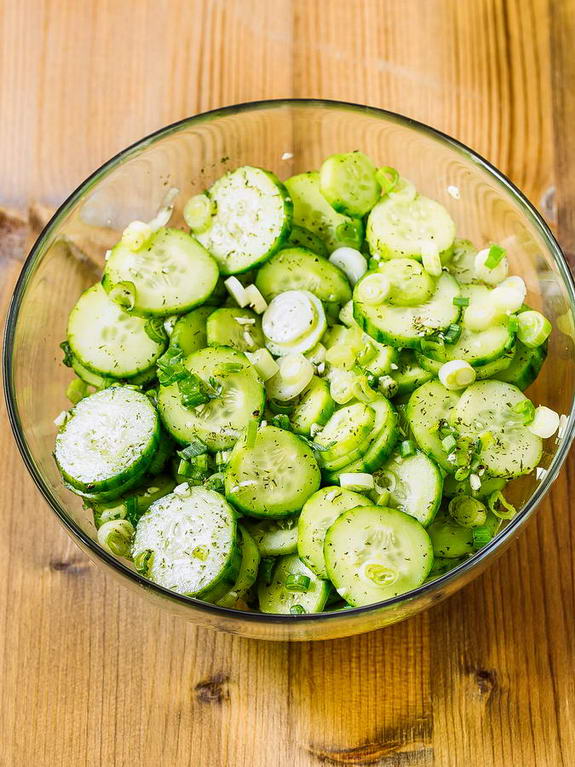 I have a friend who often orders salads at restaurants but she almost always asks for the salad without lettuce. Inevitably, there's always someone at the table who is befuddled by this. Julie always answers the same way: "iceberg lettuce is a waste of chewing time." Now, I'm not as anti-lettuce as Julie, but I see her point.
There are very few vitamins and nutrients in iceberg lettuce (the kind of lettuce most restaurants use for salads) and why not focus on the good stuff in the salad? Peppers, cucumbers, tomatoes, carrots… mmm.
So a while back, Julie got me thinking: why not make salads that really showcase a particular veggie? Or at least don't make the lettuce the star. This cucumber salad was one of my first adventures into this veggie philosophy.
To be honest, there's nothing really genius about this recipe. It's essentially a veggie with a vinegar-herb dressing, and if you're courageous, you could definitely try variations on this theme. I picked cucumbers because they have a light flavor and they tend to soak up the juices and flavors they are dressed in, so each bite is super flavorful. But I could totally see a version of this salad using peppers, carrots, and even celery.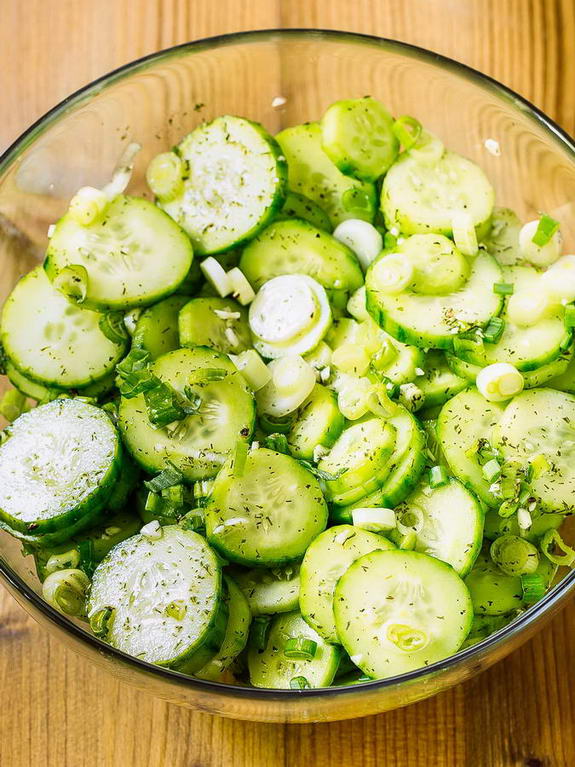 And when I think "cucumber," I immediately think "dill." They just go so well together. I would use a different herb or spice flavor for a different vegetable. But dill is just perfect for cucumber. The spring onion (also known as green onion) and garlic add their flavor and almost spiciness to the mix, while honey gives it an almost imperceptible, but important, sweetness.
You might be thinking, "why can't I just slice up some cucumbers and pop open a bottle of store-bought dressing?" I encourage you to read the ingredient list and nutritional info before you do that. Most store bought dressings have a lot of sugar, preservatives, and other processed ingredients. If that doesn't stop you from using store-bought dressing, this will: homemade dressings like the one used in this recipe simply taste better! And you can always make extra and keep it in a screw-top mason jar in the fridge for a while to use on more cucumbers or other salads.
Now… here's a little secret… in the recipe, it says "serve immediately." And, for sure, it's great as soon as it's all mixed together. But if you're a fan of the bright flavor of vinegar, put any leftover salad in a large baking dish so every cucumber is sitting in the vinegar mix.
Cover and chill overnight and the cucumbers will really soak up that vinegar-dill flavor. You've basically taken the first step towards making dill pickles! But your cucumbers will still be crisp and the flavors will be nice and tangy and bright. Enjoy!
(Make this next: Simple Paleo Salad-in-a-Jar with Mustard Vinaigrette)
---
2 pounds cucumber
2 spring onion, sliced
1 garlic clove, minced
4 tbsp apple cider vinegar
1 tsp raw honey
2 tsp dried dill or 2 tbsp chopped fresh dill
½ tbsp sea salt
¼ tsp organic black pepper
Peel and slice cucumber thinly.
In a large bowl mix cucumber and green onion.
In a small glass mix vinegar, honey, garlic, salt, black pepper and dill.
Pour vinegar mixture over cucumber, toss to coat.
Adjust taste with more salt and black pepper if needed and serve immediately.
More Good Cucumber Salad Recipes
Sweet and Spicy Cucumber Salad
This light, refreshing cucumber salad has both sweet and spicy elements. This crunchy and flavorful dish needs to be prepared at least 3 hours before serving, since the flavors intensify after marinating. The cucumbers should also be allowed to drain of excess moisture for about 30 minutes before the rest of the ingredients are put together.
Ingredients
2 large cucumbers, peeled and sliced
1/2 tbsp salt
1/4 cup red onion, diced
1/4 cup apple cider vinegar
1/4 cup water
2 tbsp honey
Dash of red pepper flakes
Instructions
1. Place the sliced cucumbers in a strainer and toss with salt. Allow to drain for approximately 30 minutes.
2. In a small saucepan, combine the vinegar, water, honey, and red pepper flakes over medium heat. Bring to a boil and then remove from heat. Allow to cool for 10-15 minutes.
3. Combine all of the ingredients in a medium bowl and cover. Refrigerate for 3 hours before serving.