Featured
40 Delicious Ways to Eat Cucumbers
Cucumber is a versatile little vegetable that I love adding to salads, smoothies, juices, and more. Did you know it's amazing when paired with fruit? With nuts? With other veggies? With meats? Cucumber is delicious just about any way you combine it, so try a bunch of these paleo-friendly cucumber recipes. They're all free of dairy, grains, and sugar. Make note of the type of cucumber each recipe calls for—English cucumbers are a favorite because they're crisp, smooth, and seedless, and they have a cool, refreshing flavor.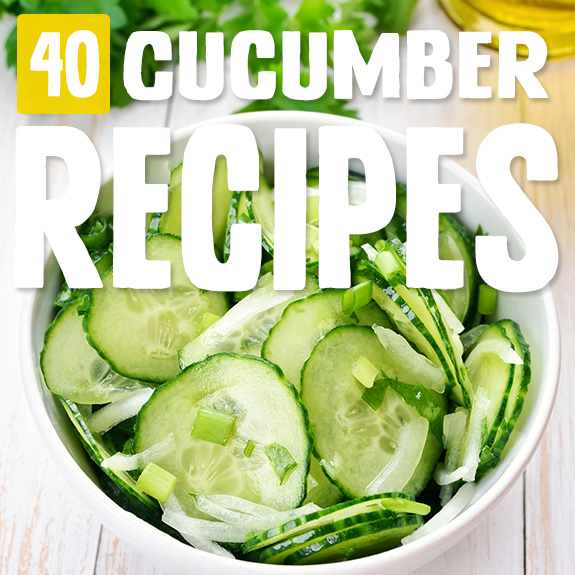 ---
1. Wasabi Cucumber Avocado Dressing With Cucumber Salad
This double-cucumber dish starts with a mix of salad greens, English cucumber, shredded carrot, and toasted sesame seeds. Top it off with a delicious wasabi dressing made with cucumber, avocado, rice vinegar, green onion, garlic, and lime juice.
---

Photo: The Bee Lake
2. Papaya, Jicama, and Cucumber Salad
I love cucumber in fruit-containing salads. There's something so tasty about the cool, refreshing flavor of cucumber combined with sweet fruit. This salad also features crunchy and juicy jicama and a dressing with lime juice and olive oil, as well as seeds to top.
---
3. Ultimate Grilled Chicken Greek Salad
This grilled chicken salad is full of Greek-style ingredients like grilled eggplant, English cucumber, red peppers, red onion, black olives, sundried tomatoes and herbs. Top it off with lemon-mint, and turmeric dressing. You can leave out the feta cheese if you want.
---
4. Spicy Tuna and Cucumber Bites
Cucumber rounds, sliced to between a quarter and a half inch, make delicious cracker substitutes for enjoying dips, spreads, toppings, and more. This recipe uses a spicy tuna topping with green onions, avocado, coconut aminos, sriracha sauce, and sesame seeds.
---
5. Low Carb Sweet and Sour Cucumber Salad
Made with spiralized cucumber, this delicious salad is so addictive you'll want it for lunch every day. It's made with olive oil, raw apple cider vinegar, honey, dill, garlic, red pepper flakes, celery salt, pepper, sea salt, cucumber, baby carrots, and green onions. Yum!
---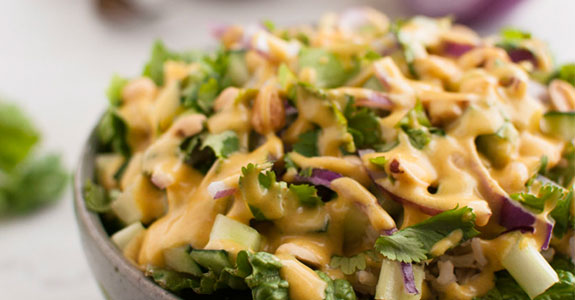 Photo: The Organic Dietitian
6. Curry Green Salad
Warm curry flavors and cool, refreshing cucumber are a lovely combination, and this green salad also includes celery, cilantro, red onion, cucumber, cashews, and raisins. For the paleo version, just leave out the cooked rice. It's just as yummy without it!
---
7. Cucumber and Sesame Noodle Salad
This salad has an Asian-style flair with cucumber, snow peas, spring onion, fresh mint, fresh ginger, coconut aminos (to replace the tamari), honey, and sesame seeds. It's another lunchtime favorite you'll be wanting every day, and it only takes a few minutes to throw together.
---
8. BBQ Shrimp With Thai Cucumber Noodles
Full of Thai flavors from fish sauce, rice vinegar, sriracha, lemongrass, and ginger, this amazing shrimp and salad combination is a light version of Thai shrimp and noodles, because it uses cucumber noodles. You can replace the peanuts and peanut butter with almond or cashew.
---
9. Tomato, Cucumber, and Avocado Salad
I love a good chunky salad with soft ingredients like avocado and tomatoes, and this tasty version, full of red onion and cucumber, is the perfect example. The veggies are dressed with olive oil, parsley, garlic, sea salt, and freshly ground black pepper. Totally delicious.
---

Photo: Inspiralized
10. Israeli Cucumber Noodle Salad With Tuna
With a middle eastern flavor, this simple salad features veggies and proteins together, making it a full nourishing meal that's great for lunches or dinners. You'll need a seedless cucumber, tomatoes, canned tuna, diced red onion, ground cumin, olive oil, and lemon juice.
---
11. Scallops Over Mango-Cauliflower Salad
Now we're getting fancy! Try these lovely seared scallops with a salad made with cauliflower, mango, cucumber, grated ginger, fresh lime juice, cilantro, and olive oil. The tropical flavor combination and perfectly golden brown scallops are to die for.
---
12. Minty Pineapple Cucumber Green Smoothie
Cucumber is one of my favorite green smoothie ingredients. It tastes good with just about anything else you'd add, and it has such a refreshing flavor for hot days. This smoothie is made with fresh pineapple and cucumber, baby spinach, avocado, fresh mint, and kombucha.
---
13. Back to Basics Green Smoothie
With baby spinach, kale, mango, coconut water, basil, and cucumber, this smoothie has a sweet and savory tropical flavor you'll crave, and it doesn't rally taste "green" at all, thanks to the sweet fruits and delicious basil. Basil is such a great herb to have with fruits!
---

Photo: Pralines and Greens
14. Cucumber and Celery Green Juice
Celery is another one of those green foods that has a deliciously refreshing flavor, so I love it paired with cucumber in green juices and smoothies. This juice also gets its sweetness from apple and lemon, and it contains healthy, vitamin-rich kale. The perfect way to start your morning.
---
15. Healthy Avocado Tuna Salad
This tuna salad is light and healthy—a far cry from the mayonnaise-heavy stuff you remember having packed in your lunch as a kid. You'll need canned tuna, avocado, diced cucumber, fresh cilantro, green onion, garlic salt, and lime juice. Serve with romaine lettuce cups.
---
16. California Shrimp Rolls
These rice-free sushi rolls are totally addictive and extra healthy. You can make them really simple with nori sheets, avocados, spiralized cucumber, shrimp, coconut oil, coconut aminos (not soy sauce), and wasabi. The last two are for serving, so serve however you like.
---
17. Simple Cucumber Salad
Simple salads like this one are my absolute favorite because I can throw them together at the last minute without making a big mess or getting out a bunch of ingredients. This one is made with pickling cucumbers, red onion, avocado, salt, and pepper.
---

Photo: Garlic and Zest
18. Asian-Style Cucumber Salad
For this recipe, replace the sugar with coconut sugar and canola oil with avocado oil and you're golden. This Asian-style salad is full of flavors like sesame, lime, rice vinegar, ginger, and garlic. Use hothouse cucumbers for the best flavor and texture.
---
19. Thai Cucumber Salad
This simple and spicy Thai-style salad is made with lime juice, fish sauce, jalapeno, cucumbers, cilantro, and shallots. You'll want to replace the sugar with coconut sugar and the peanuts with almonds or cashews. Then enjoy, because this one is hot and spicy!
---
20. Beet Gazpacho
This beet gazpacho is paleo, vegan, and the perfect way to get lots of veggies into your body on a hot day when you can't bear turning the oven on. You'll need beets, cucumbers, garlic, red or sweetn onion, fresh pepper, sherry vinegar, and garnishes of your choice.
---
21. Chilled Cucumber and Watercress Soup
Made with cucumber, watergress, garlic, lemon juice, and fresh herbs like dill and mint, this yummy soup is simple and fresh. In place of the dairy yogurt, you could try coconut yogurt, or you can do what the blogger suggests and add a pureed avocado, which sounds delicious.
---

Photo: Raw Revive
22. Cucumber Dill Veggie Wraps With Coconut Wrappers
There's something about wrapping veggies that makes them so much tastier to eat than they are in a plain salad. I don't know what it is, but you can take advantage of it with this spring rolls recipe using dill, coconut aminos, macadamia nuts, pea shoots, cucumber, and more.
---
23. Spiralized Cucumber Salad With Chia Strawberry Vinaigrette
I am totally in love with this salad. The base is made from cucumbes, spinach, fresh strawberries, red onion, fresh mint, and cilantro, and it has a silky strawberry chia vinaigrette with extra virgin olive oil, honey, lime juice, pepper, and apple cider vinegar.
---
24. Tomato Cucumber Salad
Cucumbers do lend themselves so well to simple salads, so I'll share another one. This one is made with tomatoes, cucumber, diced red onion, basil leaves, kosher salt, and fresh black pepper. It's drizzled with a lovely garlic-avocado vinaigrette with champagne vinegar.
---
25. Paleo Antipasto Salad
This antipasto is picnic-ready with diced Roma tomatoes, chopped red onion, cucumber, sliced olives, pepperoni, onion, and a dressing made from olive oil, red wine vinegar, minced garlic, fresh basil, and chopped fresh oregano. Makes a lovely appetizer for heavier dishes or an easy lunch on its own.
---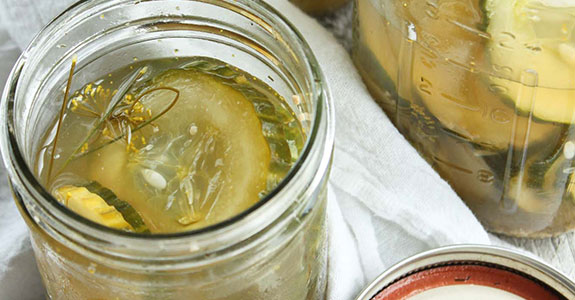 Photo: Simple Roots Wellness
26. Homemade Overnight Refrigerator Pickles
These pickles might not be live-cultured, but they're a great quick and easy pickle that's still healthy and simple to make. You'll need apple cider vinegar, white vinegar, water, coconut sugar, dill and mustard seeds, peppercorns, garlic, and (of course) cucumbers.
---
27. Thai Cucumber Salad With Cashews
Made with cashews instead of peanuts, this paleo-friendly Thai salad has only a few ingredients and it's nourishing and tasty. It needs only English cucumbers, fish sauce, lime juice and zest, Thai chili, fresh mint, basil, and cilantro, and crushed cashews.
---
28. Sweet Potato "Toast" With Avocado, Cucumber, and More
This sweet potato-based recipe is a great alternative to avocado toast, and it's made extra fancy and delicious with the addition of sliced cucumbers, smoked salmon, avocado oil, and dill. Sprinkle with salt and pepper and enjoy for breakfast, lunch, or a snack.
---
29. Cucumber and Gun Summer Cocktail
This summer cocktail is delicious and refreshing with a uniquely –flavored vermouth, fresh lime juice, and sliced cucumber. This blogger makes her simple syrup with cane sugar and recommends it as a cheat, but says honey will work, too.
---

Photo: Whole Food Real Families
30. Cucumber Shallot Salad
This salad has a bright flavor with onion-like shallots, cucumbers, olive oil, white wine vinegar, kosher salt, black pepper, and fresh parsley. It's the kind of salad you can easily throw together for lunch, a snack, or a summer dinner appetizer.
---
31. Chorizo Burger With Cucumber Slaw
Serving fantastic homemade slaws with your burgers is a great way to distract yourself from the fact you aren't getting to have a bun. This slaw is made with cucumbers, onion, olive oil, apple cider vinegar, salt, and pepper, so it's super simple.
---
32. Keto Paleo Taztziki
Taztaziki is a Greek condiment traditionally made with yogurt and cucumbers , but this paleo version uses coconut cream and comes super close to the traditional flavor and texture. You'll also need fresh garlic, extra virgin olive oil, lemon juice, and sea salt.
---
33. Cucumber Noodle Bowls With Sesame Shrimp
This is a recipe that looks and sounds like it takes a long time to make and has dozens of ingredients, but it's actually incredibly simple and you can be eating in fifteen minutes (excluding marinating time). Just replace the tamari sauce with coconut aminos to keep it paleo.
---

Photo: Wicked Spatula
34. Paleo Eggs Benedict With Cucumber Salsa
Yes, you can have eggs benedict on a paleo diet! Follow this recipe including paleo bread and a rich Hollandaise sauce with butter and lemon. The fun twist is the avocado and the cucumber salsa, made with lime juice, tomatoes, cilantro, and jalapeno.
---
35. Cucumber Noodle Salad With Wasabi Cashews
I love the colors in this salad: rich greens, purples, and whites. For the salad, you'll need English cucumber, shredded red cabbage, fresh mint, garlic, ginger root, rice wine vinegar, sesame oil, honey, lime, and crushed red pepper. Top with your homemade wasabi cashews.
---
36. Egg and Avocado Cucumber Rolls
If you slice them thin with a wide vegetable peeler, cucumber slices are both flexible and sturdy, and make a great base for fun rolls with delicious fillings. Try this one with eggs, ripe avocado, a handful of chives, salt, and pepper. You could even add other seasonings or herbs!
---
37. Whole30 Tuna Cucumber Cups
Cucumber holds up well to shaping, so you can use it as an edible "holder" or cup for yummy fillings like this tuna filling. It's also Whole30 compliant (yay!) and made with canned tuna, bell pepper, celery, Whole30 compliant mayo, mustard, and sweet paprika.
---

Photo: OMG Food
38. Cucumber Guacamole
This is a traditional guacamole recipe with avocados, red onion, tomato, lime, salt, and cucumber. Uh, cucumber? What's that doing in there? The cucumber in this recipe isn't exactly traditional, but it adds a deliciously refreshing flavor to the guacamole. You won't want to make it any other way!
---
39. Cucumber, Melon, and Avocado Salad
This triple-green salad is made with honeydew melon, cucumber, ripe avocado, mint leaves, and lemon. You'll also want to add a few cracks of black pepper. This simple salad is another one you'll want to tuck in your back pocket for when you need quick and easy side dishes.
---
40. Mango Salsa
Remember when I said I love cucumber with fruit? That's why mango cucumber salsa is one of my favorite snacks and side dishes. This one is made with minced cilantro, scallions, lime juice, sea salt, and chipotle powder for a bit of heat. You can feel free to adjust the chipotle to your desired level of spice.