Sugar-Free Paleo Cinnamon Applesauce
4
Applesauce is incredibly easy to make in large batches right at home, requiring only about an hour of your time. There are so many things you can do with applesauce. Obviously it is a great snack, but it also makes a sweet condiment and a handy Paleo baking ingredient.
Most often, I like to add applesauce to a breakfast bowl with granola, as pictured. Or, a personal favorite, spoon a little warm applesauce over vanilla almond milk ice cream. Applesauce is also delicious on top of pork chops. Even muffins and pancakes can use applesauce as a baking ingredient.
The actual cooking time for the applesauce is about 30 minutes, but it does take awhile to peel the apples. This is a great chore for enlisting the help of all the extra hands at home. Since this recipe is sugar free, I recommend picking out a sweet variety of apples to use, such as Gala or McIntosh. Once the apples are peeled, all of the ingredients are simply simmered together on the stove.
Once the apples have completely softened and cooked down, let them cool for a few minutes. Taste a spoonful of the applesauce to see if you would like to add more cinnamon, or perhaps another squeeze of lemon juice. Once the applesauce has cooled down, you can mash it with a fork or a potato masher for a chunky, textured applesauce. If you would like a smoother applesauce, use an immersion blender to puree it in the pot until smooth.
Applesauce from scratch is one dish that makes me wonder why more people don't make their own. It tastes so much better than the store-bought variety. It doesn't take that much effort, and requires only a few ingredients. You can store it for long periods of time; so one afternoon's work can be enjoyed for a long while.
One more thing that is easy and fun to try with your applesauce is to add different fruits to it. A few fresh cranberries can make a deliciously tart cranberry applesauce, or diced rhubarb stalks for a new variety.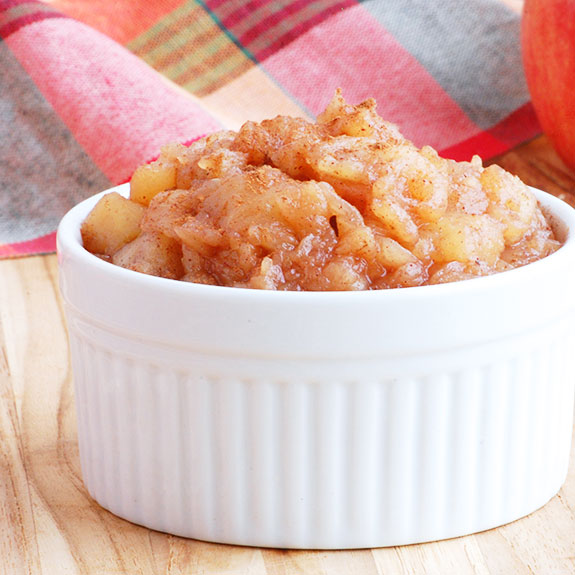 Sugar-Free Cinnamon Applesauce
2015-03-28 15:09:55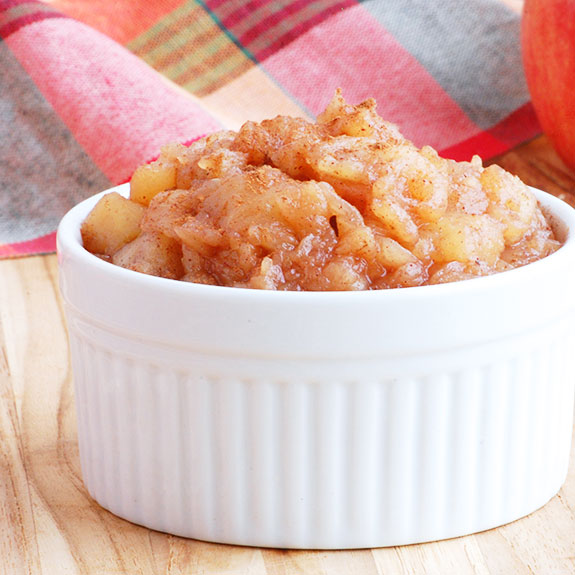 Ingredients
4 lbs. apples, peeled, cored, and sliced
1 cup apple cider
Juice of 1/2 lemon
1-2 tsp cinnamon
1/4 tsp salt
1/8 tsp nutmeg
Instructions
Place all of the ingredients into a large pot on the stove. Cover and cook over medium heat for 25-30 minutes, stirring occasionally, until the apples have completely softened. Taste and adjust seasonings as needed.
Allow to cool slightly. Mash with a fork or use an immersion blender to puree until smooth.
Notes
Servings: 6-8
Difficulty: Easy
Paleo Grubs https://paleogrubs.com/
Want more Paleo recipes? Take a look at the Paleo Grubs Book. With 470+ easy-to-prepare Paleo recipes in 17 comprehensive categories it is the only Paleo book you will ever need.
+ Make sure to sign up for our free newsletter to get our latest healthy recipes delivered weekly (it's free).