---
Usually I start making granola by breaking up the larger nuts. This mix uses almonds, pepitas, and pecans, so place those in a food processor and pulse a few times to break them into smaller pieces. Then mix in the seasonings. The cinnamon, ginger, and cloves give the granola that spicy gingerbread taste.
The deep amber notes of molasses also give the granola a warm depth of flavor. In a large bowl the molasses is microwaved with coconut oil, vanilla, and maple syrup for sweetness. All of the ingredients are then mixed together for a giant, sticky bowl of goodness.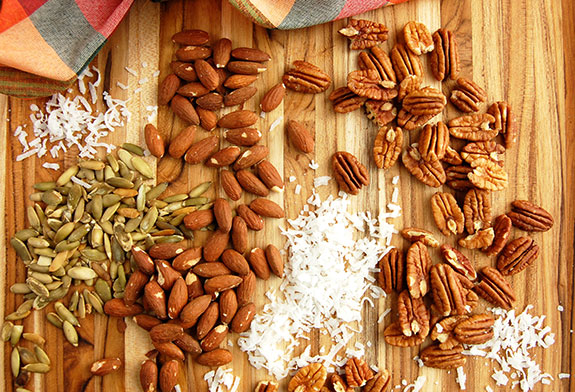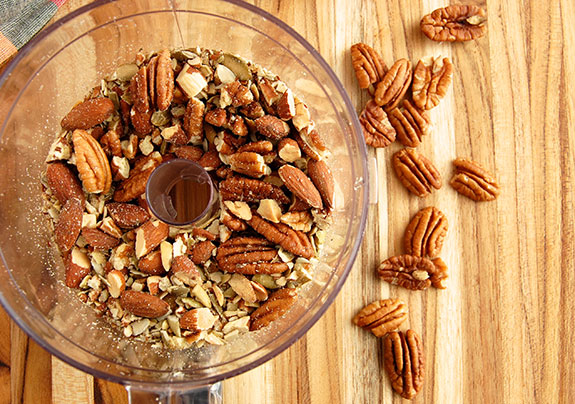 Spread the nut mixture out in an even layer on a parchment-lined baking sheet. Bake until the granola is golden brown, and then let it cool completely – it should be crisp and crunchy. Use your hands to break it up into smaller pieces and crumble. The granola will keep in an airtight container for up to a week, or in the refrigerator for up to two weeks.
By making granola at home, you know exactly what ingredients go into the mix. Therefore this granola is easily customizable – for example I think that dried cranberries or raisins would also work well in this recipe, if you care to add them. Such a simple recipe surprisingly packs in a lot of healthy fats and protein to keep you fuller for longer, so not only is it delicious, it's nutritious. A win-win situation all around.
---
1 cup almonds
1 cup pecans
2/3 cup pepitas
1/2 cup coconut flakes
1 tsp cinnamon
1/2 tsp ground ginger
1/2 tsp salt
Pinch of ground cloves
1/3 cup maple syrup
1/4 cup coconut oil
2 tbsp molasses
1 tsp vanilla extract
Preheat the oven to 300 degrees F. Line a baking sheet with parchment paper. Add the almonds, pecans, and pepitas into a food processor and pulse to break the mixture into smaller pieces.
In a large microwave-safe bowl, melt the maple syrup, coconut oil, molasses, and vanilla together for 45 seconds. Remove from the microwave, add in the nut mixture from the food processor, and stir gently. Add the cinnamon, ginger, salt, and cloves. Stir well to combine.
Transfer the granola mixture to the lined baking sheet and spread it out in an even layer. Bake for 20-25 minutes until golden. Remove from the oven and let cool completely. Break into chunks and store in an airtight container or resealable bag for up to a week.