Featured
39 Carrot Recipes All Paleo Followers Should Try
Perfectly delicious is sweet and savory recipes alike, carrots are a versatile ingredient. You can bake them into cakes and cookies, put them in healthy smoothies, or roast them with other roots. They're sweet and earthy, and nutrient-dense! Check out these favorite paleo carrot recipes.
---
1. Healthy 1-Minute Carrot Cake
Let's kick off our carrot recipes with this awesome paleo mug carrot cake with cream cheese frosting. Yum! If cream cheese frosting isn't your thing, there are two other options to choose from: a protein frosting or a coconut butter frosting, and both are super simple.
---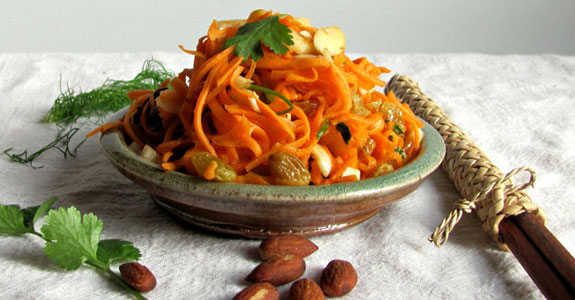 Photo: Deb's Pots
2. Carrot and Fennel Salad
I'm a huge fan of salads involving shredded carrots as the base. They're slightly sweet but also super healthy, and this recipe accents the flavors and textures with fennel, almonds, raisins, honey, rice wine vinegar, scallion, and orange. I know what's for lunch tomorrow!
---
3. Roasted Carrot Hash With Ground Beef and Bacon
Here's a simple and yummy hash that works for breakfast, lunch, or dinner and is packed with flavor and protein. Nutritious carrots are chopped and combined with bacon, grass-fed ground beef, onion, scallions, and eggs. The flavor here is incredible!
---
4. Anti-Inflammatory Ginger-Turmeric Carrot Soup
Garnished with crispy caramelized fennel, this flavorful soup combines carrots, onion, and immune-boosting garlic with creamy and healthy coconut milk as well as turmeric, cayenne pepper, and fresh ginger. Lime juice rounds out the flavor and pepitas add crunch.
---
5. Roasted Carrots With Lime Zest
Simple roasted carrots are a favorite side dish of mine, and this one is smashing with flavors of garlic, grass-fed butter or ghee, chipotle powder, and lime zest. While carrots aren't typically associated with these Latin-style flavors, you won't be disappointed about taking the chance.
---

Photo: Kiip Fit
6. Carrot, Sweet Potato, and Almond Cookies
These unique cookies are soft, chewy, flavorful, and nutrient dense, so you don't have to feel guilty sharing them with little ones or eating them yourself. The only sweetener is bananas! Using ripe bananas ensures that you'll get the best sweet flavor. I'm excited to make these!
---
7. Baked Chicken With Tomato Mustard Cream Sauce
I've been drooling over this recipe since I first found it, and I still haven't gotten around to making it. The abundance of vegetables in this dish includes carrots, onion, and more, while coconut cream makes it deliciously creamy and grapes add bursts of sweet flavor.
---
8. Roasted Rainbow Carrot Salad
This colorful and earthy salad includes fresh rainbow carrots, mixed baby greens, fresh cranberries, pistachios, and mandarin oranges. The goat cheese is optional, but make sure you don't forget the silky honey mustard vinaigrette dressing drizzled over the top!
---
9. Pineapple Ginger-Glazed Carrots
I love to cook carrots on the stove and glaze them in all sorts of fun flavors. This dish has a tropical flair to it, with a pineapple glaze and fresh minced ginger with a bit of nutmeg and apricot preserves. The butter adds plenty of healthy fat, and you could even sprinkle the finished carrots with toasted coconut.
---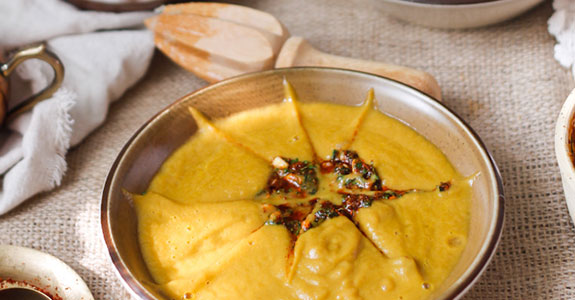 Photo: Immigrant's Table
10. Moroccan Carrot Soup With Chermoula
This richly flavored soup is full of turmeric, garlic, ginger, and onion, with a chermoula made from cilantro, garlic, paprika, cumin, and lemon. It's a truly amazing dish, and you can use olive or avocado oil for the vegetable oil in the chermoula.
---
11. Turkey Kale Salad With Roasted Sweet Potatoes and Carrots
This awesome salad is perfect for lunches or light summer dinners and uses turkey, sweet potatoes, carrots, red onion, kale, salt, and pepper. The dressing is a simple basil balsamic dressing with olive oil, balsamic vinegar, and dried basil leaves.
---
12. Purple Carrots With Garlic Tahini
use purple carrots. They're roasted to caramelized perfection and then drizzled with a homemade garlic tahini paste with lemon, fresh garlic, and both black and white sesame seeds.
---
13. Maple Glazed Heirloom Carrots With Lemon Cashew Cream
There's no shortage of things you can use to sauce your carrots, and this lemon cashew cream is a delectable option. You'll need good quality olive oil, maple syrup, raw pistachios, sea salt, black pepper, raw cashews, and lemon juice. This one is extra kid-friendly!
---

Photo: Slow Burning Passion
14. Roasted Root Vegetable Salad With Wilted Chard
This salad is made with baby carrots and their tops, beets, fresh cranberries, Swiss chard, garlic, and delicious toasted hazelnuts for a combination of flavors and textures from sweet and tart to crunchy and deliciously earthy. Top it with the orange Dijon vinaigrette.
---
15. Paleo Carrot Cake With Maple Pecan Glaze
It can be tricky to find paleo versions of your favorite treats without grains, dairy or refined sugar. I promise you this carrot cake will live up to your expectations. It's made mainly with coconut flour and eggs, with sweet maple syrup, crushed pineapple, golden raisins, and carrots.
---
16. Roasted Carrots With Carrot Top Pesto
Don't waste the carrot tops! They're nutrient dense and super tasty, and you can use them to make this fabulous pesto for smearing and drizzling over your roasted carrots. You'll need garlic, lemon, walnuts, basil, nutritional yeast, and just a few other ingredients.
---
17. Carrot Ginger Soup With Cristpy Shallots and Coconut Cream
This yummy soup is nourishing and filling with onion, garlic, ginger, carrots, veggie broth (or homemade bone broth, if you have it), bay leaf, cinnamon, and toppings of crispy shallots, coconut cream, cilantro (or basil or mint), and pine nuts. I love the pine nuts!
---

Photo: Cotter Crunch
18. Rosemary Carrot Parsnip Mash
The combination of carrots and parsnips is lovely in this rosemary-seasoned mash with garlic, olive oil, almond milk, sea salt, coconut cream butter, and black pepper. The best part about this recipe is that it's made in the crock part, so you hardy have to do any work!
---
19. Beet Aid
This easy beet aid is a nourishing and nutrient dense juice made with beetroot, carrot, apple, fresh ginger, cucumber, and lemon. The cucumber makes it super refreshing while the carrot and apple add sweetness to balance the earthy flavor of beets, which can be overwhelming for some people.
---
20. Paleo Carrot Cake Muffins
Sweetened with only dates, banana, and molasses, these richly flavored carrot cake muffins are full of vitamins and nutrients, not to mention all that rich protein from a full cup of almond butter! The grated carrots ensure that you're getting your veggie serving in this batch.
---
21. Creamy Carrot and Ginger Soup
This simple soup is extra creamy while still being dairy-free. That's thanks to the coconut cream or coconut milk—coconut cream will be even creamier, and rich enough to make the portion sizes smaller. Garlic, fresh ginger, onion, and coconut oil mellow perfectly in this soup.
---

Photo: And Cakes Too
22. Vegan Beetroot and Carrot Soup
Carrots and beets go really well together, because they're both root vegetables, and the sweet flavor of carrots helps to balance out the earthiness of beets, which not everyone's a fan of, despite their abundance of nutrition. Try this yummy soup, with a video!
---
23. Spiced Carrot Cardamom Muffins
Blanched almond flour and coconut flour make these almonds rich in protein and super tasty, with the lovely and aromatic flavors of cinnamon, cardamom, ginger, and cloves. The cardamom adds extra layers to the typical carrot cake flavoring, and the pecans add crunch!
---
24. Parsnip Carrot Mash
This delicious mash is an excellent replacement for mashed white potatoes, because sometimes we need an alternative that isn't sweet potatoes, right? This is a nice savory dish made with vegetable broth (or bone broth, if you want) with salt and pepper to taste.
---
25. Carrot Pineapple Paleo Muffins
These muffins have a tropical flavor with diced fresh pineapple, grated carrots, lemon juice, vanilla, and cinnamon. They're gently sweetened with honey and are protein-rich with eggs and almond flour, so you can feel great about grabbing one of these on a busy weekday morning.
---

Photo: That Girl Cooks Healthy
26. Delicious Carrot Cake Smoothie
This smoothie tastes so much like carrot cake, your tongue will be in for some major texture confusion! Seriously, though, this smoothie is super good with dates, coconut milk, carrot, frozen banana (so creamy!), vanilla, cinnamon, nutmeg, cloves, and flaxseeds (you could also use chia seeds).
---
27. Spiced Carrot Soup
Carrot soup is delicious with orange, as in this recipe also using onion and coconut milk. Coriander and cumin add spice, while the heat in this soup comes from cayenne pepper and red pepper flakes, both of which you can adjust to your liking.
---
28. White Wine Braised Chicken and Vegetables
I love cooking with wine because it gives every dish that special gourmet flavor that you can't quite put your finger on. This dinner is no exception, with chicken, carrots, broccoli, sautéed leeks, and chopped bites of delicious bacon. So many flavors are in every bite of this!
---
29. Creamy Sweet Potato Carrot Soup
This soup is heavenly. The texture is smooth but without having that baby food quality that some pureed soups take on, and the flavor is bursting with onion, lots of garlic, and fresh herbs like thyme, sage, and rosemary. And being made completely of vegetables, this is healthy, too!
---

Photo: Flavour And Savour
30. Lazy Girl Healthy Kohlrabi Quiche
This super nutrient-dense quiche would be perfect for breakfast, lunch, dinner, guests, or just the family. Everyone will love it! Grated carrots, kohlrabi, bacon or chorizo, and green onions combine for a flavorful and nutritious meal seasoned with freshly ground black pepper and sea salt.
---
31. Honey and Thyme Roasted Root Vegetables
Root vegetables have an interesting taste, because they're generally a bit sweet, but also deeply earthy, and for obvious reasons! They grow in the ground. So coating them with a mixture of olive oil, fresh thyme, salt, pepper, balsamic vinegar, and honey is the perfect way to take full advantage of those sweet and savory flavors.
---
32. Purple Carrot, Strawberry, Watermelon, and Lime Smoothie
This smoothie is made with purple carrots, strawberries, watermelon, coconut, cashews, lime, mint, and dairy-free milk of your choice. Packed with fruits and vegetables, it's both tasty and healthy. Purple carrots are pretty, but regular will do just fine.
---
33. Vegetable and Sausage Frittata Recipe
This frittata is made with coconut oil, diced carrots (no crazy shredding necessary), zucchini, red pepper, breakfast sausage, eggs, salt, and pepper. It's basically a veggie and sausage cake bound with eggs, so if you like your frittatas packed with goodness, this is the one for you.
---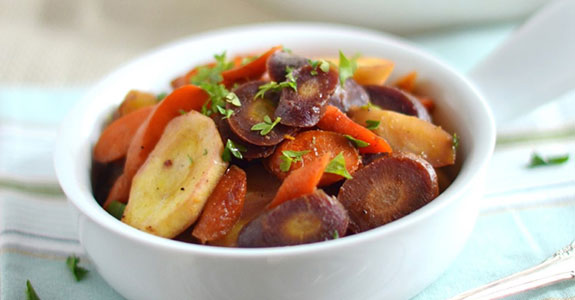 Photo: 24 Carrot Kitchen
34. Orange Ginger Glazed Carrots and Parsnips
Like cinnamon, ginger is a flavor that lends itself really well to both fruits and vegetables. This recipe blends orange with ginger—a spicy, sweet, and tangy combination—for a delicious glaze carrot and parsnip recipe complete with ghee and coconut sugar.
---
35. Sausage Kale Potato Soup
Make in your pressure cooker, this fun soup is not your grandma's potato soup. It's loaded with texture, flavor, and nutrients from ghee or butter, Canadian bacon ( or regular), chicken bone broth, hot Italian sausage, onion, garlic, carrot, kale, potatoes, and coconut milk (to replace the cream). Feel free to leave out the cheddar cheese.
---
36. Roasted Coriander Carrots With Caramelized Onions
These carrots are deliciously roasted with ground coriander, maple syrup, yellow onion, apple cider vinegar, and a handful of fresh parsley or cilantro for serving. They have a rich herbal flavor, with a mapley, carroty sweetness and a hint of tang.
---
37. Grown Up Ice Pops
No, these aren't alcoholic. But they do have a very sophisticated flavor with orange, ginger, and carrot juice. The ginger is optional but is a really valuable anti-inflammatory agent. If you don't have Turmeric Boost, just use plain powdered turmeric.
---

Photo: Beauty And The Foodie
38. Carrot Cake Zucchini Muffins
Why not take classic, veggie-packed zucchini muffins and turn them into carrot cake? These muffins are made with a coconut flour base, flax meal, cinnamon, carrot, zucchini, eggs, coconut sugar, almond or coconut milk, butter or coconut oil, vanilla, and apple cider vinegar. Yummy!
---
39. Pistachio-Crusted Chicken Salad With Carrot Ginger Dressing
This isn't your typical mayonnaise-based chicken mush. Nope. This is a delicious chicken breast coated in crunchy, salty pistachios and served with mixed greens, cherries, cucumbers, cherry tomatoes, and a creamy carrot ginger dressing made with cashew cream.