Featured
28 Deliciously Egg-Free Paleo Recipes
Have an egg allergy? Serving vegan friends? No fear, dear readers. I've got a list of egg-free paleo recipes right here for you. Some are dishes that are naturally egg free (great if you're stuck for dinner ideas) and some are alternative ways of making treats that would normally be egg-based.
---
1. Pecan Pie Bars
These bars are moist, chewy, soft, and totally delicious. And they're completely egg-free! In fact, these pecan pie bars are totally vegan, so you can serve them to vegan friends and everybody has something to enjoy.
---

Photo: Feasting at Home
2. Roasted Spaghetti Squash With Eggplant Puttanesca
This easy and fun meal involves roasting up a spaghetti squash (the easy way—see the instructions) and serving it with a gorgeous eggplant sauce made with red onion, garlid, red bell pepper, crushed tomatoes, red chili flakes, a splash of red wine, olives, and capers.
---
3. Chocolate Mousse Fig Pudding
This yummy fig pudding is made with golden dried figs, coconut milk, vanilla extract, cacao powder, sea salt, and toppings of your choice. The pudding doesn't require cooking, and the figs help it to thicken and turn perfectly pudding-like without any eggs.
---
4. Healthy Low Carb Cake Batter Spread
This sweet spread is good eaten on paleo bread or just off of a spoon. It's a sweet treat, sure, but it's rich in protein and much healthier a treat than other recipes might be.
---
5. Pumpkinseed Flour Brownies
These brownies are fudgy, chewy, and everything that's delicious about brownies. But they're minimally sweetened and with maple and coconut sugar, at that. The pumpkinseed flour is a nutrient-rich base for these brownies, while plenty of cocoa and vanilla ensure a perfect flavor.
---

Photo: Fit Foodie Finds
6. Cherry Pistachio Energy Balls
These energy balls can be packed up in a jar pre-grinding and given as gifts. How cool is that? If you just want to make them yourself, pull our your food processor and add raw almonds, pistachios, tart dried cherries, Medjool dates, water, and a touch of sea salt.
---
7. Cinnamon Cranberry Apple Crisp
Looking for a treat that's more on the hot-and-gooey side of things? Try this apple-cranberry crisp made with fresh or frozen cranberries, Granny Smith apples, maple syrup, orange zest and juice, almond flour, coconut, cinnamon, coconut oil, and chopped nuts.
---
8. Vegan Pumpkin Tiramisu With Coconut Whipped Cream
This yummy treat is layered and deliciously thick and creamy with no need for eggs. To make it, you'll need raw cashews, full fat coconut milk, maple syrup, vanilla, lemon juice, coconut oil, pumpkin puree, ground ginger, cinnamon, nutmeg, and some variety of paleo cookies (any recipe).
---
9. Spicy Green Bean and Mushroom Skillet
Looking for a healthier alternative to the traditional Thanksgiving made-from-canned-foods green bean casserole? Look no further than this spicy recipe featuring garlic, onion, chili powder, cumin, coconut cream, walnuts, paprika, cayenne pepper, white mushrooms, and more.
---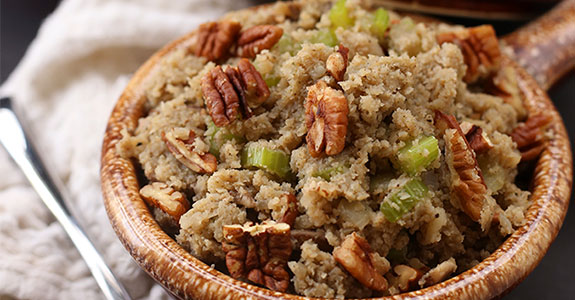 Photo: The Healthy Maven
10. Cauliflower Rice Stuffing
Whether you're on the hunt for seasonal recipes or you just like stuffing, here's an easy one that everyone at your family meal will enjoy. It's made from cauliflower rice, yellow onion, garlic, celery, mushrooms, pecans, sage, red wine vinegar, and other seasonings.
---
11. Sweet Potato Casserole With Tigernuts
Here's a sweet potato casserole that'll satisfy your sweet craving without being overly sweet. You'll make a sweet potato filling with coconut oil, cinnamon, maple syrup, and vanilla powder, and top it off with a tigernut topping seasoned with cinnamon and sea salt.
---
12. Roasted Acorn Squash and Apple Soup
This warm and comforting soup is made with deliciously roasted acorn squash, carrots, celery, apples, curry powder, coconut milk, turmeric, ginger, and other seasonings. It's the perfect flavor of fall with a creaminess that's like getting a great big hug…from your dinner.
---
13. Purple Sweet Potato Gnocchi With Tahini Parsley Sauce
My favorite thing about this gnocchi recipe is that it only requires a little arrowroot starch to bind the gnocchi together. The rest is all sweet potato puree! You don't need any grains or nut flours, and not even coconut flour! Easy-peasy and super elegant and colorful, too.
---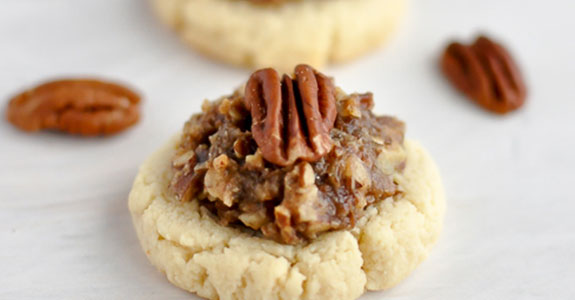 Photo: Allergy Free Alaska
14. Guilt Free Pecan Cookies
These yummy little cookies are topped with a pecan pie filling and a nut. The base is the most delicious almond flour shortbread with maple syrup, vanilla extract, coconut oil, and almond milk. These cookies are very gently sweetened.
---
15. Butternut Squash Pecan Pie
This pecan pie has a fun twist—instead of a sugary, ooey-gooey filling, it's filled with seasoned and date-sweetened butternut squash puree and topped with pretty pecans. The pie crust is tigernut, so if you haven't tried that before, you're in for a real treat!
---
16. Raw White Chocolate and Pumpkin Cheesecake
This pumpkin cheesecake has three layers, beginning with a pecan and almond cookie crust made with shredded coconut and sweetened with dates. The other two layers are creamy and smooth, and this entire recipe is fully vegan, so you can share with vegan friends or family members.
---
17. Purple Sweet Potato Mouse Dessert Shooters
These dessert shooters are a simple and sweet finish to your meal, seasoned and creamy with cinnamon, maple syrup, coconut cream, and a non-dairy milk if your choice (I would use homemade almond or cashew milk—yummy). Top it with whipped coconut cream.
---

Photo: The Little Pine
18. Butternut Squash Bread
This fun bread is a little like pumpkin bread because it's made with squash and seasoned with cinnamon, nutmeg, and ginger. The difference is in the subtle flavor of the butternut squash. This bread is made with butternut squash and no dairy or eggs, so it's vegan-friendly, too.
---
19. Rosemary Maple Roasted Pecans
I'm a huge fan of roasted nuts, especially maple roasted nuts! And pecans are one of my favorite nuts, too. This recipe is awesome and has a lovely flavor with read maple syrup, flaky sea salt, and sprigs of fresh rosemary. Serve these immediately or they'll get sticky.
---
20. Pumpkin Apricot and Macadamia Balls
This is a simple recipe that would be especially fun to make with kids. All you'll need is dried sulfate-free apricots (unsweetened), pumpkin puree, vanilla extract, macadamia nuts (you could also use cashew) and sultanas to make the little brown stems.
---
21. Cauliflower Parsnip Soup
This parsnip soup is creamy and delicious without any dairy—you can thank the coconut milk for that! You'll need cauliflower, parsnips, coconut oil, garlic, veggie broth, yellow onion, a crisp apple, salt, pepper, and truffle oil. This is a fancy dinner that's easy to make.
---

Photo: The Pretty Bee
22. Roasted Delicata Squash With Fresh Cranberries
Delicate is my absolute favorite squash, and I make a recipe similar to this one about once a week during squash season. For real! This one is super tasty with cranberries, red onion, maple syrup, and a sprinkling of nutmeg (which you could replace with cinnamon for a fun twist).
---
23. Easy Vegan Chai Nog
If you need a yummy drink to enjoy while everybody else is drowning in egg nog, try this vegan chai nog. It's free of dairy and eggs and it's totally paleo-friend with a delicious chai flavor from cardamom, cinnamon, and ginger. If you're feeling frisky, add a shot of bourbon.
---
24. Cinnamon Ice Cream
This dairy-free cinnamon ice cream is to die for, and it's super simple. Because it uses coconut and almond milks, it's super creamy without needing an egg-based custard. Maple syrup provides sweetness and the loveliest maple flavor that blends so well with cinnamon.
---
25. Mini Healthy No-Bake Pumpkin Pies
These pumpkin pies just require a simple almond flour crust and a pumpkin filling with coconut milk, cinnamon, and other spices. Replace the cornstarch with arrowroot flour, and if you're serving vegan friends, you can replace the honey with maple syrup.
---

Photo: Renewing All Things
26. No Bake Berry Fudge
I've shared this recipe before, and I can't help but share it again, because it's that good. This fudge is made with butter, cacao powder, honey, vanilla, nut butter, shredded coconut, and berries of your choice. It's a sweet treat that won't cause a sugar crash.
---
27. Cauliflower and Coconut Milk Soup
This easy soup is made with coconut oil, onion, cauliflower, garlic, chicken or veggie stock (you could use bone broth), nutmeg, and coconut flakes. It's simple and nourishing with a fill-your-belly goodness reflected in its lovely white color and savory flavor.
---
28. Vegan Chocolate Freezer Fudge
This easy fudge is made with coconut oil, cocoa powder, sea salt, vanilla, and maple syrup. That's all you need! These superfood ingredients will nourish your body while the sweet chocolate fudginess is busy nourishing your soul. You deserve it.
(Read this next: 30 Nut-Free Paleo Desserts, Meals and Snacks)