Recipe Lists
38 Life-Changing Zucchini Recipes for Paleo Followers
Zucchini is such a versatile vegetable. You can put it in salads or put it in muffins. You can put it in a breakfast hash with bacon, or you can put it in chocolate pudding. I don't know very many other ingredients that can do that! These zucchini recipes range from baked goods to dinner dishes, and of course, they include the ever-popular zucchini pasta varieties. You're sure to find a handful that your family will enjoy—keep them around once summer comes and you've got garden zucchini coming out of your ears.
---
1. Zpaghetti With Pesto Meatballs
This meal is the perfect intro to zucchini pasta, seeing that it's a good replica of the traditional spaghetti and meatballs. You'll make homemade meatballs with ground beef and seasonings like garlic and parsley, and serve them over a bed of delicious spiralized zucchini.
---

Photo: Skinny Fitalicious
2. Zucchini Oatless Oatmeal
If you're not an eggs-and-bacon-on-a-Tuesday kind of breakfast eater, you can't go wrong with this vegetable breakfast disguises to look like and taste like a creamy, sweet, forbidden bowl of grains. It's made with zucchini, applesauce, cinnamon, almond milk, and egg whites. And it's totally oat-free! A healthy breakfast you don't have to feel guilty about.
---
3. Chocolate Chip Zucchini Muffins
Finally, the classic chocolate chip zucchini muffins. These are made with blanched almond flour, coconut flour, tapioca starch, cinnamon, nutmeg, almond milk, vanilla, shredded zucchini, and mini chocolate chips. They're sweetened with a granulated sweetener of your choice—coconut sugar would work.
---
4. Paleo Zucchini Breakfast Cookies
Yes, more zucchini for breakfast! These cookies, while they are sweet, can provide a morning boost of protein to your family. They're made with almond and coconut flours, cinnamon, zucchini, coconut oil, almond butter, coconut sugar, eggs, and chocolate chips.
---
5. Zoodles and Marinara
Let's keep it simple this time. These easy zoodles are topped with marinara sauce, extra virgin olive oil, fresh basil leaves, sea salt, and ground black pepper. They come together as an easy meal in about half an hour, and they don't make a big mess to make.
---

Photo: Slimming Eats
6. Breakfast Hash
This zucchini breakfast is a hearty hash made with butternut squash, onion, zucchini, red pepper, mushrooms, paprika, spinach, extra lean ground pork, black pepper, ground sage, and ghee or the cooking oil of your choice. Super savory and serves a crowd, and while it is a breakfast hash, it could work for lunch or dinner, too.
---
7. Coconut Salsmon Zucchini Noodles
These noodles are in a rich and delicious coconut sauce made with coconut milk reduction and lemon , turmeric, butter, dried chili, and paprika. The salmon is tender and perfect and the zoodles are the perfect low-carb way to complete the meal.
---
8. Ginger and Turmeric Meatballs
For unique veggie-and-meat balls with a flavor unlike any you've had before, try these ginger and turmeric meatballs. They're made with ground beef, carrot, zucchini, onion, egg, sea salt, ground turmeric, ginger, and fresh chopped cilantro.
---
9. Quick and Easy Pesto Zoodles
Maybe pesto is more your thing. Maybe you want pesto zoodles! Try this easy recipe with zucchini, fresh basil, olive oil pine nuts, garlic, kosher salt, ground pepper, and cherry tomatoes. You can replace the cheeses with nutritional yeast (I wouldn't use more than _ cup total).
---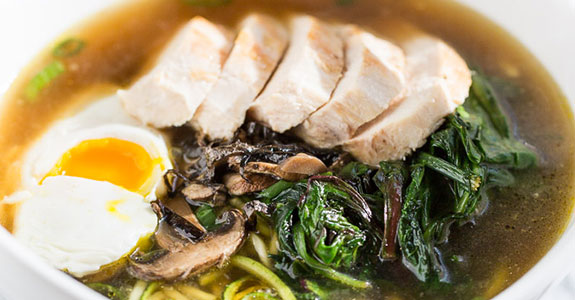 Photo: GI 365
10. Chicken Zucchini Noodle Ramen
This delicious homemade ramen is easy and customizable. The broth is made with homemade chicken stock, garlic, ginger, coconut aminos, sea salt, and cremini mushrooms for a rich umami flavor, and it's filled with zucchini noodles, greens, chicken, and more.
---
11. Zucchini Noodles With Portobello Bolognese
While paleo eaters are typically lovers of anything meaty, a good veggie-based Bolognese sauce is also healthy and delicious, and good to have around This one is made with Portobello mushrooms caps, carrot, celery, onion, garlic, and more, and it's served over fresh spiralized zucchini.
---
12. Singapore Style Courgette Stir Fry
With earthy flavors of curry and turmeric, along with delicious bacon, spring onions, chicken, chili, and shrimp, this stir fry will become one of your new favorite meals. It's a great way to get in veggies like carrots, onions, and zucchini along with delicious and healthy proteins.
---
13. Healthy Pulled Pork Soup
This soup has it all: zucchini, kale, tomatoes, olive oil, fresh cracked pepper, and delicious homemade pulled pork. There are even a few recipes suggested that you can use for the pulled pork, and you can really alter the flavor of your soup that way. So yummy!
---

Photo: Fast Lain Fitness
14. Best Turkey Burgers Ever
These turkey burgers are made with zucchini, egg, fresh mint and cilantro, garlic, green pepper, green onions, and seasonings such as cumin, cayenne, and pepper. They're bound with almond flour and served with an awesome sauce, which you can make by replacing both dairy ingredients with coconut yogurt.
---
15. Smoked Paprika, Ground Turkey, and Veggie Casserole
Featuring ground turkey, bell peppers, eggplant, and zucchini, this smoked paprika casserole is like a way better (and healthier) version of lasagna. It's seasoned with white onion, garlic, oregano, sweet paprika, basil, ground black pepper, and sea salt, and it's easy to make.
---
16. Grain Free Double Dark Chocolate Zucchini Muffins
Of course, once you're sick of zoodles, you have to make these muffins with almond flour, local honey, chocolate chips, and cacao powder. They're dark, rich, and sweet, but still healthy because they're only modestly sweetened, and totally packed with veggie goodness.
---
17. Zucchini Noodle Ramen Soup
This take on ramen is different from the last, with bok choy, garlic, ginger, soft boiled egg, and more. You'll need to make a few adjustments, like using coconut aminos instead of soy sauce, and replacing the crispy tofu with cubed grilled chicken.
---

Photo: The Organic Dietitian
18. Salmon Dill Zoodle Pasta
This take on ramen is different from the last, with bok choy, garlic, ginger, soft boiled egg, and more. You'll need to make a few adjustments, like using coconut aminos instead of soy sauce, and replacing the crispy tofu with cubed grilled chicken.
---
19. Zucchini Noodles With Everything Pesto
Yes, please! This pesto has everything you could ever want in pesto, including basil, pine nuts, garlic, scallions, and lime juice, and it's served with cooked zucchini noodles and a crispy, golden fried egg made with ghee, black pepper, and flaky sea salt.
---
20. Raw Power Zucchini Pasta With Hemp Seed Alfredo
This rainbow bowl is beautiful, delicious, and vegan to boot, so you can serve it to vegan friends. It's made with zucchini noodles, red bell pepper, baby spinach, lemon, fresh basil, sea salt, black pepper, and a homemade hemp seed alfredo sauce, recipe included.
---
21. Ground Beef Over Zoodles
Let's go back to basics with this one. You don't need to be fancy to be healthy, flavorful, and irresistibly aromatic. This dish is made with grass-fed lean ground beef, onion, garlic, jalapenos, onion powder, smoked paprika, ground coriander, oregano, bone broth, and more.
---

Photo: Kalyns Kitchen
22. Low Carb Turkey Soup With Zucchini Noodles
Instead of a chicken soup, maybe try this delicious turkey version with onion, celery, carrots, thyme, poultry seasoning, homemade stock or broth, zucchini, and diced turkey. The zucchini—you guessed it—is spiralized into noodles for this pasta-free recipe.
---
23. Zucchini Noodles With Kale Mint Almond Pesto
One of the best things about pesto is that you can customize the flavor by what you make it out of. Any greens, nuts, and herbs will work! This one is made with kale, mint, almonds, garlic, olive oil, and lemon juice, and it's served over zucchini with cherry tomatoes.
---
24. Beef Stir Fry With Zoodles
If you're looking for something heartier like beef, this stir fry is just the ticket. You'll need coconut oil, beef fillet, carrots, broccoli, and zucchini. The silky sauce is made from coconut aminos, coconut sugar, ground ginger, garlic, sea salt, and chili flakes. So flavorful!
---
25. Raw Pad Thai With Spicy Almond Sauce
I can't decide which part of this recipe I like better: the pad Thai, or the spicy almond sauce! Both are delicious and together, they create a heavenly dish with almond butter, lime juice, tamarind paste, ginger, sriracha, garlic, red cabbage, broccoli, scallions, zucchini, and more.
---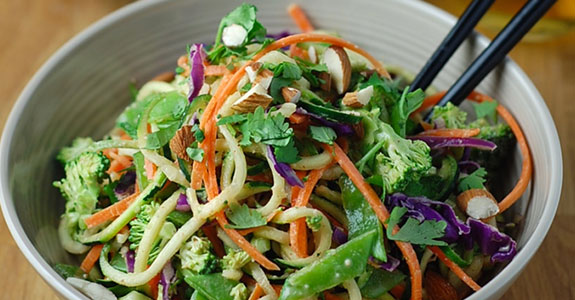 Photo: The Little Green Spoon
26. Courgetti and Meatballs
Here's another traditional spaghetti and meatballs made with zucchini. This one has a homemade sauce of olive oil, garlic, red pepper flakes, oregano, chopped tomatoes, and bay leaves, along with pork and beef meatballs with ground almonds, garlic, and herbs.
---
27. Chocolate Zucchini Bread
Double chocolate! With chocolate chips or flakes. This bread is the best, with cocoa powder, coconut flakes, roasted pecans, coconut sugar, cinnamon, coconut butter, and grated zucchini. The base is ground almonds or almond flour, and I want to eat this bread right now.
---
28. Vegetable and Sausage Frittata
Ah, frittata. The perfect package of veggies, meats, proteins, and healthy fats. This one is made with coconut oil, carrots, zucchini, red pepper, browned breakfast sausage, eggs, salt, and black pepper. It's perfect for any meal of the day, and freezes well.
---
29. Zucchini Hummus
It may sounds unbelievable that you could replace chickpeas with zucchini and have this recipe work—they are such different ingredients! But this hummus works, and it's delicious with avocado, tahini, fresh lemon juice, olive oil, fresh ginger, garlic, salt, and cayenne if you like heat.
---

Photo: Delicious Meets Healthy
30. Stuffed Zucchini Boats With Garlic Sauce
Garlic Sauce? Yes, please. These boats are stuffed with ground beef, onion, carrots, tomato, cumin, and oregano, along with a silky garlic sauce made with coconut yogurt (instead of dairy yogurt), mayonnaise, garlic, and chopped dill. Replace the rice with extra beef.
---
31. Chocolate Chip Raspberry Zucchini Muffins
Made with coconut flour, topped with gooey cooked raspberries, and studded with chocolate chips, these muffins are the ideal sweet snack with just a smaller amount of maple syrup as the sweetener. Cinnamon, almond extract, and vanilla flavor the muffins, which harbor healthy zucchini.
---
32. Chocolate Zucchini Breakfast Pudding
Now we're getting wild. This is pudding for breakfast, and it has zucchini in it. But it's so delicious! You'll need a banana, almond milk, walnuts, avocado, raw cacao, dates, and either cinnamon or mesquite powder for extra delicious flavoring. Top with your favorite toppings.
---
33. Zu-Creamy Italian Dressing
This Italian dressing is creamy without any dairy. I know what you're thinking—it has coconut milk, right? Nope! There's not a trace of coconut flavor in this dressing, because zucchini is the secret ingredient that makes it creamy (and green). Unique and tasty!
---

Photo: Ambitious Kitchen
34. Raspberry Almond Butter Chocolate Chip Zucchini Brownies
While we're on a zucchini dessert roll, let's talk about these brownies. They're deliciously fudgy with raspberries and chocolate chips, and they're rich with almond butter and maple syrup. If you can't find a raspberry jam made without sugar, use raspberry puree.
---
35. Low-Carb Crispy Zucchini Chips
These yummy zucchini chips are made in your dehydrator with sliced zucchini, olive oil, sea salt, garlic powder, onion powder, Italian seasoning, lemon juice, ground black pepper, crushed red pepper, and if you like things extra spicy, some habanero seasoning.
---
36. Bacon Zucchini Mushroom Stir Fry
This stir fry is a unique combination of ingredients to form a meal that's perfectly balanced for breakfast, lunch, or dinner with protein, veggies, and the amazing flavor of bacon. The mushrooms add a deep, earthy umami flavor to this stir fry that you'll love.
---
37. Paleo Zucchini Bread
For a simple zucchini bread that's tasty and good enough for breakfast, try this one. It's made with almond, tapioca, and coconut flours, vanilla, coconut milk, maple syrup, ground cinnamon, and an optional lemon-coconut glaze that looks simply divine.
---

Photo: OCD Kitchen
38. Shrimp Stuffed Zucchini Boats
Here's another yummy zucchini boat recipe—this time with shrimp! You'll need zucchini, shrimp, carrots, celery, fresh parsley, oregano, basil, garlic, and sunflower oil. These are made in about half an hour, making them an ideal healthy weeknight meal.