Instead of breadcrumbs we're using a mixture of tapioca flour and almond flour which I've found produces the best results. Just using one or the other doesn't really work. If it's just almond flour it's too clumpy and if there's just tapioca flour it doesn't create a thick enough coating.
Today we're using some beautiful pork loin chops, lean and delicious. Because it's the loin it's just as lean as chicken breast, so if you're not a fan of fatty meats and have been steering clear of pork you should give this a try. The trick is to pound them so they're nice and flat. This helps them cook better and they'll turn out nice and tender too.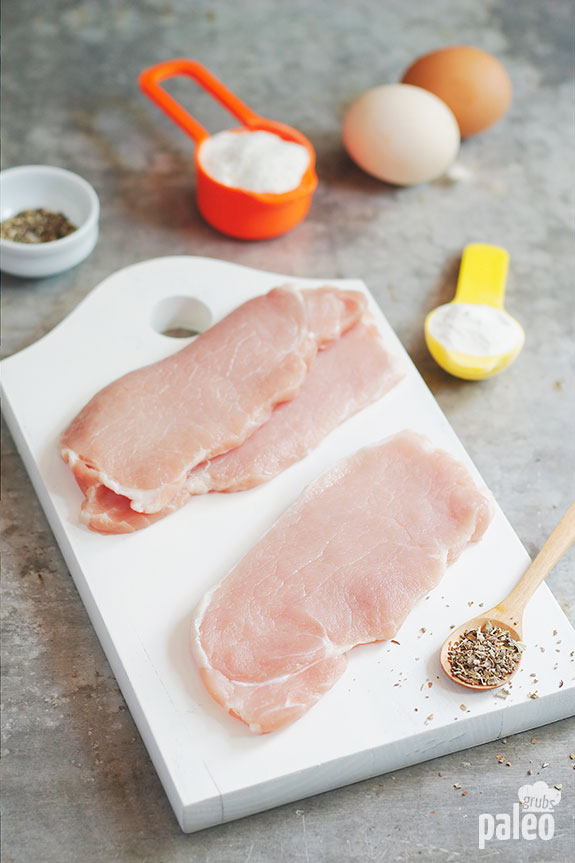 Dip them once in the flour before putting them into the egg. This helps to dry them off and makes it so the egg sticks to the pork better. Then when you dunk it back into the flour with the egg all over it you get a nice coating of the flour so it creates that great crispy coating we're looking for.
What I love most about this recipe is that it takes almost no time to prepare it, and it cooks up quick. So when you need a meal in a hurry you can have this on the table in fifteen minutes flat. Serve it up with the salad of your choice and you have a complete Paleo meal without a lot of hassle.
Wiener schnitzel just means schnitzel the way they do it in Vienna, with schnitzel referring to a boneless meat that has been tenderized and fried up with a bread crumb coating. Traditionally it's made with veal, but here we're going with pork loin because it's easier to find and tastes really yummy. Also pork is one of the more common meats used in schnitzel so it's still keeping with tradition.
If you order wiener schnitzel from a restaurant you just don't know what oil they'll use to fry it up. Here we're going with olive oil so you'll be getting healthy monounsaturated fat to go along with the protein in the pork loin. I've added in a bit of cayenne pepper so there just the smallest hint of a little spice, which works well with the pork.
The simplicity of this dish cannot be overstated and it's nice to have such a delicious meal prepared with just a few ingredients in a short amount of time. Enjoy!
---
4 boneless pork loin chops, (each 3 oz)
2 eggs
1/4 cup almond flour
1 tbsp tapioca flour
½ tsp dried oregano
¼ tsp cayenne pepper
pinch of salt
2 tbsp olive oil
Pound each pork chop to about 1/4 inch thickness. Set aside.
Combine the almond flour, tapioca flour, cayenne pepper, oregano and salt in a pie plate. Beat the eggs in another pie plate.
Heat the olive oil in a large skillet over medium heat. Press the pork chops into the almond flour mixture, then dip into eggs. Shake off excess and the dip again in almond flour mixture and beaten eggs.
Place two pork chops in a heated skillet and cook for 2-3 minutes per side or until golden. Transfer to a paper towel-lined plate. Repeat with remaining pork chops.
Divide the schnitzels among plates, garnish with lemon wedgies and serve with your favorite salad.