Featured
40 Paleo Watermelon Salads, Smoothies, Drinks & Desserts
Watermelon is one of my favorite summer fruits, and while it's plenty sugary enough that you don't want it for every meal, it does have lots of vitamins and is super hydrating. Try some of these delicious watermelon recipes, all paleo-friendly!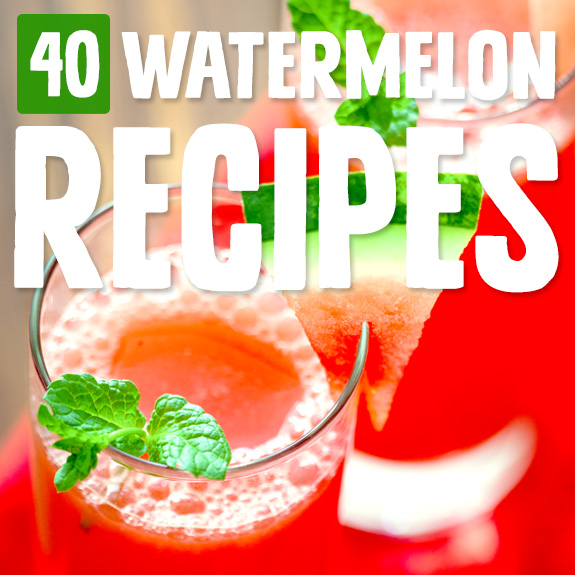 ---
1. Purple Carrot, Strawberry, Watermelon, and Lime Smoothie
This yummy smoothie is a beautifully color that won't give away its vegetable secret. The purple carrot has a sweetness to it that makes it easy to include this nutritious veggie in your morning smoothie. With shredded coconut, mint, lime, and cashews, it's a flavor you're going to love.
---

Photo: Forest and Fauna
2. Watermelon Salt Water Taffy
This easy salt water taffy is so much fun to make, and it doesn't have any added sweetener. It's crazy how much the texture of rolled-up dehydrator watermelon is similar to salt water taffy. A sprinkle of sea salt on each piece enhances the flavor. I've done this with pineapple too, and it's fantastic!
---
3. Watermelon Mint Jicama Salad
Jicama, also known as Mexican Potato, is a fun root that you can eat raw. It's refreshing, crunchy, and has a slightly sweet, almost fruity flavor. I love this raw salad with cubed watermelon, jicama, a big handful of finely chopped mint, lime juice, and cayenne pepper.
---
4. Red Fruit Salad With Honeyed Yogurt
This yummy salad makes a great dessert, because it's sweet without being too sweetened, and it has a lovely presentation. You'll need watermelon, strawberries, raspberries, yogurt (coconut yogurt works well), honey, pomegranate seeds, and mint leaves if you're feeling extra fancy.
---
5. Watermelon Gazpacho
This is a spicy and sweet cold soup that's super refreshing and excellent for summer dinners when you don't want to turn on the oven or stove. It has a bright and cheery yellow color with watermelon, tomato, cucumber, olive oil, red wine vinegar, read onion, and red or yellow bell pepper.
---

Photo: Healthy Nibbles and Bits
6. Watermelon Strawberry Agua Fresca
Those frescas at Mexican restaurants are delicious, but usually made with added sugar syrups and other sweeteners. Make your own at home with cubed watermelon, strawberries, lime juice, apple cider, lime slices, cucumber slices, and mint leaves.
---
7. Summer Melon Smoothie
This summer melon smoothie is sweet and refreshing, and it's one of my favorite drinks during most of the year, since I live in a hot climate. Let this melon hydrate you, the ginger cleanse you, and the strawberries and bananas provide a sweet flavor and pink hue.
---
8. Minty Watermelon Frosty
I love watermelon and mint together, and this frosty is the perfect way to enjoy them. You'll need frozen watermelon, mint leaves, lemon juice, and something to sweeten the frosty if necessary. Instead of sugar, you can use coconut sugar, honey, etc.
---
9. Super Simple Watermelon Gazpacho
The more elaborate watermelon gazpacho recipes are certainly fabulous, but sometimes you want something a little simpler. This recipe is made with ripe tomatoes, yellow watermelon, lime juice, and a dash of salt. if you want, you can garnish it with mint leaves and cubes of frozen watermelon.
---

Photo: The Roasted Root
10. Naturally Sweetened Watermelon Agua Fresca
Here's a watermelon agua fresca recipe that's a bit simpler in its ingredients and is sweetened with agave nectar or maple syrup (I recommend the maple, since it's less processed). A pinch of sea salt helps bring out the flavors in this drink, while also making it even more hydrating.
---
11. Homemade Snow Cones
It's pretty much a fact that everyone loves snow cones. Unfortunately, it's also a fact that snow cones from carnivals and ice cream trucks are usually loaded with corn syrup and artificial colors and flavors. This basil and watermelon snow cones is completely real!
---
12. Watermelon Mint Slushies
These slushies are loaded with electrolytes from coconut water! That makes them extra good for your body, while the watermelon, strawberries, and mint leaves make them extra tasty. You can also play with the flavor by changing out the strawberries or mint for other herbs and fruits. I can imagine pineapple-watermelon-basil!
---
13. Almost Instant Ruby Red Granita
This yummy treat is made with just grapefruit, watermelon, ice, and orange juice. You could also use water or coconut water for different flavors and sweetness levels. This is a treat you don't have to feel guilty about enjoying, even if that means you want to eat it for breakfast!
---

Photo: Drum Beets
14. Habanero Watermelon Gazpacho With Salsa
This gazpacho is made spicy with a habanero chili and super flavorful with garlic, red tomatoes, watermelon, and lime juice. You can top it off with this delicious mint and cucumber avocado salsa with plenty of fresh mint and a squeeze of fresh lime juice.
---
15. Salted Watermelon Ice
This watermelon dessert is sweetened with maple syrup, flavored with lemon juice, and made extra good with sea salt. The sea salt adds a gourmet flair to this watermelon ice and brings out all of those delicious flavors. Salty, sweet, and completely natural.
---
16. Watermelon, Strawberry, and Tomatillo Salad
I really love fruits in savory dishes, and this salad is the perfect balance of sweet and savory. On the sweet side, we have watermelon, strawberries, and mint leaves, which are complemented by tomatillos, extra virgin olive oil, balsamic vinegar, and ground black pepper. Yum!
---
17. Watermelon Cake
This fun cake offers a sweet surprise to whoever cuts into it! Shape your watermelon like a cake and "frost" it with coconut whipped cream. You can sweetened the whipped cream with raw honey, or leave the whole cake sweetener-free and sprinkle with crushed almonds.
---

Photo: The Lovely Life
18. Strawberry Watermelon Popsicles
Because I live in the desert, popsicles are a major part of my life. Where else can you pack sweet and nutritious ingredients into a portable internal air conditioner? I love the idea of these popsicles made with watermelon, strawberries, and lime juice and zest. So easy!
---
19. Watermelon Cherry Cooler
I'm a big fruity drink person, and this (non-alcoholic) cooler can be enjoyed by the whole family with watermelon, cherries, basil, mint, lime juice, and cold water with ice. The herbs really up the refreshment factor of these drinks, and they're naturally sweet!
---
20. Whole30 Watermelon Cucumber Salad
This is one of my very favorite things to make with an overload of watermelon. It even keeps for a few days in the fridge! All you need is watermelon cut into cubes, cubed seedless English cucumbers, lime, and fresh mint (or basil). Add a pinch of salt just before serving, if you'd like.
---
21. Grilled Watermelon and Shrimp Salad
A lot of these watermelon recipes are for lighter fare and drinks, but if you're looking for something savory and a bit more hearty, try this grilled salad. Grilled watermelon and shrimp are combined with balsamic vinegar, Dijon mustard, olive oil, sea salt, and more.
---

Photo: Bucket of Yum
22. Cubed Watermelon Salad With Dill and Mint
Here's another savory watermelon salad, and this one is made with jicama, cucumber, thinly sliced red onion for spice, olive oil, white balsamic or wine vinegar, fresh mint leaves and dill, and a dash of salt and pepper for good measure. This is perfect for a picnic!
---
23. Watermelon Heirloom Tomato Salad
This tomato salad is made with heirloom cherry tomatoes, coarsely chopped seedless watermelon, olive oil, white balsamic vinegar, salt, black pepper, and fresh dill. It's another irresistibly tasty and family-friendly picnic dish that everyone will be begging you to make again.
---
24. Chilled Radish Soup
Looking at the picture, you might think this is another gazpacho recipe. But it's not! This is rabano, a delicious radish soup made with watermelon, lime, almond butter, chives, vanilla extract, sea salt, and chili oil. The fabulous blend of flavors in this recipe is enough to make you want to try it!
---
25. Cherry Watermelon Granita
Granita is similar to sorbet, but it has an icy texture because it isn't churned through an ice cream maker to make it smooth. Instead, for this recipe, you'll freeze a puree of watermelon, cherries, fresh mint, and honey, and then scratch it with a fork until it's like a snow cone texture. Yum!
---

Photo: The Primal Desire
26. Blueberry Watermelon Mint Smoothie
This smoothie has a lovely purple color with some healthy fats from coconut milk. Blueberries add vitamins and antioxidants to this refreshing drink, which is flavored with watermelon and fresh mint and sweetened with a touch of maple syrup if you need it.
---
27. Paleo Watermelon Berry Smoothie
This smoothie is full of fruity flavor and sweetness from watermelon, raspberries, and blueberries. It's a simple and refreshing smoothie that's easy and quick to make, and perfect for the whole family to enjoy. You could also add a handful of spinach of added nutrients!
---
28. Watermelon Gazpacho With Beet Noodles
The beet noodles add extra nutrients and iron to this dish while also giving it a crunchy texture that makes it more interesting to eat. You'll also use red onion, cucumber, red wine vinegar, sherry vinegar, lime juice, chopped herbs, tomato, and jalapeno for some added heat.
---
29. Flank Steak, Tomato, and Watermelon Salad
This easy dinner salad will get both watermelon and protein-rich flank steak onto your table, alone with red wine vinegar, rosemary, romaine lettuce, avocado, red onion, shallot, tomatoes, and more. Leave out the bleu cheese to keep this recipe dairy-free.
---

Photo: Hold the Grain
30. Red Cabbage Summer Coleslaw
Here's another picnic dish for your family gathering. You'll need shredded red cabbage, carrots, lemon juice, red wine vinegar, olive oil, dried basil, garlic, celery, and watermelon to make this one happen, and trust me—everyone will be thanking you for it.
---
31. Watermelon Blueberry Mojito
This fun drink is made with ice, watermelon juice, white rum, mint, lime juice, blueberries, and sparkling water. It takes only a few minutes to mix up, and you can even make a non-alcoholic version for the kids by switching the rum out for juice or coconut water.
---
32. Watermelon Salad With Blackberries and Basil
This easy salad is made with watermelon, blackberries, fresh basil leaves, lime juice, and a bit of maple syrup or honey if you'd like to sweeten it up a bit (totally not necessary). I think the kids would really love this one! Mint would work in place of the basil, too.
---
33. Kiwi Watermelon Popsicles
These popsicles are so cute with their pretty pink color and lovely chunks of bright green kiwi. The kiwi adds both sweetness and vitamin c-rich tang to these popsicles, and they don't even need any added sweetener because of the watermelon. These are really kid-friendly!
---

Photo: Everyday Maven
34. Watermelon Cooler
Here's an alcohol-free watermelon cooler that's a bit sparkly, a bit sweet, and a bit tart. You'll need coconut sugar, fresh lemon juice, watermelon juice (there are instructions in the recipe on making pure watermelon juice), springs of mint, and club soda or other fizzy water.
---
35. Avocado Watermelon Bites
I love these little guys! They're so cute and have such a great color combination, and best of all, they're a watermelon bit appetizer that doesn't involve goat cheese. Wahoo! You'll just need watermelon, coconut aminos, red onion, cucumber, and avocado with a bit of fresh lime juice.
---
36. Watermelon Raspberry Lemonade
We love lemonade in our house, but it's a rare treat because the combination of acid and sugar isn't so great for your teeth (not to mention that we avoid sweetened drinks). Every once in awhile, though, I'll whip up a delicious drink like this lemonade with coconut water and sea salt.
---
37. Sparkling Watermelon Cooler
This cooler just requires watermelon, lemon juice, seltzer water, and some kind of sweetener (I'd use maple syrup). It's family friendly and comes together in just a few minutes, and it doesn't require juicing your watermelon or anything fancy. Plain watermelon puree works!
---

Photo: Nourished
38. Portable Popsicles
Remember those brightly colored (and artificial) freeze pops you used to enjoy as a kid, or maybe even give to your own kids? Let's make a healthier version with popsicle tubes! There are so many flavor ideas here, but one is a delicious watermelon coconut blueberry.
---
39. Watermelon Margaritas
I love a good margarita, and this one with watermelon is totally perfect. A bit of silver tequila, fresh lime juice, triple sec, and watermelon puree will do the trick. So fire up your cocktail shaker and rimming salt, because this is your new favorite summer drink.
---
40. Watermelon Salad With Creamy Poppyseed Dressing
This easy salad is made with mixed greens of choice, watermelon, and bleu cheese if you eat dairy (otherwise, leave it out). The creamy dressing uses paleo-friendly mayonnaise, honey, apple cider vinegar, poppy seeds, salt, and freshly ground black pepper. Yummy!