Featured
39 Low Carb Veggie Noodle Spaghetti Dishes
Some days, Paleo can seem hard. You're all about the bacon (who wouldn't be?), but sometimes it feels like your favorite foods are off limits. For example, spaghetti can be a great Paleo dinner, but it's going to look a little bit different. Many of these spaghetti recipes are made from spaghetti squash (it's a perfect alternative), so there many ways to enjoy noodles again!
---
1. Sweet Roasted Tomatoes With Spaghetti Squash
I've never been a fan of raw tomatoes, but if you roast them up in the oven so they're all sweet and sticky and savory and amazing, well, then you can bring me some and we'll be best friends. Or you can add them to this spaghetti squash dish.
---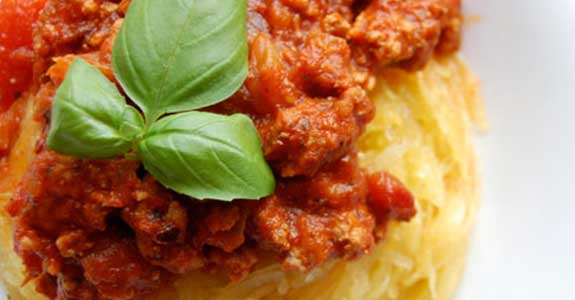 Photo: Jay's Baking Me Crazy
2. Paleo "Spaghetti" with Meat Sauce
Here's a basic spaghetti and meat sauce recipe that you can doctor up as you see fit. It's the sort of recipe that's great to keep on hand so that you've always got a meal idea ready before hunger really kicks in.
---
3. Sweet Potato Spaghetti With Turkey Meatball Sauce
If you don't yet have a spiralizer in your kitchen, you should get one—seriously. Spiralizers allow you to quickly turn any vegetable into a noodle-shaped… well, into a noodle. They cook faster that way, too! Try any vegetable noodle with this turkey meatball sauce.
---
4. Slow Cooker Spinach Meatballs and Spaghetti Squash
Slow cookers are the best, because they do all the work while you chill out, or while you're at work yourself. This recipe uses a delicious homemade tomato sauce. If you use your own beef broth in the sauce, you can reap the many benefits of gelatin in this delicious dish.
---
5. Bacon and Butternut Squash Zucchini Spaghetti
Here's another easy spiralizer recipe with just a few ingredients. And it has bacon, which means it has to be amazing, right? I can see this zucchini spaghetti making a perfect quick lunch, especially if you keep some already-roasted butternut in the fridge, which is a great time-saver.
---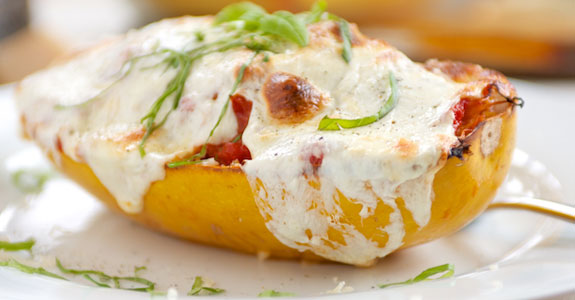 Photo: GI 365
6. Margherita Spaghetti Squash Boats
This is one of my favorite ways to make spaghetti squash. This recipe is very easy to put together (once you can get the darn thing cut open) with just a few ingredients. You'll need your squash, marinara sauce, sea salt, mozzarella, and basil. If you strictly avoid cheese, try one of the meaty toppings suggested!
---
7. Spagheti Squash With Bacon Basil Pesto
This awesome dish almost combines the last two recipes for a bacon-loaded, pesto-covered spaghetti squash dish with a garlic kick. The key is to brush the spaghetti squash with the bacon fat before cooking to help infuse it with flavor. Yum!
---
8. Spaghetti With Chicken and Veggie Pasta Sauce
This recipe allows you to choose your own favorite grain-free noodles, like spaghetti squash or spiralized vegetables, and douse them in this vegetable-rich sauce made from a base of your favorite Paleo tomato sauce with add-ins like mushrooms and baby spinach.
---
9. Baked Spaghetti Squash Boats With Grilled Chicken
These spaghetti squash boats are filled with cheesy, saucy, smokey grilled chicken and their own grain-free noodles. I like to add tons of fresh or dried oregano to these for an extra savory herbal flavor.
---

Photo: Rubies And Radishes
10. Spaghetti Squash With Cilantro-Macadamia Pesto
This flavorful, perfect-for-spring dish uses cilantro instead of the traditional basil, and adds fennel for a unique flavor. This is a vegetable- and protein-packed dish that will blow your Italian grandma's pesto pasta way out of the water.
---
11. Italian Meatballs and Zucchini Noodles
These meatballs are totally packed with celery, carrots, onions, three kinds of meat, and plenty of herbs for lots of Italian flavor. The sauce is equally vegetable-heavy, and while you'll need a spiralizer for this one, this blogger has a great recommendation!
---
12. Zoodles With Crispy Pancetta, Pecorino and Basil
"Zoodles" is a fun name for spiralized zucchini noodles. The beautiful thing about recipes using bacon or similar meats is that they're flavorful all without a ton of ingredients or added seasonings. You'll just need lemon, garlic, and basil to flavor this.
---
13. Spaghetti Squash With Mushroom Rosemary Sauce
This recipe is super savory from the caramelized onions and roasted garlic puree, with earthy tones from the mushroom and chopped fresh rosemary (you could use dried, but they'll be a bit crunchy and the flavor will vary in strength).
---

Photo: The Endless Meal
14. 15 Minute Zucchini Spaghetti With Tomato Sauce
This super-quick dish cooks up in just a few minutes with a lovely tomato sauce over spiralized zucchini. For a variation, try it with any of your favorite spiralized vegetables! Make sure to use a Paleo-friendly sweetener instead of brown sugar.
---
15. Spaghetti Squash Carbonara
A traditional style carbonara recipe that you've just got to try! Classic ingredients have remained intact, but regular pasta noodles have been replaced with spaghetti squash to keep things Paleo and healthy.
---
16. Lemon Oregano Spaghetti Squash
Yup—you'll see quite a few lemony recipes on this list. Lemon brings out the natural slight sweetness of spaghetti squash, and both the lemon and oregano flavor the chicken beautifully. You can adjust the amount of red pepper flakes to your spice preference.
---
17. Italian Sausage Ragu With Grain Free Fettuccine
This recipe won't tell you how to make the pasta yourself, but it contains a stellar recommendation on a Paleo-friendly pasta made from almond flour, which you can buy online and slather with this fabulous homemade meat and vegetable sauce.
---

Photo: The Joyful Foodie
18. Spaghetti Squash Garlic Noodles
This recipe uses ingredients like coconut aminos and porcini mushroom powder to flavor a browned butter (or olive oil) based, deliciously garlicky sauce that goes beautifully with spaghetti squash noodles.
---
19. Spaghetti Squash With Walnut-Saffron Pesto
You're probably used to green pestos. Me too. But you should give this one a try—the subtle flavor of the saffron is worth the trip to the store if you don't normally have it on hand (I don't). The heavier walnut part of this pesto is a fabulous dose of Omega 3s!
---
20. Creamy Sausage and Butternut Squash Spaghetti With Crispy Sage
This spaghetti dish almost miraculously gets all creamy and delicious without any dairy, or even dairy substitutes. Use homemade broth if you want the good-for-you gelatin, and don't skip the crispy sage—in my opinion, it's the best part.
---
This recipe is for a beautiful Bolognese that's entirely free of tomatoes, for those who need to avoid nightshades or more acidic foods. The sauce, made from beets and other vegetables, also freezes very well, so you can have homemade sauce whenever you need it.
---
22. Zucchini Spaghetti Fried Eggs
If you were thinking I just took the names of three different, unrelated foods and said them in a row… you'd be right. But you'd also need to know that this can be ONE dish, my friends. It comes together quickly and comes down easy any night of the week.
---
23. Spaghetti With Red Wine Sauce
I love, love, love cooking with red wine. The smell of a wine sauce simmering on the stove is one of the best I can think of, especially on a rainy night at the end of a gloomy day. To go with it, these noodles are a winning combination of zucchini and yellow squash.
---
24. Spaghetti Squash With Grape Tomatoes, Fresh Basil, and Goat Cheese
Basil is my absolute favorite fresh herb to use in the kitchen. Its strong but not overpowering flavor adds so much to pasta dishes, and the beautiful green adds shreds of color to whatever you toss it over. I love the red, green, and yellow of this dish!
---
25. Dairy Free Spaghetti Squash Carbonara With Butternut Squash
This double-squash dish takes a traditionally cream-based pasta and makes it dairy-free by using coconut cream and egg yolks to make a savory but almost custardy sauce flavored with mushrooms, bacon, garlic, onion, and fresh herbs.
---

Photo: Wandering Root
26. Spaghetti Squash and Chunky Sauce
This easy sauce hits the spot when you need something meaty but also vegetable-heavy, and when you want it to cook up easy in one dish. My favorite part of this sauce is the full-fat coconut milk, which adds a richness that can't be beat.
---
27. Paleo Spaghetti Squash Casserole
Casseroles are a great weekday meal, because you can assemble them ahead of time (the day before, even) and pop them in the oven before dinnertime on a busy day. Many of us think "casserole" and we think dense and creamy, but bland and unhealthy. It doesn't have to be that way!
---
28. Vietnamese Caramelized Pork Meatball "Vermicelli" Bowls
This dish takes spaghetti squash and turns it into vermicelli, topped with an assortment of chilies, spiralized (noodly!) vegetables, and a pork meatball recipe unlike any you've ever tried before. Want to know how they get that beautiful char? You'll have to read the recipe!
---
29. Zucchini Spaghetti With Spicy Meatballs and Chili Tomato Sauce
This dish leaves the zucchini noodles (zoodles) raw for a fresher, lighter taste. I love the contrast of the fresh zucchini with the spicy, warm sauce and meatballs—so many different flavors and textures happening here!
---

Photo: A Sunshiny Day
30. Spaghetti Squash With Basil Cachew Cream
If you've never made cashew cream, you've got to get on that. When you soak cashews in water for a little while (an hour, at least), they soften up and can be blended into a super-smooth cream, which is used in this dish to make a basily creamy sauce.
---
31. Pasta Primevera With Eggplant Noodles and Alfredo
Here's a variation you haven't seen yet! Just like you can spiralize zucchini, sweet potatoes, and yellow squash, you can do the same with eggplant. These eggplant noodles are tossed with an assortment of vegetables and flavorful seasonings.
---
32. Spaghetti Squash With Browned Butter and Parmesan
This seasoned, garlicky and Parmesan-cheese-topped (replace the cheese if necessary) little dish is particularly kid-friendly, and it's easy to whip up quickly if you keep a dish of already-cooked spaghetti squash in the fridge (trust me, it's a good idea!).
---
33. Spicy Chicken "Instant Noodles"
This dish isn't quite instant, but it's quick to make and is named so because it's reminiscent of those cheap, packaged noodles many college students live off of (shudder). Definitely go for the coconut milk on this one!
---

Photo: 24 Carrot Kitchen
34. Spaghetti Squash And Turkey Meatballs
Here's another simple spaghetti recipe with turkey meatballs as a delicious accompaniment. This dish is extremely easy, and the meatballs are rich and flavorful with seasonings like garlic, fresh chopped parsley, and crushed red pepper.
---
Maybe we're pushing the boundaries a little bit of what can be called spaghetti—but hey, if you don't push the boundaries you miss out on some good things lying beyond them, like this pad thai dish made with spaghetti squash noodles.
---
36. Easy Spaghetti Squash and Meatballs
This might be the easiest recipe on this list. If you're not up for making your own meatballs or spaghetti sauce, here's how you can still whip up a delicious Paleo dinner for your family. You'll just need spaghetti squash, you favorite sauce, and spicy Italian-style sausages.
---
37. Spaghetti Squash Yoga Bowl
This "yoga bowl" has roasted spaghetti squash, fresh ginger, cashew butter and cashews, coconut sugar, lime, and other fantastic flavors and ingredients. It would make the perfect fresh lunch or light dinner bowl, and won't leave you feeling bloated and slow.
---

Photo: Jay's Baking Me Crazy
This baked spaghetti dish feels and tastes like comfort food, but is super healthy and packed with nutritious ingredients. It serves 6-8, so cut it in half if you aren't serving as many (or leave it as is—you could reheat this as leftovers). Totally delicious.
---
39. Spicy Lemon Caper Spaghetti Squash
When I was a kid, we always had a jar of capers sitting in the fridge, and I was never sure what my mother used them for. She must have thought they weren't a kid-friendly flavor—if you've yet to try capers as an adult, give this recipe a go!