---
Vegetables are an easy way to provide an array of vitamins and nutrients into your diet with whole foods. Most people do not eat the recommended daily intake of fruits or vegetables, so perhaps turning one or two meals a week into a vegetarian dish is a good idea. Veggies can not only taste amazing, but also help you fight off illness and feel better overall.
Zucchini, yellow squash, and eggplant are the vegetables that I used for the base of these tacos. They are tossed with a bit of olive oil and then seasoned with cumin, chili powder, and cayenne before being thrown on the grill. It's almost starting to sound violent, all this tossing and throwing. Once the squash is on the grill watch it closely so that it doesn't get soggy. Try to sear the outsides but keep some crunch to the veggie. You can also sauté the red onion if desired, or just serve it raw.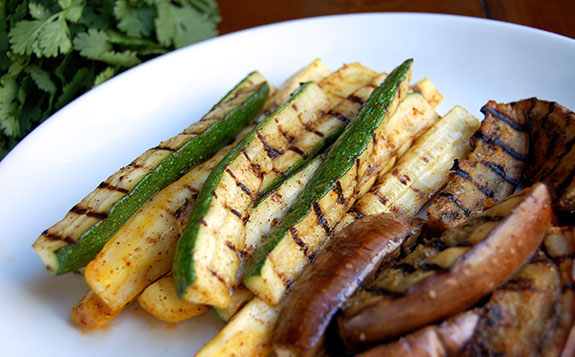 The tortillas that I make are usually about the same size as small corn tortillas. I have found that a blend of egg whites and coconut flour is the most consistent for making Paleo-friendly tortillas. If you haven't tried them before, the recipe can be found here. They are best served right away.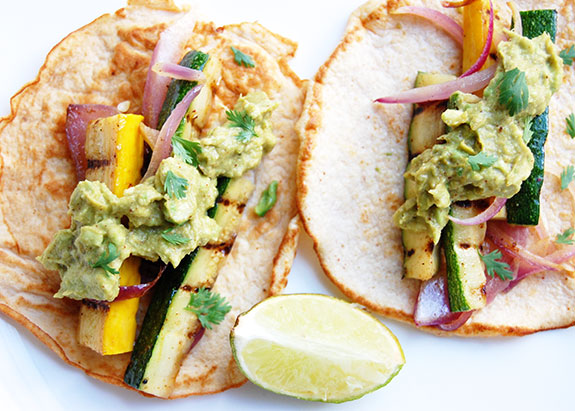 Meat-free meals are not only for vegetarians. In fact, my roommate and I eat meat-free meals probably 50 percent of the time. Although lean meats are emphasized as a major component of the Paleo diet, it does not mean that they have to be in every dish. For example, with these tacos, the squash provides so much flavor and heartiness that there is really no need for meat. Vegetarian tacos have never tasted so good.
---
3 small zucchini, sliced lengthwise
2 small yellow squash, sliced lengthwise
1 small eggplant, chopped
3-4 tbsp extra virgin olive oil
Salt and pepper, to taste
1 tsp chili powder
1 tsp cumin
Pinch of cayenne
1 avocado, pitted
Juice of 1 lime
1/2 red onion, thinly sliced
2 tbsp cilantro, chopped
1 lime, cut into wedges
8 Paleo tortillas
Place the zucchini, squash, and eggplant into a large bowl. Drizzle with olive oil and sprinkle with chili powder, cumin, cayenne, and one teaspoon of salt. Add pepper to taste. Toss to coat.
In a small bowl, mash the avocado with the lime juice and a dash of salt. Set aside.
Heat the grill to medium-high. Place the zucchini, yellow squash, and eggplant onto the grill and cook for 8-10 minutes, turning once, until slightly softened but still crispy.
To assemble, top each tortilla with a few pieces of squash or eggplant and red onion. Spread the avocado mixture over the vegetables and garnish with cilantro. Serve with lime wedges.