Vegetarian
18 Award-Worthy Vegetarian Paleo Recipes
Vegetarian Paleo dishes are delicious and nutritious, and can serve as a nice break if you've had too much meat recently. The following recipes are some of our favorites, and include desserts, snacks, entrees and more so you'll always have a meat-free go-to when you need one.
---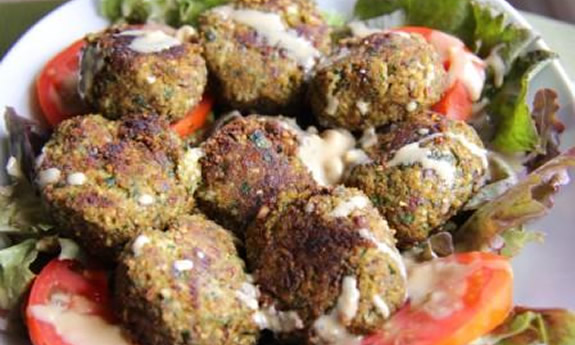 Photo: Divalicious Recipes
1. Almond Meal and Zucchini Falafels
These falafels are made with almond meal and coconut flour instead of the all-purpose flour you'll find in regular recipes. There's also no chickpeas, a common ingredient that goes into traditional falafel. Instead she's using zucchini, so these will have a different taste and texture than what you're used to if falafel was one of your favorite pre-Paleo foods, but they definitely do a good job of making up for it. There's a wonderful blend of spices and seasonings that really make these pop when you eat them.
---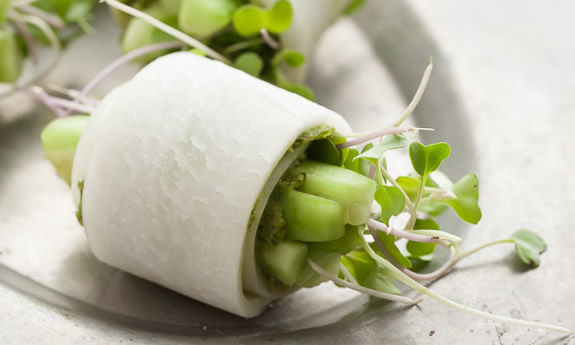 Photo: Gourmande in the Kitchen
2. Daikon Rolls with Cilantro Pumkin Seed Pesto
These amazing little rolls are great for entertaining, but can also be made up as a snack whenever you're in the mood for them. The pesto provides plenty of flavor, and there's avocado in these as well so you're getting healthy fat in two forms as the pumpkin seeds are a source of healthy fat as well.
The fun part of this recipe is the daikon, a popular item in Japan, and one that will hopefully catch on more in the States. You slice it up thin so it can roll up and hold everything together. Light, fresh, and totally meat-free.
---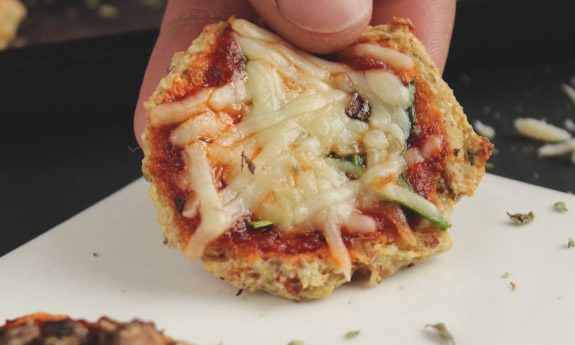 Photo: The Fitchen
3. Mini Cauliflower Crust Pizza Bites
Pizza bites will always go over well, no matter if you're serving a group of kids or adults. These are tasty little pizzas that are made with a cauliflower crust so you don't have to worry about gluten or any additives in the crust. You will not even notice the meat is missing in these because they are topped with yummy things like spinach and mushrooms. These provide plenty of taste, while keeping these pizzas healthy and Paleo friendly. The pizza sauce will provide lycopene from the tomatoes so these are good for you!
---

Photo: GI 365
4. Strawberries and Cream Crêpes
These crepes are literally bursting with what's inside them, and they're sure to quickly become your new favorite breakfast or dessert item. The nice thing about crepes is you can have them whenever the mood strikes, especially when you make them according to Paleo guidelines. They are sweet enough to be a dessert but you can also have them as part of your breakfast. A breakfast featuring a crepe for a sweet finish is one that won't soon be forgotten. These don't have any actual cream in them, they're made with coconut milk instead.
---

Photo: American Heritage Cooking
5. Stuffed Sweet Potatoes
Make up these stuffed sweet potatoes and you'll have a hearty meat-free meal that will keep you full for a long time after eating. There are at least three superfoods in play here, with sweet potatoes, broccoli, and sundried tomatoes. Sundried tomatoes have extra lycopene in them, the substance largely responsible for tomatoes getting so much press in health news. Leave out the feta cheese if you want to keep this strictly Paleo, or add it in if you've decided to have the occasional cheese made from goat's milk.
---

Photo: The Healthy Foodie
6. Sauteed Zucchini and Mushrooms
This is a nice mix of vegetables that makes the perfect side dish, but can also be used as a light meal if you had a big lunch or anticipate a big dinner. Plenty of fresh mushrooms are sauteed until golden brown, and combined with fresh zucchini and seasonings with ghee is the Paleo friendly oil. This dish comes out buttery-tasting and savory, and it can easily be upgraded by adding in more vegetables if you have them on hand. With Paleo it's all about being creative with what's available and not thinking you have to stick to the recipe entirely.
---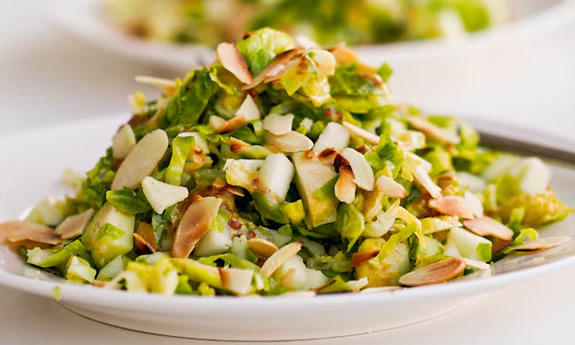 Photo: Avocado Pesto
7. Brussels Sprouts Salad
It's about time someone came along and gave Brussels sprouts the recognition they deserve. This salad features them as the main attraction, and they don't disappoint. You'll get a delicious salad made with a cruciferous vegetable that will help you slim down if that's your goal, and will contribute to your overall health and wellness if you're simply looking to improve your lifestyle on Paleo. Almonds and green apple add to the flavor profile of this salad and combine together well with the Brussels sprouts.
---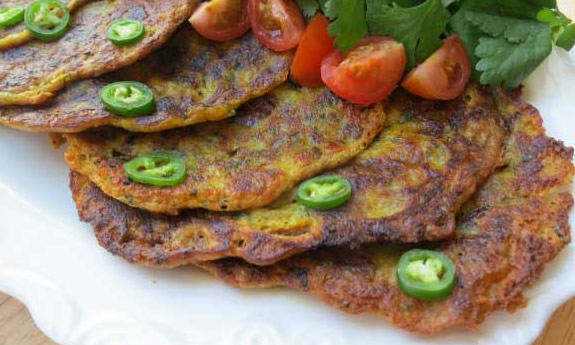 Photo: My Heart Beets
8. Savory Indian Pancake
These pancakes do a good job of capturing the essence of Indian cuisine in an easy and approachable recipe that you'll want to try out tonight. They are made with tapioca flour and almond flour, so no worry about grains. There's also no meat to be found, which makes them a good side dish for a meaty main dish, or as a hearty dish that will keep you satisfied all by itself. Turmeric gives them all the flavor they'll need, and produces its distinctive yellow-orange hue. Try them with our Paleo ketchup!
---

Photo: Garlic and Zest
9. Roasted Rutabaga Pistachios and Golden Raisins
Rutabaga gets the Paleo treatment and you'll look at it in a new way when you see how delicious it can turn out. On Paleo you'll want to use many different vegetables, even ones you may not be very familiar with. It's all about expanding your options instead of focusing on what you can't have. This recipe does a great job of making it easy to use rutabaga, which can be a daunting food item to get familiar with. Adding in pistachios and raisins is a very smart idea, and you'll notice that everything works with each other thing.
---

Photo: The Healthy Beast
10. Mini Balsamic Mushroom Caps
These mushroom caps are loaded up with taste veggies so you don't have to worry if you're a vegetarian. Most Paleo mushroom cap recipes will have beef or pork in them, but here it's just tomatoes, spinach, tomatoes, and garlic. You're also getting flavor from thyme and rosemary, so these aren't short on taste by any means. These mushrooms are pretty versatile, they can be used as a side dish, as an appetizer for a party, or a meal all by themselves if you combine it with just one other item.
---

Photo: The Kosher Cavegirl
11. Blueberry Lemon Crumble Bars
When you go vegetarian you definitely don't have to say goodbye to dessert, since most dessert items don't contain meat. These lemon crumble bars are a perfect example of just how much you can have on the Paleo diet, and will satisfy your sweet and sour cravings, as well as a craving for the crumbliness that adorns the top of pastries like this one. But when you consider that the blueberries have antioxidants and the lemon has Vitamin C it's easy to see that this is actually benefiting you rather than hurting your progress.
---

Photo: Delicious Obsessions
12. Easy Cauliflower Salad
This cauliflower salad looks a lot harder to make than it actually is, but you don't have to let anyone else know this. When you make up this salad you'll stack up the cauliflower on top of itself, don't worry it's surprisingly stackable. With amazingly healthy yet very delicious ingredients like pumpkin seeds and dried cranberries you're going to get more than just the taste of cauliflower in each bite, a good thing if you're sort of on the fence when it comes to the deliciousness of cauliflower.
---

Photo: The Ancestral Chef
13. Summer Fruit Salad
This is an amazing salad that incorporates several different types of fruit, all of which are harvested in time for summer noshing. The idea of eating according to the seasons is not a new one, and it's something Paleo man would have done, for sure. They were all about eating whatever was growing at the time, and didn't have vast food distribution channels like we have now that makes it so you can get any food at any time of the year from all over the world. Go local and go seasonal and you'll be more Paleo for it.
---

Photo: A Happy Health Nut
14. Roasted Winter Vegetable Soup
This soup is going to help keep you warm on a cold winter's night, and it is made with vegetables that are provided by nature at just the right time for use by our bodies. Getting more in tune with the natural cycle of each day, as well as the seasonal changes our bodies go through is a good idea. We're not static beings, and we're constantly changing and evolving to stay in tune with our surroundings. A soup like this made from sweet potatoes and carrots is the answer to cold winter harshness.
---

Photo: Be Miam
15. Vegetarian Stuffed Cabbage
Most of the time you'll see stuffed cabbage stuffed with ground beef or ground pork, but here they're stuffed with vegetarian and Paleo friendly items like chestnuts, parsnips, and carrots. The amazing feature of this meal is that it will keep you satiated just as long as a meat-filled cabbage dish would, but you won't feel weighed down after the meal like you sometimes might with a meat-stuffed cabbage. The flavor on these is out of this world, and you'll have to slow yourself down so you can appreciate just how good it is in the moment.
---

Photo: Peace Love Quinoa
16. Pumpkin Pie Yogurt Parfait
Coconut milk yogurt keeps this dairy free and Paleo friendly, while giving you a tart taste and the familiar flavor of pumpkin pie. You can use this as a way to cure a craving for pumpkin pie rather than having to bake an entire pie, or you can simply use it as a snack between meals to hold you over. The way she tops it off with pumpkin seeds is a nice nod to the pumpkin theme she's got going here, and it also adds more nutrition to the meal, so it's more than just a garnish. This is one yogurt that is sure to be made more than once.
---

Photo: Wallflower Girl
17. Vanilla Pumpkin Seed Clusters
These seeds clusters are a way to knock out a range of urges, from the need to eat something crunchy, to the desire to have something sweet. Many times cravings come in groups, and salty, sweet, and crunchy are one triple combination that you may have trouble satisfying unless you bring in the heavy artillery like these clusters. Bake up a big batch of these because they keep well in a freezer bag in the fridge, and they come in handy because they're highly portable and won't fill you up so much that you won't be ready for your next meal.
---

Photo: CupcakesOMG!
18. Sweet Potato Meringue Pie
This is a sweet potato pie that you'll want to add to your regular line up of pies. It uses antioxidant-rich sweet potatoes to make it extra healthy, while providing a taste akin to a pumpkin pie. The sweet potatoes will also add much needed fiber to your diet. The meringue topping is a fabulous idea, and will take away the need to put whipped cream on top, which would be a Paleo no-no. But the meringue is made from just egg whites and honey, so you're all set and can enjoy this with a clean conscience.