---
Around here the weather is starting to warm up and hints of spring are starting to appear. We are able to open the windows and let some fresh air inside. I thought that I had escaped the flu this winter, but of course right at the end of the season a fierce cold caught up with me. All I wanted was a comforting stew that would also restore my health with the vitamins and nutrients I needed.
This recipe requires a bit of chopping, but then you can let the ingredients simmer away. You could actually use any combination of fresh or frozen vegetables, depending on what you have on hand. During the bounty of summer the soup might have different ingredients than, say, the end of winter.
This recipe can easily be doubled or tripled to feed more around the table or to have extra to freeze for later. I would love to have a couple servings of this in my freezer for when I am under the weather.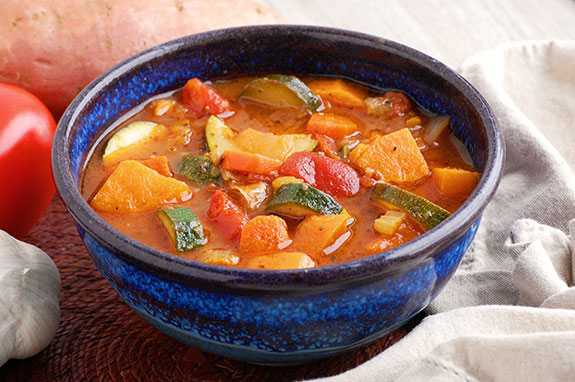 Homemade vegetable soup is so many times better than the version from a can. The fresh ingredients bring a lot of flavor to the end result. Vegetable soup is also one of the most well-rounded recipes I've had in awhile. Sweet potatoes, zucchini, tomatoes, and carrots bring a variety of nutrients to this dish.
---
2 tbsp extra virgin olive oil
1 medium yellow onion, diced
3 medium carrots, peeled and diced
2 stalks celery, diced
3 cloves garlic, minced
1 large sweet potato, peeled and diced
1 1/2 cups vegetable broth
1 14.5-oz. can diced tomatoes
2 tsp Italian seasoning
Salt and freshly ground pepper, to taste
1 medium zucchini, chopped
Heat the olive oil in a heavy-bottomed saucepan or Dutch oven over medium heat. Sauté the onion, carrots, celery, and garlic with one teaspoon of salt for 4-5 minutes. Add the diced sweet potatoes and cook for 6-8 minutes.
Stir in the broth, diced tomatoes with the juices, and Italian seasoning. The broth should cover about half of the saucepan; add more if necessary. Bring to a simmer, cover, and cook on low heat for 35-40 minutes, stirring occasionally. Adjust salt and pepper to taste. Stir in the zucchini and cook for 15 minutes more. Serve hot.