Recipe Lists
37 Creative Paleo Comfort Foods (Using Turnips)
Turnips don't get the love they deserve. If you've recently gotten some in your CSA share or come across them at the store and want to give them a try, check out these lovely turnip recipes that take perfect advantage of this unique vegetable.
---
1. Braised Turnips With Mustard Sauce
This super-simple turnip recipe is way too tasty for its own good. The turnips cook down in a skillet, creating their own flavorful broth, which is then mixed with whole-grain mustard for a silky sauce. Just make sure you use the arrowroot option to keep it paleo.
---

Photo: In Good Flavor
2. Carrots and Turnips With Honey Pecans
This dish is an alternative to the also-delicious sweet potato mash with a sweet topping. Mashed carrots and turnips with butter and salt make a sweet and savory base, and you can replace the brown sugar with maple syrup or coconut sugar, or just leave it out if you don't need things as sweet.
---
3. Mashed Yellow Turnips With Crispy Shallots
With a few minor adjustments (your favorite milk-alternative), this dish becomes an instant paleo favorite. Olive oil and plenty of butter make these savory mashed turnips smooth and delicious, while shallots and black pepper give them an extra kick of flavor and style.
---
4. Roasted Baby Turnips With Guanciale and Fines Herbs
This might be one of the tastiest and healthiest turnip recipes ever. Whole small turnips are sautéed with pig jowl and rendered lard (if you can't get pig jowl, bacon or pancetta will work). The turnips turn a lovely golden brown. Yum!
---
If you use coconut oil or avocado to make these, you'll have a real treat that's paleo-friendly. Turnips make excellent healthier chips when fried until crispy, and you'll have to get someone to hide them for you so you don't eat them all up in one sitting!
---

Photo: Food And Style
6. Rosemary-Roasted Root Vegeteabkes Agrodolce
These are not your grandmother's roasted vegetables—although there's a nod to her traditional rosemary seasoning for them. These vegetables are accented with honey and vinegar, along with the obligatory sea salt and black pepper.
---
7. Mashed Turnips With White Truffle Oil
You can make these paleo by simply switching out the milk for your favorite milk alternative. I recommend using almond or another milder flavored milk over coconut, so you don't overpower the amazing truffle oil—we wouldn't want that, now, would we?
---
8. Roast Chicken With Turnips and Garlic
These seasoned turnips are perfectly complemented by the lovely roasted garlic, which becomes mild, nutty, buttery, and almost sweet when roasted down to perfection. The turnips absorb a bit of the garlicky flavor when tossed with whole cloves.
---
As this blogger suggests, you can simply leave out the Greek yogurt for a dairy-free, paleo-friendly turnip soup that's seasoned with nutmeg and a kick of cayenne pepper. Of course, you could also substitute any non-dairy yogurt you like to keep it extra creamy.
---

Photo: Apron And Sneakers
10. Turnip, Kiwi, and Pomegranate Salad With Honey and Vinegar
A simple and fresh salad is the perfect treat on a warm day when it's made with special goodies like kiwi and pomegranate! But let's get some vegetables in here, too. Thinly sliced, these turnips taste perfect—slightly sweet and tart—with honey and vinegar.
---
11. Roasted Baby Turnips With Spicy Mustard Dressing
These tiny, mellow baby turnips can be dry-roasted with no oil, and are perfect dipped into a creamy, maple-laced spicy brown mustard dressing with apple cider vinegar and extra virgin olive oil. Simple, nutritious, and perfect for your finger food cravings.
---
In this dish, steamed and mashed cauliflower and turnips are the perfect substitute for mashed white potatoes, especially when mixed with grass-fed ghee or butter and a bit of cracked black pepper.
---
Roasting vegetables like turnips and parsnips brings out their natural sweetness between earthy flavor tones, and once roasted, they're an amazing base for smooth and creamy pureed soup. The flavor in this soup is unbelievable, and is accented with yellow onion, olive oil, coconut milk, and seasonings.
---

Photo: Cooking Weekends
14. Raw Turnip, Apple, and Carrot Slaw
This slaw is perfectly refreshing with grated apple, turnips, carrots, garlic, and honey tangerine, which mixes with apple cider vinegar and olive oil for the best sweet and sour flavor. This would make a great cold side dish, or just a snack eaten on a hot day.
---
This may be called October beef stew, but you can certainly enjoy it any time of year. Root vegetables like yellow onion, carrots, turnips, and pearl onions balance the bright flavors of tomato and the umami of beef. Replace the vegetable oil in this recipe with olive, coconut, or avocado oil.
---
These pretty-in-pink little turnip bites are made with garlic, salt, white wine vinegar, and chopped beets. Start making them a week before you'd like to eat and serve them, because this is a fermented dish that you'll want to watch on the windowsill for a week as it pickles.
---
17. Crispy Curried Turnip Chips
And finally, a flavorful and easy turnip chip recipe that's made with garlic powder, coriander, cumin, and a dash of cayenne pepper for heat. Olive oil gets these chips crispy in the oven, though coconut or avocado oils would also work well.
---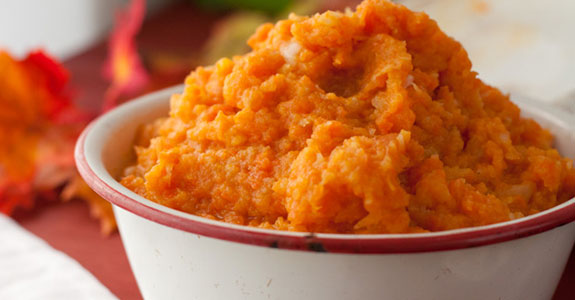 Photo: Healthful Pursuit
18. Maple Turnip and Carrot Mash
This is a simple, four-ingredient recipe that's more than delicious, and is a perfect replacement for mashed potatoes if you've always been a fan. Boiled carrots and turnips are mashed with olive oil and maple syrup, and make a great side dish for your favorite protein.
---
This simple, raw vegetable salad is a great cleanser and has a fresh, slightly tart flavor from the lemon juice. If you don't have dried cranberries that are paleo-friendly (many are sweetened with sugar), feel free to just leave them out, or replace them with raisins.
---
20. Balsamic Roasted Turnips With Thyme
These turnips are made especially savory with the umami flavors of aged balsamic vinegar. I love the ones in the picture because they're pink and beautiful, but obviously any turnips you have will work perfectly fine.
---
21. Trout With Braised Turnips and Swiss Chard
This full meal looks super fancy, but it isn't, actually—at least it's not fancy to make! In half an hour, you can have this perfectly roasted trout with garlic and braised turnips, seasoned with salt and ground pepper. Don't forget the chard! We can't forget the greens that complete this meal.
---

Photo: Plaid And Paleo
22. Traditional Irish Boxty and Full Irish Breakfast
This Irish breakfast includes boxty, an Irish pancake that's usually made with potatoes, but is perfect and paleo with turnips in this recipe. Banger sausages and bacon (rashers) along with eggs are the perfect side dishes for this breakfast.
---
23. Braised Baby Turnips and Radishes
These vegetables cook up their own sticky glaze with vegetable stock (or homemade stock of any kind—bone broth would work), butter, and a touch of sweetener (use coconut sugar instead of brown sugar). Red onion adds a touch of spice to this dish to balance out the flavors.
---
24. Harissa-Roasted Root Vegetables With Fried Capers
As long as you make sure your harissa sauce is paleo (or make your own), this is the perfect spicy dish to get yourself excited about root vegetables like the humble turnip. Combine them with other favorites like carrots and sweet potatoes, and roast to your heart's content.
---
25. Italian Turnips and Greens
These turnips get an extra-special makeover with pancetta, red onion, crushed red pepper flakes, chicken broth, and their own perfect greens. If you bought turnips without the greens on them, you can substitute any tender green like spinach or mustard greens.
---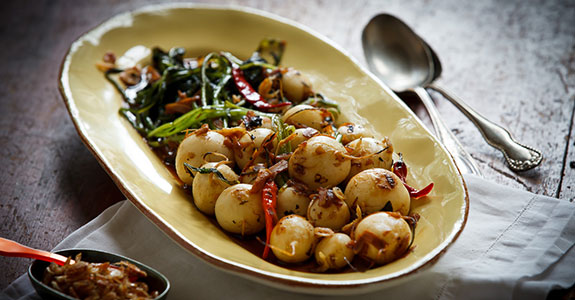 Photo: The Garum Factory
26. Stir-Fried Hakurei Turnips
These little buddies are mild and sweet in flavor, and this wonderful dish is packed with spicy, sweet, and umami flavors from the dried shrimp, garlic, key limes, honey, and sesame oil. In place of the soy sauce, use coconut aminos to make this recipe paleo.
---
27. Classic Carrot and Turnip Mash
This mash is so simple, I can hardly call it a recipe! Equal parts carrots and turnips, the vegetables are simmered until soft, and then mashed with butter and nutmeg. The butter is technically optional, but I highly recommend it, as it adds a ton of flavor and healthy fats to this dish.
---
With their crispy, golden brown edges and garlic seasoning, these look and sound so good I could reach right through my computer screen for a handful. But we all know it doesn't work that way. So I'll have to make up a batch with avocado oil and fresh turnips.
---
Here's another twist on a carrots and turnips mash. This one uses coconut milk, ghee, and sage for healthy fats and herbal flavors. Sea salt and pepper to taste add the finishing touches, and this is the perfect fall side dish with autumn flavors and seasonal vegetables.
---

Photo: Cooking In Sens
30. Duck Breast With Baby Turnips In Butter Sauce
Rule: When something has "butter sauce" in the title, you have to make it. And then you have to invite me over. Okay? Okay. This fantastic meal is easier to make than it sounds, and has simple, whole ingredients, like green bell pepper, broth, butter, and fresh herbs.
---
And here is the bacon-free variety. These turnips are coated with salt, black pepper, paprika, garlic, and parsley, and baked until golden brown. Coconut or olive oil both work well, though coconut oil is my preference when it comes to things baked at high temperatures.
---
This hearty soup is suitable for the autoimmune protocol diet (AIP) as well as paleo. It's rich and nourishing with bone broth, onion, sweet potato, turnips, parsnips, turmeric, and other delicious vegetables and seasonings, as well as cubed beef.
---
33. Crispy Roast Chicken With Artichokes, Turnips, and Sundried Tomatoes
This perfectly roasted chicken makes a full meal with the vegetables done on the same pan. One-dish dinner. Perfect! You can use jarred artichoke hearts instead of frozen, if that's what's available to you. The oregano really makes these flavors, if you ask me.
---

Photo: The Healthy Foodie
34. Chicken Broccoli Frittata With Turnips, Sundried Tomatoes, and Walnuts
The colors and textures in this frittata are unbelievable, as is the blend of flavors with ingredients like coconut milk, sundried tomatoes, garlic, turnips, broccoli, and walnuts. Fresh herbs like dill and parsley add complexity to the flavors.
---
Turnip greens are nutritious, and can be cooked right alongside the roots if you like. This dish is a simple way to cook the greens along with the turnips, seasoned with onion, garlic, and a healthy dose of butter or bacon fat—both choices would be delicious.
---
36. Turnips, Daikon, and Squash
This lovely dish is full of holiday flavors from the fresh simmered cranberries, cloves, and sage. The combination of textures with turnips, daikon radishes, and spaghetti squash is unique and tasty, and the bacon adds the perfect flavor of, well, bacon. I know you get me.
---
37. Slow Cooker Pulled Pork and Roasted Vegetables
This is a one-dish meal that cooks up in your slow cooker. Great for summer, as you don't have to heat up the house with the oven. Great for winter, since it's warm and filling. Great for any time, because slow cookers do all the work for you, and this recipe with turnips and broccoli is fantastic.
(Make this next: 7 Comforting Mashed Cauliflower Recipes)