Recipe Lists
38 Healing Turmeric Recipes to Soothe Inflammation
The paleo diet is known for having waves of "superfoods" that are in everything and then pass with a flash—not because they aren't still healthy, but because an eating style that gets its momentum main from internet communities and word of mouth is likely to have "trends" in what's most discussed. Turmeric, however, is one superfood that's remained stable as a part of smoothies, soups, and curries. It has anti-inflammatory properties that combine well with things like ginger and cinnamon, and it has a mild flavor, so you can easily work it into your diet in many different dishes. Check out these recipes!
---
1. Turmeric Curried Cauliflower Soup With Crispy Pork and Noodles
If you want a soup that's packed full of goodness, and super creamy but also full of different textures and flavors, pick this one. It's made with zucchini, cauliflower, coconut milk, turmeric, spring onions, lemongrass, garlic, crispy pork, and more.
---

Photo: Wicked Spatula
2. Anti-inflammatory Tropical Turmeric Smoothie
Turmeric is a powerful anti-inflammatory, and combined with aloe vera juice, it's part of a tonic you're going to want to have at the ready. This delicious delicious smoothie has a tropical flavor with fresh pineapple, banana, lime, and coconut oil, and it's sure to pep you up.
---
3. Easy One-Pan Curry Chicken With Vegetables
I hate cleaning up dishes, so one-pan dinners are my favorite. And turmeric is a main ingredient in most curry dishes, so you're going to see it make appearances in dishes like this one-pan chicken and veggie curry with bell peppers, zucchini and yellow squash, crimini mushrooms, pumpkin puree, and yellow onion.
---
4. Turmeric Juice Pulp Crackers
If you juice on the regular, you're probably always looking for ways to use up that gorgeous pulp so you don't have to waste the fibery goodness. Try these turmeric crackers with black pepper, tahini, hemp seeds, honey (if you want), olive oil, garlic, and sea salt.
---
5. Pork Chili With Bok Choy
When it coms to savory stews, turmeric doesn't have to be reserved just for curries. You can add it to this delicious chili with lots of cumin and chipotle powder for a chili that's both refreshing and spicy, and is sure to fill your belly up with flavorful and healthy goodness.
---

Photo: The Little Green Spoon
6. Yellow Coconut Curry
With simple ingredients like white onion, chicken breast, sweet potatoe, coconut milk, and chicken stock, you know this is going to be a comforting meal that's easy to make. You'll use homemade curry paste with ginger, garlic, turmeric, cumin, coriander, and coconut oil!
---
7. Anti-inflammatory Ginger Turmeric Carrot Soup
These flavors go so well together, with spicy gingery balancing the sweetness of carrots and turmeric adding a mildly aspect along with garlic, yellow onion, lime, and ground cayenne pepper. Coconut milk makes this soup extra creamy, and you can garnish with fennel and pepitas.
---
8. Turmeric Pork Skillet
When a paleo dish is suitable for both AIP and Whole30 diets, you know it's one you're going to want to keep on hand because it's so flexible and versatile. This yummy skillet hash is made with sliced cabbage, garlic oil, turmeric, grated carrot, scallions, coconut milk, and cilantro.
---
9. Roasted Acorn Squash and Apple Soup
Packed with celery, apples, carrots, onion, acorn squash, veggie broth, and coconut milk, you know this is a soup that boats a lovely flavor combination with perfectly balanced sweet and savory tastes. With ginger and turmeric among the seasonings, it's also anti-inflammatory!
---

Photo: My Lavender Blues
10. Indian Spiced Cauliflower Rice
This cauliflower rice is easy to make and perfect for serving alongside meat or other vegetables dishes. You can make your own with cauliflower, yellow onion, red pepper, chopped cilantro, oil of choice, turmeric, and salt. The recipe recommends serving with chicken.
---
11. Anti-aging Turmeric Elixir
This drink might not be able to prevent you from getting older, but it does contain ingredients that have been known to help preserve vitality, both internally and in physical forms. You'll need turmeric, ginger, lemon, oranges, and apples. Simple!
---
12. Golden Beet, Carrot, and Turmeric Smoothie
Golden beets are one way to trick yourself into drinking a beet smoothie—it works well if you're one of those who associate the beautiful color with the earthy taste. But beets can taste great too, like with banana, carrot, oranges, lemon, and turmeric.
---
13. Spiced Matcha Latte
This matcha latte is full of healthy ingredients like matcha powder, cinnamon, turmeric, and ginger. You can sweeten in just barely and it still tastes amazing, so this is a hot drink you can enjoy daily knowing you're infusing your body with goodness instead of sugar.
---

Photo: A Clean Bake
14. Roasted Cauliflower With Turmeric and Mint
Seasoned with coarse sea salt, garlic powder, chili powder, turmeric, and dried mint, this cauliflower has an unexpected spunk to it from the mint along with warming, spicy flavors from everything else. You're going to love the flavor combination!
---
15. Banana Smoothie With Nuts and Seeds
Banana smoothies are my absolute favorite type of smoothie, and this one with vanilla, almonds milk, honey, and almond butter is fantastic. Pumpkin, sunflower, and flax seeds add lots of protein and nutrients, while turmeric gives an anti-inflammatory boost of goodness.
---
16. Turmeric Smoothie With Mango
If you find yourself in an afternoon mood slump and need something to lighten you up, give this smoothie a try. How can you not be happy while drinking something this color? To make it, you'll need mangos, orange, carrot, cashews, coconut water, turmeric, fresh ginger, and black pepper.
---
17. Inner Glow Bliss Balls
These bliss balls are made with Brazil nuts, dates, figs, bee pollen, coconut oil, turmeric, flax seeds, lemon zest, protein powder, maca powder, and if you need a sweetener, maple to replace the rice syrup. All those superfoods are sure to give you blissful energy!
---

Photo: Naked Cuisine
18. Superfood Sunshine Chocolates
Don't you want one of these happy little yellow suns right now? I sure do. Make them with raw cacao butter, cacao powder, coconut butter, coconut oil, raw honey or maple syrup, turmeric, bee pollen, and sea salt. They're full of superfoods to give you a boost.
---
19. Pork Meatballs in a Spicy Sweet Potato Sauce
Instead of the usual sauce suspects, these meatballs are smothered in a spicy sweet potato sauce. Mouth watering already? Make them with pork mince, coriander, cumin, sweet potato, coconut oil, chicken broth, turmeric, chili flakes, roasted cashews, and salt.
---
20. One Pot Turmeric Chicken With Vegetables
Here's another one pot meal for the books: use a whole chicken, olive oil, freshly ground black pepper, shallots, fennel, russet or Yukon gold potatoes, turmeric, paprika, ground cumin, thyme, and chopped parsley for serving. Everyone will love this!
---
21. Orange Peach Raspberry Smoothie
Here's a sweet and fruity smoothie that's perfect for starting your day with healthy fats. It has an avocado, so you'll stay full until lunch. Fresh ginger and ground turmeric will add morning boosters to help your body cleanse and regenerate.
---

Photo: Simple Seasonal
22. Sweet Coconut Cauliflower Rice
I love coconut cauliflower rice, and this version uses coconut oil to bring in subtle tropical flavors to rice seasoned with yellow onion, fresh garlic, turmeric, paprika, salt, and black pepper. It's a great side dish for just about anything you're cooking, so give it a try.
---
23. Roasted Mixed Nuts
Roasted nuts are a great healthy snack, but usually the ingredients in store-bought ones are not so great, and "natural" versions can be expensive (and sometimes still not so great). Make your own with garlic powder, oregano, and turmeric and mixed nuts of your choice.
---
24. Almond Butter, Turmeric, and Ginger Cookies
I'm super excited to make these cookies because they sound amazing, and anything made with an almond butter base is sure to be delicious. You'll need coconut sugar, vanilla, eggs, cinnamon, ginger, turmeric, nutmeg, shredded coconut, and chopped pecans if you want them nutty.
---
25. Cure All Chicken Soup
Chicken soup is known for being an excellent thing to eat whenever you're feeling under the weather, and for good reason—that broth and those veggies are nourishing! But what if you made it even more nourishing by adding some turmeric, which also results in a gorgeous color?
---

Photo: Naked Cuisine
26. Paleo Vegan Crackers and Cheese
This cheese-and-crackers recipe is sure to satisfy your craving with almond meal and turmeric crackers dipped in a deliciously cheesy-but-cheese-free sip made from cashes, lemon juice, garlic, olive oil, and chopped green onion. The flax in the crackers add lots of Omega 3s!
---
27. Turmeric and Cinnamon Roasted Cauliflower
These snackable cauliflower bites are a little spicy and a little sweet, but absolutely delicious with turmeric, cinnamon, sea salt, pasture-raised butter or ghee, and coconut oil. If you want, you can serve them with coconut yogurt for dipping. Yummy!
---
28. Roasted Butternut Squash With Smoked Paprika and Turmeric
I've never been a huge fan of "sweet-style" butternut squash with things like cinnamon and nutmeg. However, I love recipes like this, with savory smoked paprika, garlic, and ground turmeric. This is a healthy side dish that takes only a few minutes to prepare and practically cooks itself.
---
29. Jeweled Cauliflower Rice
This cauliflower rice features pomegranate seed "jewels," turmeric, olive oil, sea salt, dried apricots, dried cranberries, pistachios, parsley, lemon juice, and pepper. It's a super delicious way to spice up your usual cauliflower rice and get some new flavors in your belly.
---

Photo: Jesse Lane Wellness
30. Mango Turmeric Smoothie
I love adding turmeric so smoothies with mangos, oranges, and other orange-colored foods. It enhances the natural beauty of the fruits and really gives the smoothie a beautiful, sunny glow that you can practically feel going down while you're drinking it!
---
31. Anti-inflammatory Latte
With ground turmeric, cinnamon, grated fresh ginger, and dried rosemary, this stevia-sweetened latte is full of anti-inflammatory ingredients, and you can make it with your favorite non-dairy milk. My choice would be fresh homemade almond milk—yum.
---
32. Nourishing Turmeric Milk
Speaking of fresh almond milk, this golden milk is a lovely body tonic made from fresh almond milk. It's slightly sweetened with a few medjool dates and raw organic honey, and flavored with organic turmeric, ground cinnamon, and sea salt. I'd love to heat this up for a morning drink.
---
33. Baked Cauliflower Florets
Curried is one of my favorite ways to enjoy roasted cauliflower, so give this recipe a try with curry powder, turmeric paprika, sea salt, garlic flakes, and coconut oil. The recipe calls for flour, but you could leave it out or use arrowroot for an extra crispy crunch.
---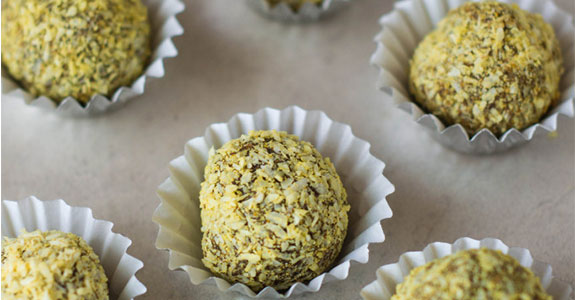 Photo: Wall Flower Girl
34. Raw Coconut Turmeric Truffles
It's always fun to make paleo truffles because they're so easy, they only require a few ingredients, and you can do all sorts of experimenting with flavors and superfood boosts. I love this version with turmeric, shredded coconut, and maple syrup.
---
35. Broccoli Cauliflower Glow Soup
Turmeric in soups is usually limited to carrot, pumpkin, squash, and other orange dishes. But why not make this broccoli and cauliflower soup glow with a dose of nourishing turmeric? You'll also need coconut milk, curry powder, whole grain mustard, and other flavorful add-ins.
---
36. 4 Ingredient Turmeric Shake
Thanks to the frozen cubes of coconut milk, this drink really is like a milkshake! You'll just need a blood orange (others will do if you can't get a blood orange), frozen coconut milk cubes, almond milk, freshly grated turmeric root, and honey or stevia.
---
37. Arabic Meatball Soup With Spinach, Mint, and Lime
This unique soup can be made with beef, lamb, turkey, or any combination, and you'll also need fresh mint, cloves, onion, ground turmeric, kosher salt, cracked pepper, olive oil, flavorful chicken stock, scallions, spinach, and more.
---

Photo: Girl Cooks World
38. Indian Spiced Mashed Cauliflower
Mashed foods really are the best kind of comfort foods, in my opinion, and this creamy mashed cauliflower with red onion, cayenne, turmeric, mustard seeds, and cilantro is sure to hit the spot. Use the oil of your choice. If you really want it to be delicious, use ghee!