How to Make Turkey Gravy From Scratch
The key to making a good turkey gravy that is full of delicious turkey flavor is to use the pan drippings that are left over in the roasting pan after it's done cooking. What you're going to do is take that pan and add in some bone broth or just plain water if you'd prefer.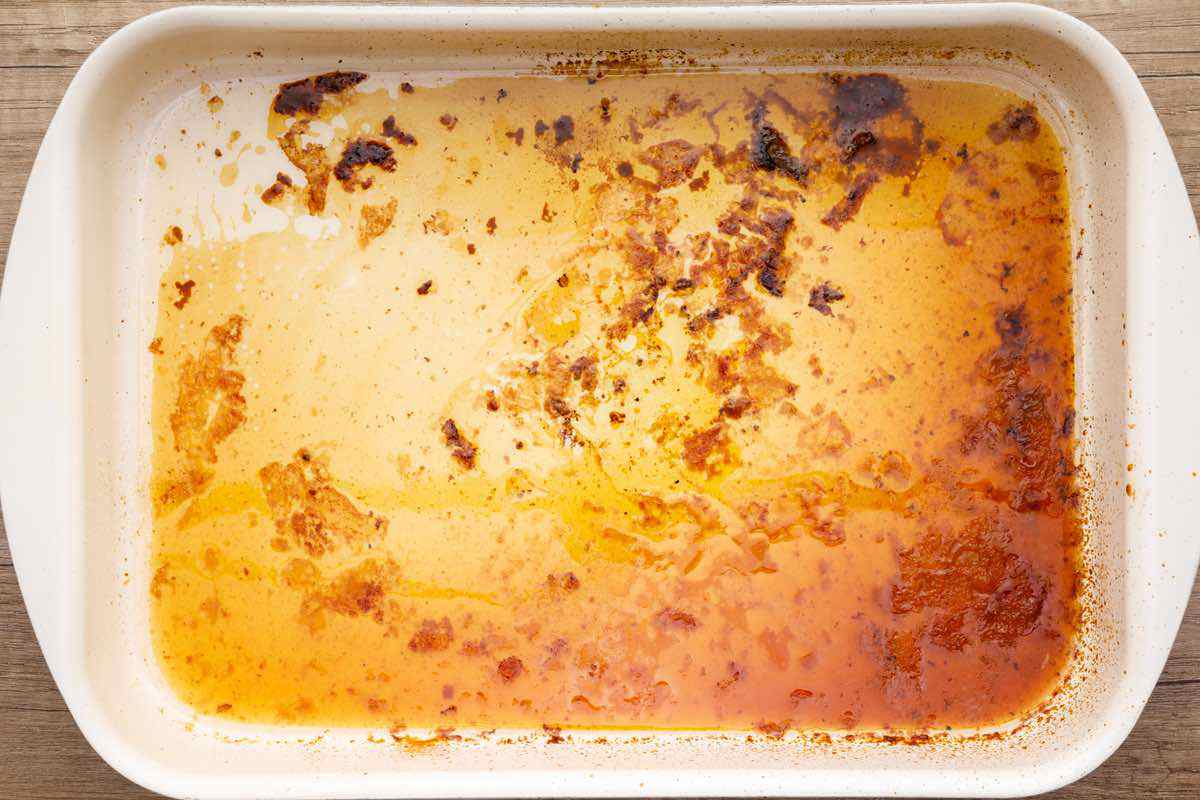 Heat it all up, being sure to scrape the yummy bits off of the bottom of the pan with a wooden spoon. You're going to want to skim the fat off the top of the resulting drippings while following the recipe, and if you find it a little lacking, feel free to add some ghee to it. This combination of turkey fat, broth, and ghee provides the gravy with it's unbelievable flavor.
Afterwards it's just a simple matter of adding in some arrowroot flour to give the gravy a thicker texture and to polish the recipe off.
The version of gravy I had when growing up that my dad used to make included wheat flour in it. Since switching to a paleo diet though, I obviously avoid wheat and any other products that contain gluten. It's a good thing too, as wheat and refined grain intake are known causes of inflammation. (1) The arrowroot makes a fantastic replacement to use in gravies, and it's incredibly healthy as well. It's quite easy to digest and adds just the right amount of thickness.
When you put all of these ingredients together, you end up with a turkey gravy that's absolutely bursting with flavor. You just won't be able to resist smothering every item on your plate with this gravy once you try it out for yourself. It goes wonderfully on top of turkey, stuffing, peas, corn, and if you're so inclined, mashed potatoes. Just make sure to save some room for dessert too.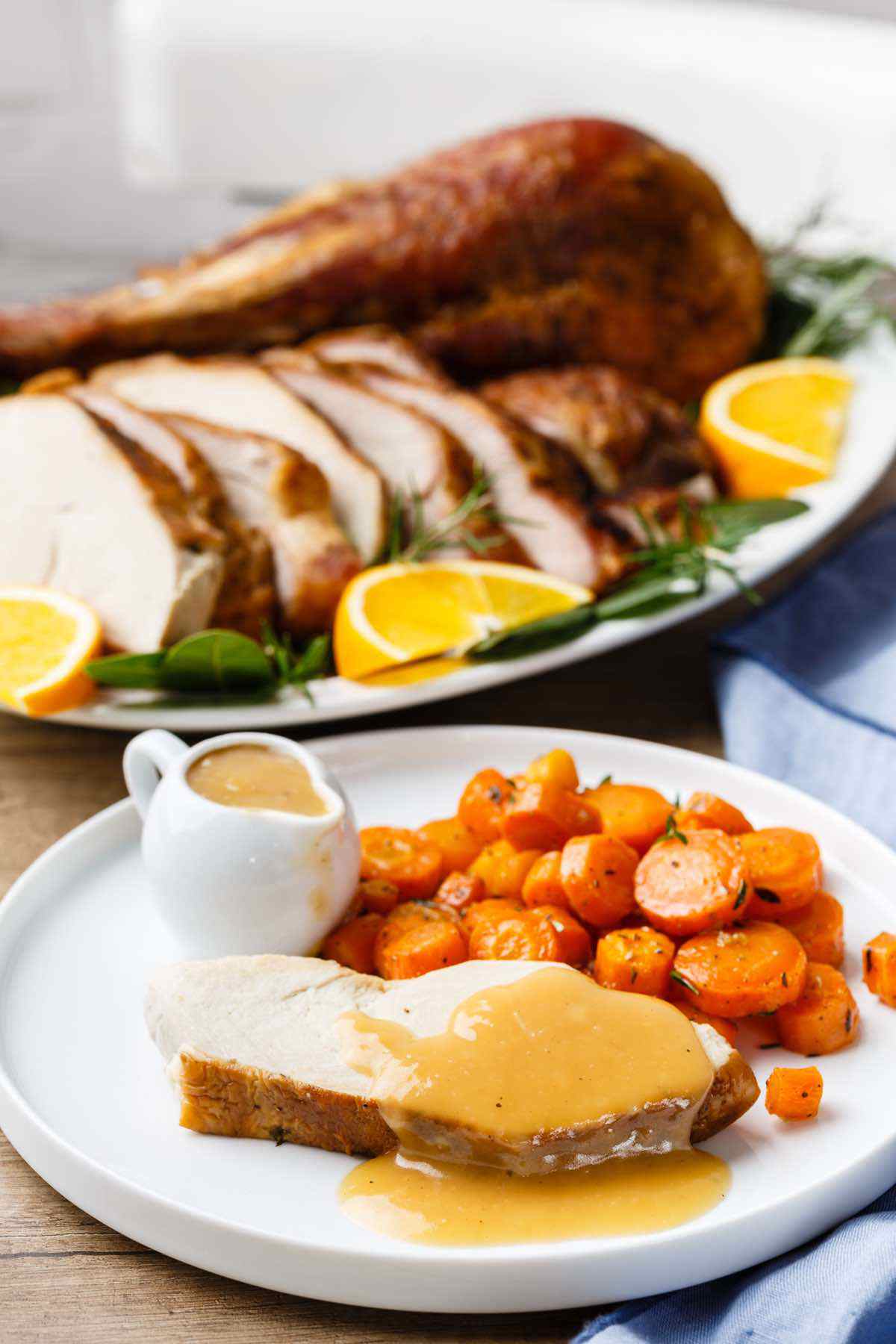 P.S. – Just in case you end up with any leftover turkey, here's a few other fantastic paleo-friendly recipes that use turkey that you might enjoy:
#1 – Quick and Easy Turkey Meatloaf
#2 – Classic Paleo Turkey Burgers
---
Pan drippings (including juices) from whole roasted turkey)
2 cups homemade broth or water
¼ cup arrowroot flour
salt, black pepper to taste
ghee (if necessary)
When your turkey is done, transfer it to a platter or a cutting board.
Pour in 1 cup of broth or water into the roasting pan and place it on the stove over medium heat.
Simmer for 2-3 minutes, scraping up all the bits from the bottom of the pan with a wooden spoon.
Pour the deglazed juices through a strainer and into the measuring cup and pop it in the freezer for 30 minutes.
The fat will rise to the top, making it easy to skim off.
Skim the fat off the top of the drippings.
Ideally you should have ¼ cup of fat.
If you have less then ¼ cup of fat add ghee.
In a saucepan heat ¼ cup of fat over medium heat.
Add the arrowroot four and cook, stirring constantly with a wooden spoon, until the flour browns slightly.
Add the deglaze juices and whisk to combine with the flour.
Whisk in 1 cup of broth or water and simmer, whisking occasionally, until the gravy thickens.
Season to taste with salt and black pepper.
More Good Turkey Gravy Recipes
Creamy Turkey Gravy
Turkey gravy can be enjoyed slathered over stuffing, mashed potatoes, biscuits, or sweet potato fries. Caramelized onions lend a lot of flavor to this version of Paleo turkey gravy. It is thickened with the starch arrowroot powder, which can be found at most grocery stores. The gravy will also thicken further as it cools.
Ingredients
1 tbsp extra virgin olive oil
1 medium onion, finely chopped
1 1/2 tbsp arrowroot powder
6 tbsp almond flour
1 1/2 cups turkey drippings
2 tbsp coconut cream
1 tsp oregano
1/2 tsp garlic powder
Salt and freshly ground pepper, to taste
Instructions
1. Heat the olive oil in a large skillet over medium-low heat. Add the onions and cook for 20-25 minutes, until mostly caramelized.
2. Add the arrowroot and almond flour to the onions and stir. Cook for 1 minute, and then stir in the remaining ingredients. Simmer until thickened. Season to taste with salt and pepper.
3. If desired, blend the turkey gravy in a food processor until smooth. Serve warm.