---
This seems to be the time of year for large gatherings, whether it's a big basketball game, the Olympics, or the Oscars. When I'm hosting such an event, I usually try to come up with at least one vegetarian-friendly snack option for the guests. These tomato salsa bowls are not only vegetarian, but gluten-free, nut-free, and vegan. They really appeal to all diet types.
In the past, hosting a party for something like the Super Bowl meant that I was loading up on cheesy, meaty, heavy ingredients. However those types of snacks had a tendency to make a person want to sink into the couch and never move again, especially after grazing for hours. I have been enjoying my recent switch to lighter snacking options – ones that don't leave you in a fog for the rest of the night.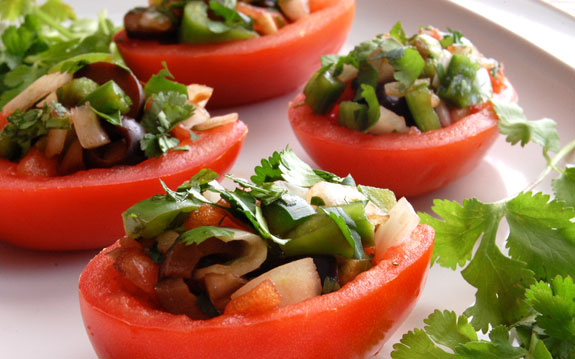 One of my favorite parts of these flavorful salsa bowls is that they can be made ahead of time and then stored in the refrigerator until you are ready to serve them. In fact, it might be better to make the salsa at least 30 minutes before serving, in order to let the flavors meld together. I also used the insides of the tomatoes in the salsa after removing the seeds. Tomatoes are the perfect vessel for serving up some fresh zesty salsa at your next gathering, no cooking required.
---
4 medium ripe Roma tomatoes
1/4 cup black olives, sliced
1/4 cup onion, finely diced
1/2 green bell pepper, seeded and chopped
1/2 jalapeno, seeded and finely chopped
2 cloves garlic, minced
1 tbsp fresh cilantro, chopped
1 tbsp grapeseed oil
2 tsp balsamic vinegar
Salt and pepper, to taste
Slice the tomatoes in half and scoop out the insides. In a small bowl, mix together the remaining ingredients. Stir well. Spoon the salsa mixture into the tomato cups. Serve chilled.