Featured
37 Paleo-Friendly Thai Dishes
The great thing about Thai food is that isn't it that hard to make Paleo-style. Also, it's delicious—spicy, savory, sweet, and tangy flavors all blend together in combinations like coconut-lime, sweet chili, and spicy citrus. Check out these recipes and see what you can whip up!
---
1. Thai Cucumber Salad With Cashews
This salad is so simple, but when you taste it, you'll know why I included it. Simple doesn't mean boring, especially when it has cashews. They're so creamy, and they're great at soaking up flavors.
---
2. Pad Thai with Zucchini Noodles
One of the most popular dishes in Thailand is Pad Thai. You can find it all over the place, and it's one dish you'll miss out on unless you make the necessary Paleo adjustments. Here's the best way to have it, completely Paleo friendly.
---
3. Napa Cabbage Wrabbed Shiitake Pork Rolls
I've always loved Thai spring rolls, but seeing as the traditional ones are made with rice wrappers, they're not Paleo. Fortunately, certain greens and cabbages work really well as replacements for those rice wrappers, such as in these pork rolls with homemade Thai sweet chili sauce.
---
4. Spicy Thai Chicken Stir Fry
I love stir fry for dinner, because it's so much fun to just throw things in a pan and eat them all up mixed together. So many flavors in each bite! This one is spicy and flavorful with cashew butter, fish sauce, red pepper flakes, garlic, ginger, and other traditional Thai flavors.
---
Thai flavors are incredibly varied and versatile, and this shrimp salad is no different. Almond butter, lime juice, and honey make a fabulous dressing when seasoned with a few other ingredients, while cucumber and cashew help make the salad base especially delicious.
---

Photo: Great Food And Lifestyle
6. Thai Salmon With Carrot Salad
This is a three-part recipe for a shredded carrot-cashew-cilantro-green-onion salad, a lime-glazed salmon fillet with pink Himalayan salt, and a delicious sauce with coconut sugar, lime juice, sesame seeds, sunflower seed butter, and other great flavors. Get cooking!
---
7. Thai Slaw With Coconut Mango Dressing
I love, love, love tropical flavors in my food, and that's why Thai and I are a perfect match. This slaw will be a perfect match for you, too, when you check out the list of ingredients, featuring my friends cashew, bell pepper, lime, chili, mango, and coconut.
---
8. Coconut Curried Cauliflower Soup
It's entirely possible I've shared this recipe with you in a different context before, because I love it so much I'd share it with you in every list if I could. It's creamy, sunny, warming, spicy, and very nourishing to a body that wants some healthy fats and vegetables.
---
9. Thai Inspired Green Curry Chicken
Chicken curry is my favorite type, because I love me some protein with my coconut milk and lusciously flavorful sauces. This curry is excellent because of its strong flavors, but you can use less curry paste if you're not so crazy for curry.
---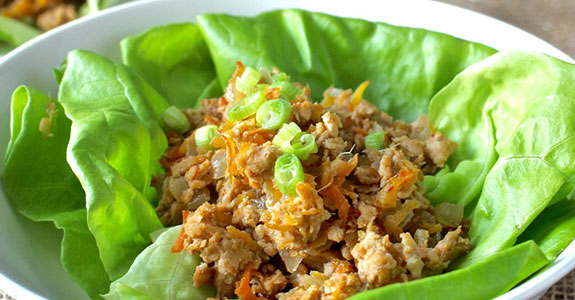 Photo: Jay's Baking Me Crazy
You can eat this chicken with a fork, over cauliflower rice, with vegetables, or wrapped up in a lettuce leaf as a lettuce wrap. It's good just about any way you want to shake it! You can add more or less chili sauce depending on what level of heat you like.
---
11. Thai Sweet and Spicy Jalapeno Chicken Stiry Fry
Here's another stir fry, and this one's packed with bright and spicy flavors and jalapeno peppers. You're going to make your own sauce with honey, fish sauce, Paleo-friendly orange marmalade (yum!), coconut sugar, and a bit of water to thin it out.
---
12. Thai Lemon Coconut Curry Dressing
Here's a fancy-tasting but simple and versatile curry dressing you can use on anything from vegetables to meat. It's savory, rich, creamy, flavorful, and totally delicious, and it'll add a dose of healthy fats in the same shot. Win!
---
Mussels make a really great complete meal, as they've got plenty of protein in them and can be sauced up any way you like and added to vegetables. This way sauces them in a yummy red curry and mixes in fresh spiralized zucchini noodles for your veggie serving.
---

Photo: Cotter Crunch
This cabbage soup is warm and nourishing, with a creamy, steamy, yellow broth from the turmeric, which is very good for your body and can help calm and prevent inflammation. Hooray for food that's also medicine! The lemongrass paste gives this soup a lovely flavor.
---
15. Thai Red Curry Chicken Wings
These wings are spicy and filling, but also light, so they won't weigh you down, and there's plenty of room for a vegetable pairing. Made with Thai red curry paste, they're easy enough that there isn't a whole lot of work for you to do in the kitchen.
---
16. Grilled Thai Coconut Lime Skirt Steak
Why should chicken get to have all the fun? This skirt steak is doused in coconut lime flavors, with spiciness from the ginger and a bit of sweetness from coconut sugar. Fish sauce helps give it a signature Thai flavor, as if the coconut and lime weren't enough!
---
17. Sweet Thai Chili Chicken With Roasted Peppers
Thai sweet chili flavor is one of my favorite parts of Thai cuisine. Sweet, tangy, and spicy, this dish makes those flavors happen with honey, cayenne pepper, red pepper flakes, and white wine vinegar glazing sticky chicken legs for a protein-rich and delicious meal.
---

Photo: The Iron You
18. Thai Flavored Honey Glazed Chicken
This amazing recipe is much easier than it seems, and comes with a sriracha mayo you can make yourself. Feel free to substitute coconut yogurt for the Greek yogurt in the mayo recipe. The chicken itself is coconut-free, and focuses on other flavors like lime and spicy cayenne.
---
19. Coconut Curry With Sweet Potato Noodles
As if sweet potato spiralized noodles slathered in a savory, spicy coconut curry sauce isn't enough of a reason to make this, you get a chili mango salsa to pile on top of it as well. I'm sad that there's no bite of this dish in my mouth right now.
---
This soup is full of haddock fillet and shrimp for a multi-layered seafood dish with chopped basil, mint, zucchini, and jalapeno, along with the flavors of fish sauce, coconut milk, and lime.
---
This recipe includes peanuts as garnish, but since they're really just a bonus, you could either leave them out entirely or replace them with cashews (you know where my vote is on this one). Either way, this curried carrot soup is amazing, and so creamy.
---
22. Thai Spaghetti Squash Noodles
Jazz up those spaghetti squash noodles with this amazing Thai-inspired sauce. There won't be any leftovers when you cook up a dish with this much flavor. And so easy too! It's sure to gain a spot on your regular rotation.
---
This Thai chicken takes hardly any work from the cook. The marinade comes together quickly and easily, and then you've got to let the chicken soak up those flavors for at least two hours. When it's done marinating, pop it into the oven or on the grill. Easy!
---
24. Thai White Fish Coconut Curry
This curry can be made with white fish as the recipe suggests, but it will also work well with shrimp or chicken. Versatile, I tell you! Garlic, chopped ginger, sesame oil, coconut milk, red curry paste, and bok choy come together for an easy weeknight meal.
---
25. Paleo Pad Thai With Carrot and Sweet Potato Noodles
Pad Thai is a definitely Thai favorite, but its main ingredient is typically a pile of rice noodles. Not this one! You can make pad Thai with spiralized vegetables, like in this bowl full of goodness with eggs, sunflower seeds, sunflower butter, coconut milk, and more.
---
26. Ginger and Cumin Roasted Squash
I'm a huge squash fan. It's creamy, slightly sweet without any sweeteners, it's a healthy carb, and it's a nutritious vegetable. You can't go wrong. Which is why I love this ginger and cumin roasted squash with garlic, lime, ginger, and sesame oil. The perfect snack or side dish!
---
Here's another take on Thai wraps—this one with ground turkey, red peppers, and plenty of hot and spicy flavor along with some sweetness from dates and creaminess from cashew pieces. I love that so many traditional Thai flavors are already Paleo, and don't need to change a bit!
---
28. Thai Spiced Mini Chicken Meatballs
Is it weird that I can imagine myself munching on a few of these as an afternoon snack? No? Good, because I can, and it has everything to do with the lime, chili, and coriander flavors and the fact that these little guys are perfectly bite-sized.
---
29. Spicy Paleo Tom Kha Gai Soup
Here's another version of that coconut soup we were talking about earlier. This one has more of a kick to it, and it's also absolutely loaded with vegetables, herbs, and other extras. If you want a flavorful and nourishing soup packed with goodness, this is your recipe.
---

Photo: In My Red Kitchen
30. Spicy Roasted Potatoes With Thai Basil Cream Sauce
You could use sweet potatoes for this, too, and I'm sure they'd be just as fantastic. The important part is the lovely Thai basil cream sauce, with coconut milk, shallots, garlic, and Thai basil leaves. You could use Italian basil if necessary—the flavor won't be exactly the same, but still great.
---
31. Thai Kale Salad With Coconut Lime Dressing
For a light, fresh side salad or light meal, this salad is just perfect. Kale is rich in vitamins and nutrients, and when it's been blanched quickly, it retains its bright color while also becoming a bit softer to chew. Who could resist a coconut lime salad?
---
Can't decide whether you want pizza or Thai food for dinner tonight? Now you don't have to! This pizza has it all: a sweet Thai chili sauce, a delicious Paleo pizza crust, plenty of healthy and yummy veggies, and even a Paleo "cheese" sauce made from coconut milk.
---
It's a can't-lose situation when you make this Thai Red Curry recipe. It's one of the most popular curries in Thailand along with green, and it's made in a healthy way so you get all of the flavor and none of the drawbacks.
---

Photo: My Whole Food Life
This noodle salad is a simpler take on some of the other zucchini noodle salads we've looked at. The one also has cucumber, carrot, and plenty of cashews, but uses a lighter dressing made from almond butter, coconut aminos, orange juice, and garlic. So tasty.
---
Tom Kha Gai is a Thai coconut chicken soup that's savory and nourishing, much like chicken soup, in general, can be. It's full of healthy fats and coconut-lime flavors, along with stalks of fresh lemongrass smashed into flavorful oblivion.
---
36. Thai Cauliflower Rice With Ginger Almond Dressing
This riced cauliflower is combined with cashews, mango, mint, onions, and peppers, and dressed with a ginger almond butter sauce that is finger-, spoon-, and bowl-licking good with creamy coconut milk, fresh ginger, lime juice, and almond butter.
---
I'm a huge sucker for popsicles (see what I did there? Haha…) because I live in a very hot climate, so I'm putting this one on my must-make list, and you should too. Because who doesn't like popsicles? Especially healthier ones made out of tea!