Recipe Lists
18 Brilliant Paleo Tarts (Fresh Fruit, Chocolate and Nut-Based)
I've never been a pie fan, but I do love tarts. There's something lovely about taking a would-be pie and turning it into an elegant little tart with a creamy, fruity, chocolaty, or all-of-the-above filling. Made paleo-style these paleo tart recipes are healthy and delicious without grains, dairy, or sugar.

---
1. Chocolate Pudding Tart
Made on a base of flourless chocolate cake with maple sugar, cocoa powder, and a chocolate cashew-based pudding/cream for the topping, this tart is absolutely divine. It's actually healthy, made with avocado, nuts, and only natural sweeteners!
---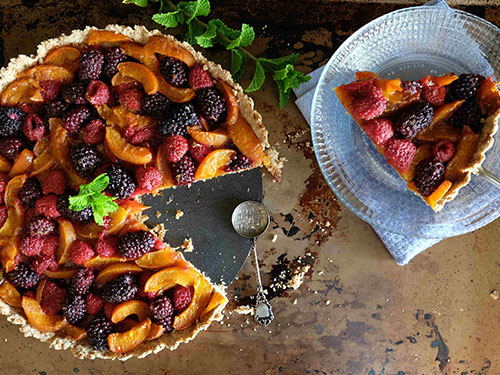 Photo: Only Gluten Free Recipes
2. Fresh Fruit Tart
Make your easy tart crust with blanched almond flour, coconut oil, and pink Himalayan salt, and fill it with a fruity filling of ripe apricots, raspberries, blackberries, coconut sugar, tapioca starch, cinnamon, and lemon zest. A simple dessert with lots of flavor.
---
3. Cherry Chocolate Tart
You almost won't believe how this creamy tart keeps its shape when cut, with a filling made only of dark chocolate, coconut milk, and maple syrup. The secret is the firmness of the coconut cream in the coconut milk, and how the cooling dark chocolate sets it up into creamy heaven.
---
4. No Bake Chocolate Banana Tart
I love the combination of bananas and chocolate, and I especially love that you can turn them fancy with this easy tart recipe using a dark and almond crust, non-dairy milk, dark chocolate, bananas, and almonds. This recipe is so simple, you won't believe it.
---
5. Paleo Lemon Tart
This lemon tart has a crust sweetened with honey and baked with protein-rich eggs, and a creamy filling of lemon juice, arrowroot starch, honey, egg yolks, and coconut oil. It's like a silky lemon pudding, and you can garnish with lemon zest and fresh berries.
---

Photo: Peachy Palate
6. Chocolate Orange Caramel Tarts
With flavors like orange, chocolate, coconut, and caramel, these tarts are unbelievably good and are practically gourmet with different layers of flavor. Start with a nutty base, add caramel, add a chocolate ganache, and top it off with a fluffy chocolate cream.
---
7. Raspberry Custard Tart With Cookie Crust
The vanilla cookie crust on this tart is only the beginning of the delicious flavors, with a layer of vanilla coconut milk custard sweetened with maple syrup and set with gelatin, and a topping of fresh, sweet, juicy raspberries piled over the custard filling.
---
8. No Bake Lime Avocado Tart
Avocado in the filling is almost a no-brainer for this recipe, because it acts both as a creamy base and as a coloring that's perfect for the lime flavor. Make the crust with dates, pecans, and shredded coconut, and replace the agave syrup with maple syrup or coconut nectar.
---
9. Dark Chocolate and Almond Tart
Tarts with a dark chocolate base of my very favorite. I just can't get enough of that silky, melty chocolate, and I think it goes really well with everything. Flaked almonds are an elegant topping for this one, with a crust made from ground almonds and maple syrup.
---

Photo: Begood Organics
10. Chocolate Orange Tart
I love the cacao butter in this recipe—it gives this whole tart a flavor almost like white chocolate, but with lots of DARK chocolate and orange. Cacao powder, coconut nectar, vanilla extract, sea salt, orange rind, and cashews are only a few of the great ingredients in this treat.
---
11. Raw Citrus Berry Tarts
These raw tarts taste like they're from a fancy bakery, but they're made with healthy, real food ingredients like almonds, dried figs, cashews, maple syrup, orange juice, almond milk, citrus zest, and more. Top them with fresh mixed berries and enjoy.
---
12. Pear Tart
Topped with a smooth homemade caramel sauce (optional, but let's be real here), this tart is easy to make with only a handful of ingredients. All you need is a paleo pie crust (recipe included), ground nutmeg, pears, maple syrup, and lemon juice.
---
13. Raw Vegan Tart With Chocolate and Pistachios
I can't get over the gorgeous colors of this tart, but the flavors are even better. You'll need roasted salted pistachios, medjool dates, cocoa powder, vanilla almond milk, honey, vanilla extract, sea salt, and some chopped dark chocolate to top it all off.
---

Photo: Get Inspired Everyday
14. Chocolate Covered Cherry Ice Cream Tart
This tart reminds me of Cherry Garcia ice cream, with a brownie crust of walnuts, almonds, cocoa powder, maple syrup, and sea salt, dairy-free ice cream, cherries, and a chocolate fudge sauce made with cocoa powder and maple syrup. So delicious.
---
15. Plum and Almond Tart
Fresh fall plums give a perfect autumn flavor to this tart, with an almond flour base, sweet honey, vanilla extract, and celtic sea salt. The nutty flavor of the almond base is slightly sweet and it's my favorite flour to use for a tart base. It's also high-protein: bonus!
---
16. Chocolate Almond Macaroon Tart
How do you make your chocolate tart filling even creamier? Make it with almond butter! This tart has two layers on top of its shredded coconut macaroon crust: first a creamy almond butter, and then a chocolate ganache made with coconut milk and dark chocolate. Yum.
---
17. Chocolate Walnut Tart With Raspberries
This fancy-pants tart looks like it's from a restaurant dessert menu, with ingredients like coconut sugar, vanilla extract, walnut oil, almond flour, chopped walnuts, cocoa powder, coconut cream, semisweet chocolate, and some fresh raspberries for topping.
---

Photo: The Healthy Family and Home
18. Clean Eating Vegan Cherry Tart
With healthy ingredients like walnuts, cherries, and coconut oil, this simple tart is the perfect way to enjoy ripe cherries the way nature intended: without gobs of grains and sugar disguising their flavors! Vanilla bean powder and Himalayan sea salt will enhance the flavors.