---
The sweet potatoes are par-boiled to start the cooking process. Place them in a pot and cover with cold water. Bring to a boil and cook for 3-4 minutes; they should be barely tender. Drain the sweet potatoes and place them into an ice bath to cool (then drain again). This first step can be done the night before, and then the potatoes can be popped into the oven in the morning.
The second step to cooking the sweet potatoes is to roast them in a hot oven. Before the sweet potatoes are roasted, stir in the diced poblano peppers and spices. Roast until everything together until slightly browned, making sure to stir the potatoes every 5-10 minutes. The result is a soft inside but crunchy outside, perfect for home fries.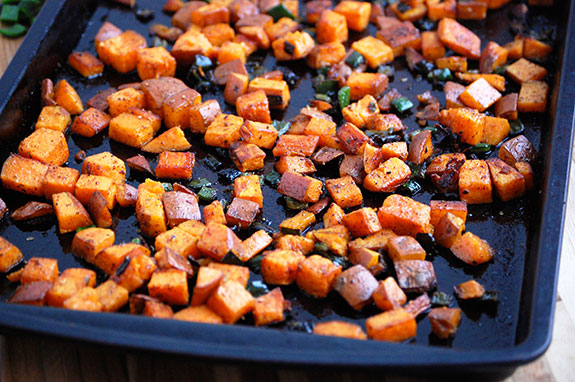 If you do not want to turn on the oven, there is an alternate way to finish cooking the par-boiled sweet potatoes. Heat coconut oil in a skillet and cook the potatoes in batches (since they won't all fit at once). Leave them undisturbed for 5-6 minutes before stirring. Add in the poblano peppers and spices and cook until browned and crisp. For making a large batch, I find it easier to roast them in the oven.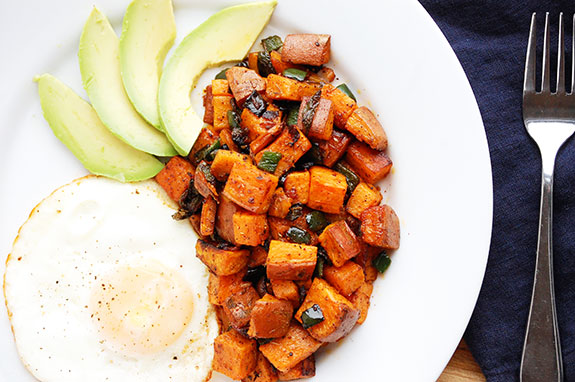 I also have to discuss how good these are the next day. Although they are best when crispy right out of the oven, they also reheat nicely. I always make a large batch of sweet potato fries because they make amazing leftovers. I can add them to meals the rest of the week. The home fries are obviously delicious with runny eggs for breakfast, and are even a great side dish for lunch or dinner. They balance out a meal and make gluten-free eating a bit easier every day.
---
4 large sweet potatoes (about 2 lbs.), diced
1 large poblano pepper, seeded and diced
3 tbsp extra virgin olive oil
1 tbsp chili powder
1 tsp salt
1 tsp dried oregano
1/2 tsp garlic powder
1/2 tsp freshly ground pepper
Place the diced sweet potatoes in a large saucepan and cover with cold water. Bring to a boil and simmer for 3-4 minutes, until barely tender. Drain and transfer to a large bowl of ice water to cool. Once cooled, drain again.
Preheat the oven to 450 degrees F. Spread out the potatoes in an even layer on a rimmed baking sheet (or two baking sheets, if necessary). Add the poblanos and drizzle everything with olive oil, then toss to coat. Add the chili powder, salt, oregano, garlic powder, and pepper. Stir well to coat. Roast for 15-20 minutes, stirring occasionally, until browned. Serve immediately.