---
Since gnocchi is still a bit heavy on starch and takes time to make, this recipe has been added to my list of special treats rather than regular dinners. I'll try to take you through the recipe step by step. Start with cooked sweet potatoes that are well mashed. The cooked sweet potatoes could even be blended in the food processor to ensure maximum smoothness. The potatoes are then combined with arrowroot powder, which prevents them from falling apart, and almond flour.
The exact amount of flour and arrowroot powder used in the recipe can slightly vary (similar to when making real gnocchi). Therefore I suggest adding those ingredients in 1/2-cup increments until the dough is firm enough to form into a ball without being sticky. The dough will need to be able to be rolled into ropes and withstand simmering water. I ended up with about 1 cup of arrowroot powder and 2 cups of almond flour to get a good texture.
After folding in a frothy egg white, refrigerate the dough for at least half an hour to help it become more. Then prepare a workspace on the counter with some arrowroot powder so that the sweet potato doesn't stick to the surface. If you aren't already wearing an apron, grab one now! Arrowroot can get messy, at least in my kitchen.
Roll out the dough into long ropes using your hands. Then simply cut the ropes into pieces that are about an inch long. The next step is optional- to get traditionally shaped gnocchi, use the tines of a fork to flatten each piece. This is supposed to help the "pasta" hold sauce better.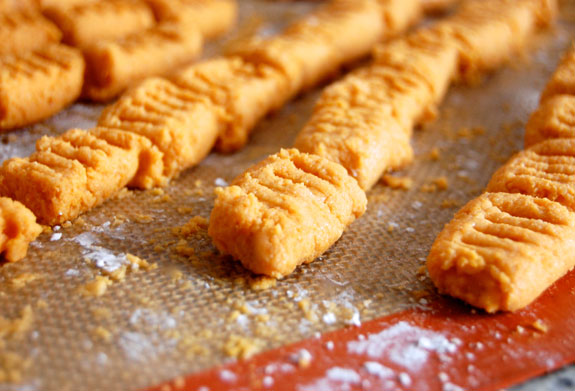 Next the gnocchi is dunked into a large pot of boiling water. Do not crowd the pot or the pieces may stick together- just put a few pieces in at a time. Also it helps to try out two or three pieces first to make sure that they don't disintegrate in the pot. After a minute the gnocchi will float to the top and you can remove them with a slotted spoon.
The gnocchi could be served at this point but I recommend pan-frying the pieces to brown them and add further flavor. If the gnocchi are sticking to the pan, it means that you are probably trying to turn them too soon. After browning the gnocchi, you can top it off with the sauce of your choice. For this recipe I used a brown butter and sage sauce. You could also use pesto, traditional tomato sauce, add sauteed vegetables, or whatever you prefer to have with typical pasta.
---
2 large sweet potatoes
2 cups almond flour
1 cup arrowroot powder, plus more for dusting
1 tsp salt
1 tsp baking soda
Pinch of garlic powder
1 egg white
Preheat the oven to 375 degrees F. Poke the sweet potatoes with a fork and place on a baking sheet. Bake for 50 minutes or until soft. Remove from the oven and let cool.
Peel the potatoes and place into a large bowl. Mash well. Add the flour, arrowroot powder, salt, baking soda, and garlic powder. Stir well to combine.
Whisk the egg white until frothy. Gently fold it into the sweet potato mixture. Refrigerate the dough for 30 minutes.
Dust a work surface with arrowroot powder. Roll out a handful of the chilled dough into a long thin rope. Cut into 1-inch segments. Use a fork to slightly flatten each segment.
Prepare a large pot of barely boiling water. Working in small batches, drop each piece of gnocchi into the water. Let cook for about one minute. When they float to the top, remove with a slotted spoon. Place into a colander to drain.
Melt the ghee in a skillet over medium heat. Sear the gnocchi on each side to brown. Serve immediately.