Recipe Lists
49 Paleo Strawberry Smoothies, Cakes and Other Sweet Treats
Crazy about strawberries? Me too. If you're stocking up for the next strawberry season where you live, or just looking for more ways to enjoy those little ruby-fruits, you've come to the right place. Check out these strawberry sweets, baked goods, and even some savory recipes using strawberry in various forms. Find a new family-favorite!

---
1. Strawberry Banana Paleo Breakfast Bars
Breakfast bars are a huge help in my house. I'm a morning person, but that doesn't mean I want to spend the first hour and a half of my day making and cleaning up a full meal. So ideas like these strawberry banana breakfast bars are perfect! Chewy and nutritious.

---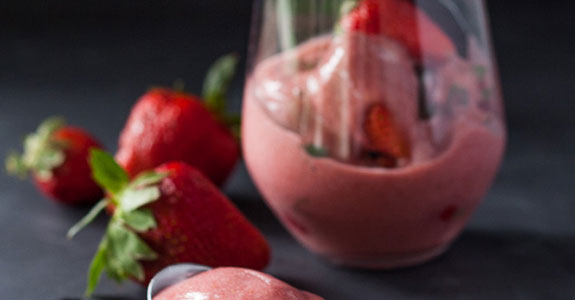 Photo: The Easy Healthy Way
2. Homemade Strawberry Ice Cream
There are so many ways to make ice cream, and this is just one. It's a simple recipe that doesn't require an ice cream maker, and is practically instant! I highly recommend adding the optional vanilla. You can use maple or honey in place fo the rice malt syrup.
---
3. Super Paleo Strawberry Jam
I love chia jam just as much as the next person, but this is the real deal, folks. This is a cooked strawberry jam that uses pectin to thicken it, along with apple peels, which have naturally-occurring pectin. There's no added sweetener in this jam, just pure strawberry goodness!
---
4. Purple Carrot, Strawberry, Watermelon, and Lime Smoothie
This smoothie is rich in healthy ingredients, including flavorful fruits and vitamin-rich carrots. You'll also add coconut shreds, cashews, lime, mint, and a plant milk of your choice. I'd recommend using almond, as coconut milk might be too rich for this smoothie.
---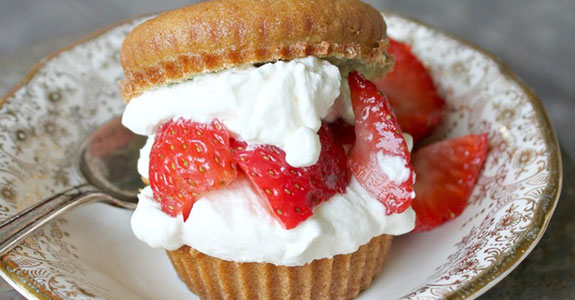 Photo: Bushel & A Peck
5. Paleo Strawberry Shortcake
These strawberry shortcakes are perfectly paleo with a base made from eggs, maple syrup, coconut flour, and full fat coconut milk. Top them with whipped coconut cream and fresh strawberries, along with an extra drizzle of maple syrup if you're feeling fancy.

---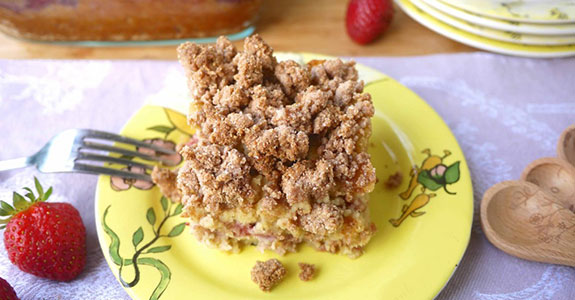 Photo: Perchance To Cook
6. Grain Free Strawberry Coffee Cake
Coffee cake is best eaten crumbled into a pile on your plate because you took it out of the dish before letting it cool all the way. Because you just couldn't wait long enough. That's not just me, right? Check out this coffee cake recipe and you'll be doing the same thing.
---
7. Strawberry Banana Bread
I love the flavor combination of strawberry and banana, and I love bread (who doesn't? Don't you miss bread?) so this recipe is right up my alley. But it's healthy, with coconut flour, coconut oil, almond meal, ground cinnamon, vanilla,a nd just a touch of maple syrup.

---
8. Strawberry Lemonade Fruit Roll-Ups
Kids loves fruit roll ups, and so do grown-up kids. They're sweet, fruity, chewy, and portable! All the best things. These strawberry lemonade roll-ups are easy to make in an oven or food dehydrator, or on a cookie sheet on your dashboard if you live in a hot, dry climate!

---
9. Strawberry Peach Crisp With Hazelnut Pepita Crumble
Strawberries make an excellent fruit for crisps and crumbles, especially when you combine them with other fruits like peaches. Yummy! You'll just need peaches and strawberries, tapioca flour, maple syrup, almond and hazelnut flours, pepitaas, butter or ghee, and spices.

---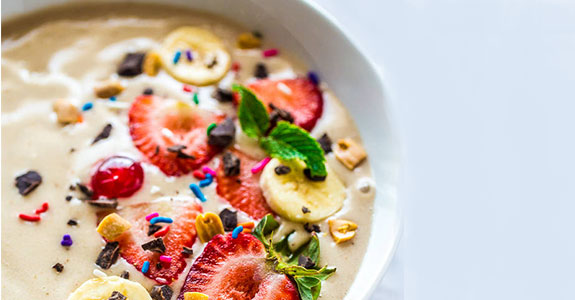 Photo: Food Faith Fitness
10. Banana Split Vegan Smoothie Bowl
This smoothie bowl tastes just like a banana split, from the frozen banana creamy base to the strawberries, roasted nuts (the recipe calls for peanuts, but use whatever you like best), chocolate, and some paleo-friendly sprinkles if you can find them.
---
11. White Balsamic Roasted Strawberry Ice Cream
This is the creamiest, dreamiest, strawberriest ice cream you'll ever taste. It's made with a base of raw cashews so it won't have a coconut milk flavor, and you can use palm sugar instead of cane sugar to sweeten. The secret is the white balsamic vinegar, vanilla, and sea salt.

---
12. Vanilla Chia Seed Pudding With Strawberry and Fig
This chia pudding makes the perfect breakfast with just a touch of honey to sweeten in. It has a lovely vanilla flavor and is made by layering the chia pudding with a strawberry and fig puree. I'd dare to top mine with a few stray chocolate chips—what about you?

---
13. Strawberry Banana Smoothie
Sweetened with dates and orange juice, creamy with almond milk, and hinted with cinnamon and vanilla, this sweet smoothie is a much healthier version of the treats you can buy at mall food courts or fast food drive-thrus. And it tastes better, too!

---

Photo: One Lovely Life
14. Strawberry Balsamic Popsicles
Ah, balsamic vinegar strikes again in these simple popsicles made with just strawberries and a little honey (maple syrup would work, too). If you haven't tried balsamic vinegar with fruit, take these recipes as a hint that it's time to give the combo a try.
---
15. Strawberry Basil Jello
This easy gelatin treat is great for your hair, skin, nails, and healing your digestive tract. Use grass-fed gelatin for the best benefits! You'll also need strawberries, fresh basil leaves, raw honey, and a little coconut cream to add healthy fat. You could eat this for breakfast or dessert.

---
16. Strawberry Basil Italian Lemonade
San Pellegrino is one of my special tricks to making a dinner meal a little more special. We're always doing homemade Italian sodas just made with fruit puree instead of a sugar syrup. This similar idea is for strawberry lemonade with basil leaves, too.

---
17. Sugar Free Strawberry Watermelon Agua Fresca
Strawberry and watermelon love each other, and they especially love to be made into cool drinks for hot days. This one is great for a summer afternoon and just requires watermelon, strawberries, lime juice, apple cider, and cucumbers and mint leaves for serving.

---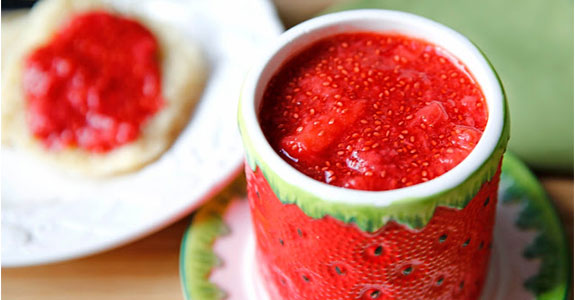 Photo: Gourmet Girl Cooks
18. Sugar Free Strawberry Chia Jam
Some chia jams use sweeteners, but it isn't really necessary. try this one with fresh ripe strawberries, lemon juice, chia seeds, and a hint of stevia if you feel like it needs it. Using white chia seeds makes the jam prettier, but they can be harder to find—black ones work just the same.

---
19. Balsamic Chicken and Strawberry Skewers
These are happening for dinner this week in my house. I just can't do without them. Sweet strawberries, tangy balsamic, peppery chicken?! Where have you been all my life, balsamic chicken and strawberry skewers? These a super kid-friendly, too, and grilled berries are so perfect.

---
20. Paleo Berry Crisp
This yummy berry crisp calls for strawberries, but you could mix them with other berries if you wanted to! The crumb topping is simple to make with pecan halves, unsweetened coconut, pure maple syrup, coconut oil, and a hint of sea salt. Don't forget the vanilla with the berries!

---
21. Strawberry Salsa
I'm a fruit salsa lover, and I don't even care what you dip in this strawberry salsa—it's fantastic enough to just each straight off a spoon with the fresh, ripe strawberries, red onion, cilantro, parsley, basil, mint, ginger, balsamic vinegar, olive oil, and sea salt.

---

Photo: Vegan Family Recipes
22. Strawberry Ice Cream Cake
Would you believe this strawberry ice cream cake has only 8 ingredients? It's super simple and totally delicious. You'll start with an almond and date base and then fill it with homemade strawberry coconut milk ice cream. Then top it with strawberry-date puree. Perfect for a summer birthday!

---
23. Strawberry Vanilla Cupcakes
A good cupcake will take you a long way, and this strawberry vanilla cupcake is perfect with ground almonds, eggs, coconut sugar, coconut oil, fresh strawberries, and a lemon cashew frosting sweetened with coconut nectar or maple syrup.

---
24. Strawberry Rhubarb Chia Jam
This chia jam tastes just like strawberry rhubarb pie, with a bit of sweetness, a bit of tanginess, and hints of vanilla. You'll want to sweeten it a bit with some maple syrup since rhubarb can be quite tart even if your strawberries are extra sweet—this works best with fresh, ripe strawberries, but frozen works in a pinch.

---
25. Strawberry Broccoli Salad
It doesn't have to be all salsas and sweets for strawberries. You can have them savory-style too, like in this broccoli salad with slices strawberries, red onion, almonds, lemon juice, raw honey, poppy seeds, and homemade mayonnaise for a creamy dressing.

---

Photo: Amazing Paleo
26. Strawberry Dream Healthy Bowl
I love this healthier version of strawberry ice cream, made with strawberries and frozen bananas. You'll blend them all up and then serve it in a bowl with fresh grapes, kiwi slices, and whole or crushed almonds, just like sundae toppings!

---
27. Watermelon, Strawberry, and Tomatillo Salad
This delicious salad has every flavor, from sweet to savory to spicy with watermelon, tomatillas, shallot, mint leaves, balsamic vinegar, and freshly ground black pepper. Add a bit of sea salt to taste and you're in for a real lunch time treat today.

---
28. Strawberry Paleo Galette
A galette is similar to a fruit tart, with a crust that's folded in around the edges and filled with, in this case, strawberries! Flavor them a bit with vanilla extract. This simple recipe uses a crust made from almond and tapioca flours, and even the coconut sugar is optional.

---
29. Strawberry Hazelnut Crisp
Hazelnuts are such a lovely nut, with the best of flavors—why do you think Nutella is so good? This strawberry crisp uses hazelnuts on top, and you can replace the sucanat with coconut sugar. Lemon zest, vanilla, and coconut oil create awesome flavors and a crumbly texture.

---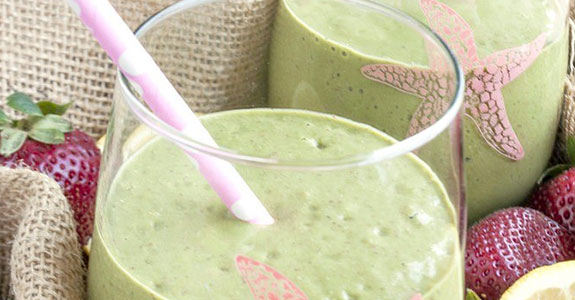 Photo: The Organic Dietitian
30. Strawberry Lemonade Green Smoothie
This healthy smoothie tastes like creamy strawberry lemon bliss, but it's extra nutritious with the addition of avocado, pumpkin seeds, chia seeds, hemp seeds, brazil nuts, and spinach. It makes an awesome breakfast smoothie or afternoon pick-me-up!

---
31. Vanilla Chia Pudding With Strawberry Puree
In need of a summer breakfast that doesn't require you to heat anything up OR become a morning person? I've got the perfect breakfast for you, and it's this vanilla chia pudding made with cashew milk and maple syrup and topped with a sweet and delicious strawberry puree.

---
32. Chocolate Strawberry Tart With Glaze
This delicious chocolate strawberry tart is made with ingredients like cacao butter, maple syrup, vanilla powder, flaxseed, and olive or coconut oil. It's super awesome for guests, and it's covered in a lovely white chocolate match glaze that's unique and tasty.

---
33. Strawberry Cashew Milk
While I love the delicate flavor of almond milk, cashew milk is the one I make most often at home. That's because you don't have to strain it, which means no mess! This cashew milk is flavored with strawberries and vanilla powder, and it'll make you feel like a kid again.

---

Photo: Jessi's Kitchen
34. Strawberry Chocolate Chip Macaroons
Macaroons are one of my favorite cookies—chewy and sweet, and easy to adapt to make them gluten- or grain-free. These are flavored with strawberries and studded with pretty little mini chocolate chips as well as healthy chia seeds and mineral-rich maple syrup.

---
35. Strawberry Mousse
Love mousse? Who doesn't? This treat is awesome and it's super simple, too. All you need is strawberries, coconut milk, egg whites, lemon juice, and a pinch of salt. This dessert is fluffy and sweet, without any added sugar! Choose super ripe and sweet berries.

---
36. Shaved Asparagus Salad With Strawberries and Balsamic
I love the decadence of this salad with asparagus, leeks, coconut oil, pine nuts, balsamic and red wine vinegars, strawberries, lemon juice, Dijon mustard, honey, and if you eat cheese, shaved parmesan. If not, feel free to just leave the parmesan off.

---
37. Strawberries and Cream Popsicles
Who doesn't love a good popsicle? Strawberries and cream is a flavor that both kdis and adults alike can enjoy, and these simple popsicles are the ticket. They're made with full-fat coconut milk, which makes the creamiest popsicle you've ever had. Collagen adds nutrients, too!

---

Photo: Mangia
38. Strawberry Jam Swirled Banana Muffins
These yummy banana muffins are great for breakfast, and they've got tons of protein from rich and delicious cashew butter. Ripe bananas, stevia, and dates ensure a lovely sweetness, while homemade strawberry jam swirls throughout.

---
39. Strawberry Almond Joy Smoothie
This smoothie is a treat with frozen strawberries, frozen banana, coconut milk ice cream, chocolate chips, almond butter, coconut or almond milk, and a bit of coconut extract and protein powder if you'd like. I want one of these right about now…mmm.

---
40. Lemon Cupcakes With Strawberry Icing
These cupcakes have a bright, lemony flavor in an almond flour and coconut flour base with melted butter and honey. The best part, in my opinion, is the silky frosting made from chopped strawberries, vanilla extract, honey, and rich coconut cream.

---
41. Roasted Strawberries and Cream Popsicles
The trick with these babies is a bit of patience. If you've never roasted strawberries before, I promise you the wait is worth it. These little jewels will cook down into extra sweet, complex, and flavorful fruits with balsamic vinegar and pure maple syrup, frozen into coconut milk.

---

Photo: Eating Bird Food
42. Strawberry Spinach Mason Jar Salad
This easy salad is packed with goodies like red onion, cucumber slices, chicken breast, sliced almonds, asparagus, and strawberries. Serve it with this fun citrus poppy seed dressing made with grapefruit juice, ground pepper, and Dijon mustard.

---
43. Paleo Victorian Sponge Tea Cakes
Having a tea party? Whether it's a grown-up tea party or the grown-up kind of tea party for little people who love to play pretend, these tea cakes will be the perfect addition to the table. Make them with coconut flour, ghee, local honey or maple syrup, and vanilla. Frost with strawberry coconut frosting!

---
44. Strawberry Mocktail
Everyone needs a good non-alcoholic cocktail recipe up their sleeve. This one is perfect, with fresh strawberries, honey, sparkling water, orange juice, fresh mint leaves, and lime. Serve over crushed ice and watch it magically disappear.

---
45. Glowing Strawberry-Papaya Smoothie
This fun smoothie really does glow with color. Papaya can be an acquired flavor, but paired with strawberry and sweetened with dates, it's the perfect base for this smoothie. You'll also spike it with fresh lime juice and if you have it, baobab powder for flavor and nutrients.

---

Photo: Sweet Potatoes And Social Change
46. Mini Strawberry Shortcakes
These shortcakes can be eaten in just a few bites, and they have a lovely, delicate flavor. You'll need palm shortening, coconut butter, coconut cream, maple syrup, fresh strawberries, lemon zest, and a few other ingredients to make them happen.

---
47. Sweet and Sour Strawberry Lemonade Gummy Hearts
With just 4 ingredients, you can have these gummies in your belly. They have lots of lemon juice and strawberries, so they pack a punch of vitamin C along with protein and nutrients in the gelatin. Kids love gummies, but don't pretend you don't love gummies, too.

---
48. Chocolate Strawberry Tarts
These tarts are made with a simple pie crust of coconut flour and butter (or coconut oil), and they're filled with sweet, chopped fresh strawberries and topped with a silky chocolate ganache. There are a few options for sweetening the chocolate, so you can choose your favorite.

---
49. Paleo White Chocolate Strawberry Pistachio Biscotti
The special ingredient in this recipe is freeze-dried strawberries, which allow you to use a powerful amount of strawberry flavor without adding an moisture to a recipe. This biscotti has an almond flour base and is dipped in homemade white chocolate and crushed nuts.