Fresh Fruit Smoothies for Quick Assimilation of Nutrients
The smoothie really only comes down to four simple ingredients. First up is half of a medium-sized banana that's been sliced up. Bananas make for an excellent smoothie ingredient because they are already naturally sweet and they add a depth of creaminess without having to use dairy-based milk or cream. There have been studies conducted that have shown bananas make a great energy source during exercise (1), so that definitely makes them perfect breakfast smoothie ingredient to keep you fueled up throughout your mornings. They provide your body with plenty of potassium, vitamin B6, and dietary fiber as well.
Then, of course, there are the fresh or frozen strawberries. In all honesty, strawberries are probably my favorite fruit to eat. They can be used in so many different ways, ranging from desserts, pies, all the way to smoothies like this. The best part is not only are they deliciously sweet, but they are absolutely loaded with great health benefits as well. Many studies have found them to be incredibly beneficial when it comes to lowering inflammation and reducing your risk of heart disease and cancers. (2)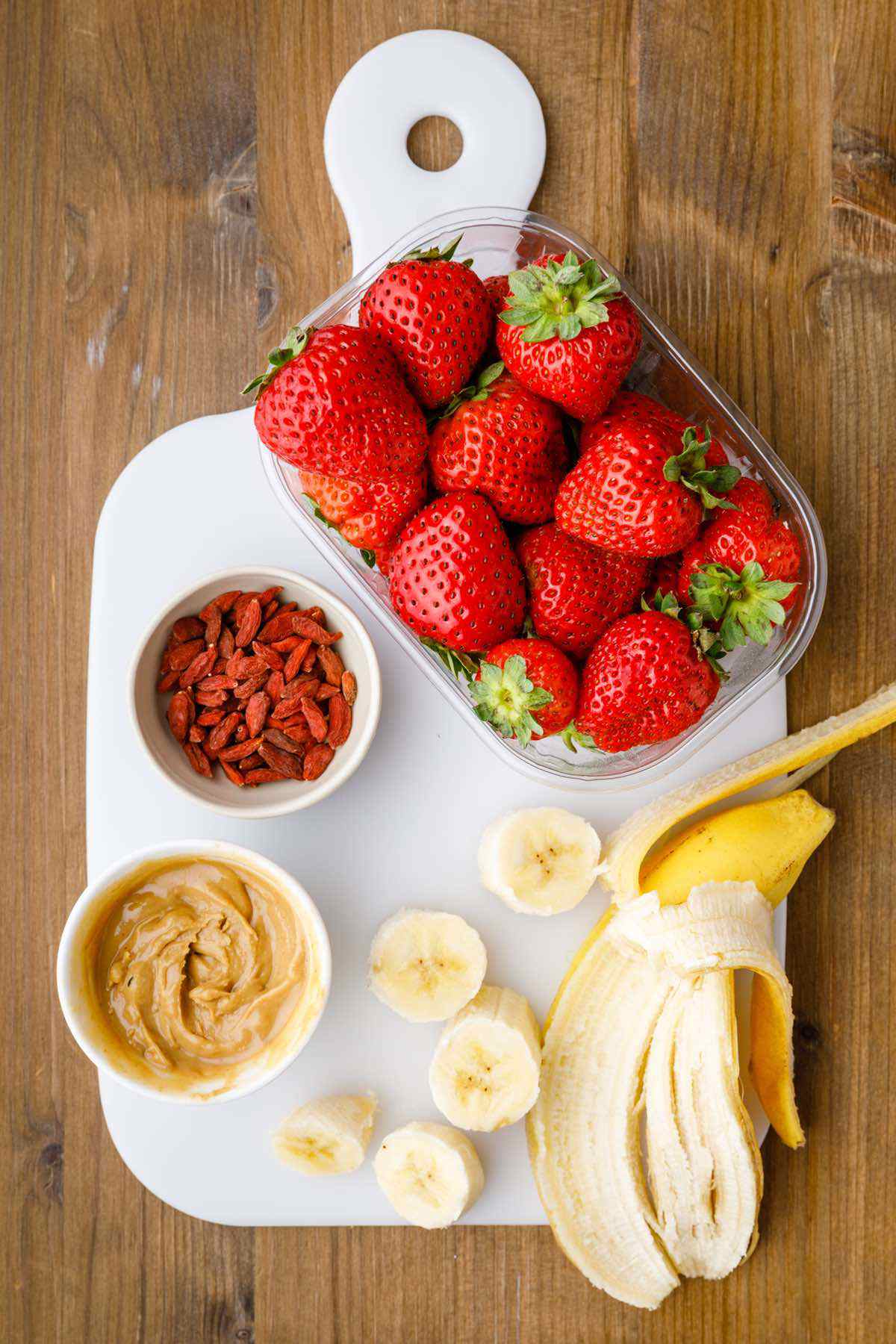 To round out the smoothie and give it a somewhat thick consistency, you'll also be adding almond milk and almond butter into the mix. They both add plenty of vitamins and minerals into the mix, as they are after all both made from healthy almonds. The almond butter, in particular, will leave you feeling nice and satiated after the smoothie as it provides your body with enough calories to complement the strawberries and banana due to the fat content.
Optional: Add Goji Berries
One final, but entirely optional ingredient you might like to add to this smoothie are goji berries. They are slightly sweet and provide you with an abundance of antioxidants and other great benefits. The only problem is they can be somewhat hard to find in local supermarkets, especially outside of a powder form. If you have access to fresh goji berries though, definitely consider adding them into the mix.
This smoothie recipe can definitely provide your body with plenty of fuel to keep you energized. The natural sugars found in the fruits help out with that big time without contributing to unwanted weight gain like more refined sugars do. And if you're pressed for time when it comes to making breakfast but you want something with a little bit more protein, you can, of course, add a scoop or two of paleo-approved protein powder to up the protein content significantly.
Use a Single-Serve Blender for More Convenience
Even though this recipe only takes 5 minutes to prepare, using a full-sized blender can extend your preparation time due to the clean-up process. We highly recommend using a smaller blender instead such as this one so that you can use the same jug you blended your smoothie in as your takeaway cup. Zero clean-up required, and you're out the door in seconds.
P.S. – Looking for more great paleo breakfast smoothie recipes? Check these ones out, they are some of my absolute favorites:
PPS. To maintain the strawberry-banana theme we have going on, you may want to have a look at these links. There's a lot you can do with this combo, from pancakes, to smoothies, to breakfast bars, and many more.
---
½ medium banana, sliced
½ cup fresh or frozen strawberries
1 cup almond milk
1 tbsp almond butter
1 tbsp goji berries (optional)
Place all the ingredients in a blender and blend until smooth.
Serve immediately.