---
If you've read even a few of my recipes, by now you know why I love honey over regular white or brown sugar. But in case you're a newbie, let me introduce you to your new sweetener: honey. Go with the raw, organic kind and you'll not only be getting a seriously sweet sweetener, but you'll get the digestive enzymes and other amazing things that are left intact. Excellent!
Of course, anyone familiar with the Paleo diet knows that protein is important in every meal and snack, and this chili has protein in spades. Beef is a fantastic source of protein and is also rich in iron, which is especially important for women. And unlike some chili recipe, this one is very low carb because it doesn't have a ton of beans and isn't served on pasta (Cincinnati, I'm lookin' at you!). So far, a great Paleo recipe.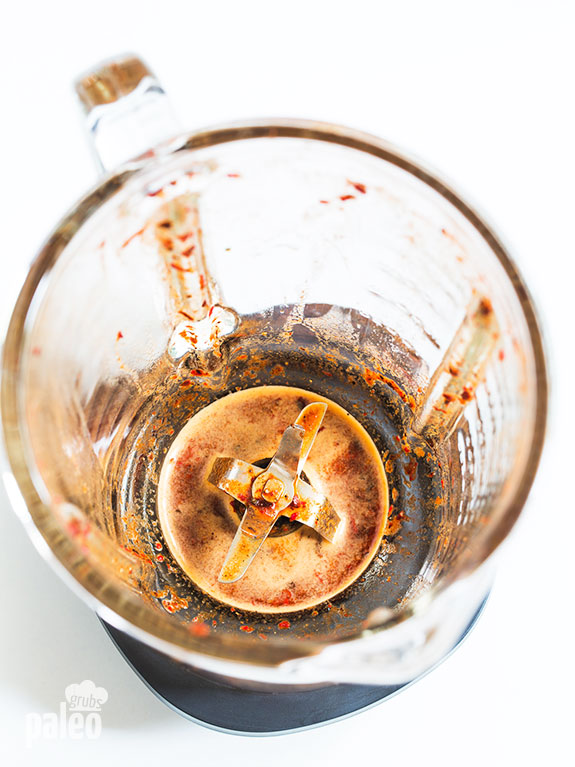 It's also important that the spice mix for this chili doesn't come from a packet you picked up at the local grocery store. Many spice mixes that you buy at the store come with anti-caking additives and preservatives that are decidedly UN-Paleo. So skip the pre-made spice mixes and go for the fresh, made at home variety. Your flavors will be brighter and tastier and you'll be healthier. Win-win!
Like a lot of people, chili is synonymous with football for me. I grew up in Chicago, watching the Bears play and eating chili every Sunday. Granted, except for 1985, we were mostly watching the Bears lose. But at least the chili was good.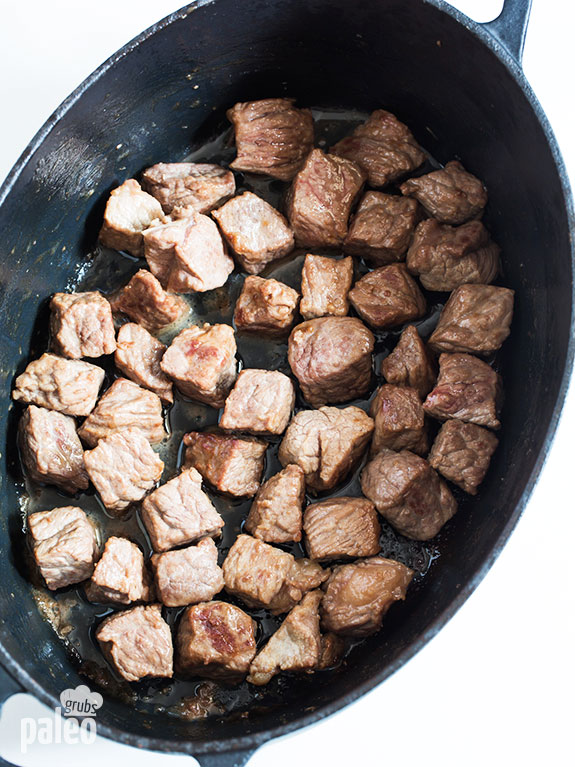 Now when I host football parties and the occasional Super Bowl party, I make a huge batch of this chili. Then I line up the sides so everyone can eat it just as they like. This recipe lists my favorite toppings: avocado, cilantro, chopped onion or scallions.
But if I know I have some spice demons coming to my party, I make sure to set out some of my homemade super spicy hot sauce and some slices of fresh jalapeño. I've also been known to put a few other fun things on the chili buffet: lime wedges, crumbled bacon, chilled shrimp, diced mango, zucchini noodles…all still perfectly Paleo and a way for everyone to get exactly what they want. It's a personalized bowl of chili, ready to go!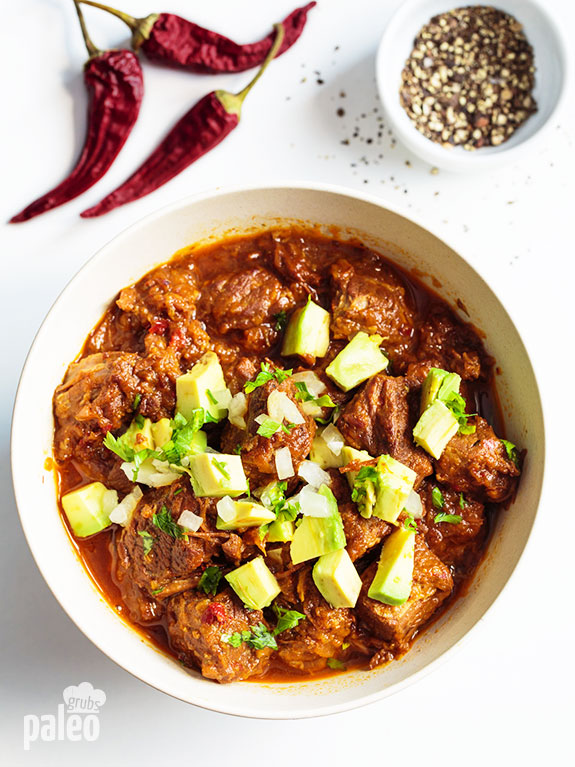 Now, if only I could get the Bears to have a winning season, we'd be all set. Maybe next year? Luckily, I'll have my Texas chili to keep me warm until then.
---
6 guajillo dried chilies
1 1/2 teaspoons ground cumin
1/2 teaspoon ground black pepper
2 tsp salt
4 tablespoons olive oil
2 pounds boneless beef chuck, cut into 3/4-inch cubes
1 cup finely chopped onion
3 large cloves garlic, minced
2 cups homemade beef broth
2 cups water
1 1/2 tablespoons white wine vinegar
1 tbsp honey

For topping

chopped avocado, cilantro, onion or scallions
Gently fry the chilies in a skillet over medium-low heat for 2-3 minutes per side, until fragrant. Don't let them burn. Allow the chilies to cool slightly and then clean them from seeds and stems. Place chilies in a blender along with cumin, black pepper, 2 teaspoons salt and ¼ cup hot water. Blend the mixture until smooth, occasionally scraping down the sides of the blender jar and adding more water if needed. Set aside the chili sauce.
Heat 2 tablespoons of olive oil in a large Dutch oven over medium-high heat. Add half of the beef and lightly brown on all sides, 2-3 minutes per side. Transfer to a bowl and repeat with the remaining beef. Reserve.
Add the remaining olive oil and heat it over medium heat. Add the onion and cook for 5 minutes. Add the garlic and cook for 30 seconds. Add the browned meat and chili sauce, soup, 2 cups of water, vinegar and honey and mix to combine. Cover with a lid and cook on low for 6-8 hours.
If using a slow cooker, brown the meat and cook the onion and garlic in a large pan, then transfer all the ingredients to a slow cooker, cover with a lid and cook for 6-8 hours on low. Once cooked, remove the lid and stir. Adjust the taste with a bit of additional salt, honey, or vinegar, if you like. Serve topped with chopped avocado, cilantro and fresh onion or scallions.