You'll probably see more than one of my posts about veggies start with "when I was a kid, I hated…" whatever veggie I'm cooking that day. It's true: I was a picky kid. I didn't eat lettuce until I was about 14. And forget broccoli, carrots (still not the biggest fan) or green beans. But aside from living and eating more healthy, Paleo has also brought a newfound appreciation of veggies to my home.
I've long since given up my picky childhood ways, but Paleo has actually helped me learn to crave vegetables, and this recipe is a perfect example. It's a stupid-simple rule of thumb, really: something taste bland? Add garlic, olive oil, and bacon! You really can't go wrong with this combo. And we add the red wine vinegar because when you're cooking with fat (the bacon, that is), it's good to have a bit of acid (the vinegar) to balance it out for your taste buds.
My Great Uncle Frank used to tease me about eating green beans – excuse me – NOT eating green beans. He simply couldn't fathom why I wouldn't love these little bright green pods of goodness. From about the time I was three, well into my teenage years, every time we talked he would ask me, "do you like green beans yet?"
My answer was always the same: "Ugh! No! They're horrible!" He would sigh and say, "well, maybe next time." I was always a little embarrassed. I wanted to like more veggies. I just didn't. I think he was more amused than anything, mostly because he knew it got under my skin.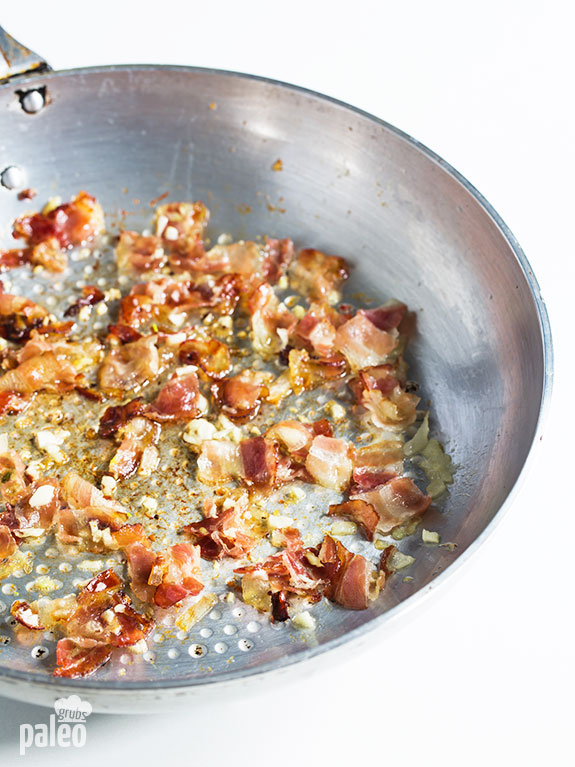 So now every time I make this side dish – one of my favorites, especially when I'm cooking beef or chicken – I think of Great Uncle Frank. And you know what I'd tell him? I'd say, "yeah, I like green beans now. But if you hadn't tried to sell me on mushy canned gray-green sort-of-vegetables and instead had cooked them fresh like I do now, maybe I would have liked them years ago!" And of course, add the bacon, garlic, and olive oil…well, you're bound to have a winner then.
The point here is that you can bring great flavors to the party in Paleo – no denying yourself rich, tasty food with big intense flavors. These are the flavors that make eating worthwhile. I don't want to just eat boiled chicken and steamed broccoli my whole life, no matter how healthy that may be. I want to be healthy and enjoy my food.
And that's the lesson with this dish: healthy, Paleo, full of amazing flavors. And I don't know about you, but big flavors are going to make me more likely to eat my veggies, even though I'm not the little picky kid I used to be.
So, Uncle Frank, this recipe is for you. I'm proud to say that, yes, I DO like green beans now!
---
-
2 pounds green beans, ends trimmed and longer beans snapped in half
4 ounces bacon, chopped
2 garlic cloves, minced
4 cups water
3 tbsp olive oil
1 1/3 tbsp red wine vinegar
salt, pepper to taste
In a large pot add the beans, 1/3 tablespoon of red wine vinegar and water, and cover and bring to boil.
Reduce the heat to low and simmer for 45 - 60 minutes or until done. Drain the beans and set aside.
In the same pot brown and crisp bacon. Add the garlic and cook for 30 seconds. Sprinkle the beans with bacon and garlic.
Drizzle with olive oil and red wine vinegar, season with salt and pepper to taste and gently toss.