Recipe Lists
22 Heavenly Paleo Souffle Recipes (Savory and Sweet)
Souffle has a reputation for being finicky and difficult to make. But it doesn't have to be! Try these paleo-friendly soufflé recipes with no sugar or grains, and usually minimal natural sweeteners. There are some savory and some sweet, but all are simple to make and will be a perfect breakfast, dessert, or dinner side dish your family will love.

---
1. Berry Pancake Souffle
With the natural sweetness of berries (whatever your favorites are), this soufflé doesn't need any added sweetener. It only needs grassfed butter or ghee, eggs, vanilla extract, and a touch of cinnamon for a delicious breakfast that takes only a few minutes to make.
---

Photo: Downshiftology
2. Raspberry Souffle
Just look at how this beautiful soufflé rises up out of the ramekin with pure perfection! The flavor is sweet and delicate with bright raspberries. This is maple sugar-sweetened with a touch of honey and arrowroot powder to make the texture work.
---
3. Butternut Squash Souffle
This sweet soufflé is spiced with ground cinnamon and vanilla extract and sweetened with a bit of honey. You'll need lots of butternut squash for this recipe, so it's a great way to use up those squashes you've had hanging out in your pantry or cool storage since the fall.
---
4. Strawberry Souffle Omelet
This strawberry breakfast treat is made with vanilla and almond extract for a decadent and sophisticated flavor, sweetened with organic coconut sugar. Use lots of fresh sliced strawberries and sprinkle sliced toasted almonds over the top!
---
5. Paleo Apple Pie Souffle
This one tasted just like your grandmother's apple pie, but without all the grains and refined sugars. You've got an apple bottom with cinnamon, a custardy egg filling, and a fluffy meringue-like egg white topping. And this one's got no added sweetener, so it's a great light dessert or breakfast.
---

Photo: The Little Green Spoon
6. Flourless Dark Chocolate Souffle
This is one of the simplest soufflé recipes you can make with just almond milk, coconut sugar, dark chocolate, egg yolks, and egg whites. It's a great starting point if you're never made soufflé before because the ingredients are simple, and also because chocolate.
---
7. Raspberry Souffle With Molden Chocolate Center
This light soufflé is filled with bright raspberry flavors and a melty, chocolate center. For the granulated sugar substitute, try coconut sugar—maple sugar would also work well and may preserve the light pink color of the soufflé a bit better than coconut sugar.
---
8. Mini Sweet Potato Souffles
Made with sweet potato and banana, these naturally-sweet (nothing added!) desserts are packed with flavors from pecans, walnuts, or almonds, vanilla, cinnamon, and ground nutmeg with shredded coconut. And you're getting a vegetable for dessert!
---
9. Butternut Squash Souffle
The last butternut squash soufflé I showed you was a sweet version with cinnamon, and this one is savory instead. You'll just need eggs (separated), squash, coconut milk, salt, and pepper. This makes a great fall or winter side dish when you need something protein-rich.
---

Photo: Jan's Sushi Bar
10. Spinach and Chard Souffle
This soufflé is perfect as a dinner dish with fresh spinach and Swiss chard, coconut milk, onion, garlic, and nutmeg as the flavors. It's also a fun and healthy way to dress up spinach and chard if you're tired of having them sautéed or in salads. Try a soufflé for a change!
---
11. Simple Egg Souffle
If you love having eggs for breakfast but you're running out of ideas to make them fun and different than your usual omelet, give this recipe a try. You'll need lots of eggs, coconut milk, onion powder, baking powder, almond flour, sea salt, black pepper, and a cooking fat of your choice.
---
12. Souffle Frittata
Part soufflé, part frittata, this breakfast is super easy to make and is a welcome change for breakfast. It's made with butter and eggs (yum) and you can fill the recipe with your favorite frittata fillings—anything you want as long as you follow the proportions.
---
13. Carrot Souffle
This carrot soufflé is a great dinner side dish to get your veggies in along with some protein from the eggs. The flavor combination is awesome, with savory onion as well as cinnamon and vanilla. You've never had anything like this delicious soufflé before!
---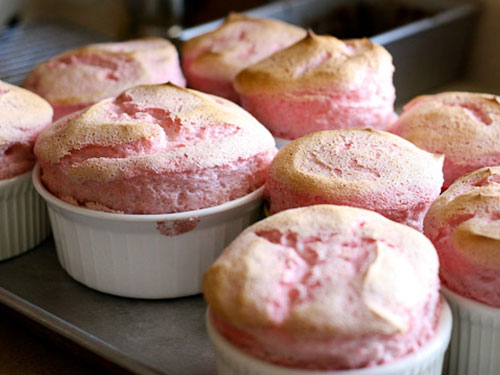 Photo: Perry's Plate
14. Strawberry Pudding Souffle
These treats are soft and light as a cloud, with a delicious strawberry flavor you won't be able to resist. You can make them with either fresh or frozen (thawed) strawberries. Fresh lemon juice adds some spunk to the flavor and raw honey is the only sweetener.
---
15. Spinach and Bacon Souffle
You knew there'd be a bacon soufflé, didn't you? Here it is! You'll need bacon, ghee, tapioca flour, nutritional yeast (for a cheesy flavor without dairy), almond milk, sea salt, black pepper, eggs yolks and whites, and baby spinach. This is a super healthy soufflé that's packed full of bacon flavor.
---
16. Easy Paleo Chocolate Souffle
Here's another take on chocolate soufflé, and this one is full of healthy fats like coconut oil, and coconut milk. The honey sweetener is optional, because the dark chocolate will be a bit sweetened already. This could be a delicious low-sugar dessert if you want it to be!
---
17. Thanksgiving Savory Bacon Butternut Squash Souffle
While this soufflé would be perfect as a side dish for a Thanksgiving dinner, you can enjoy it whenever you want! Make it with butternut squash, eggs, bacon, bacon fat (this one infuse the whole soufflé with bacon flavor), garlic, shallots, fresh thyme, sage, salt, and pepper.
---

Photo: Jane's Healthy Kitchen
18. Paleo Dark Chocolate Souffle
Dark chocolate soufflé desserts are like a beautiful marriage of cake and mousse. This version is decadent with coconut milk, coconut butter, raw honey, pure cacao powder, vanilla, and a touch of coffee powder, which really brings out the chocolate flavor.
---
19. Spinach Souffle
I can't get over how beautiful this deep, green soufflé is. It has a light flavor with fresh spinach, coconut milk, salt, pepper, garlic powder, and nutmeg. It's also incredibly easy to make! Serve this as a side dish with any meal of the day to help you get in your greens.
---
20. Paleo Dark Chocolate Souffles For Two
Looking for a great date night dessert with chocolate and amazing flavors? Here's your winner! This soufflé for two has dark chocolate, maple extract, coconut milk, maple syrup, cinnamon, and extra delicious toppings like extra maple syrup, whipped coconut cream, and raspberries.
---
21. Meyer Lemon Custard Souffle
For this recipe, you'll just need to replace the evaporated cane juice with either coconut sugar or maple sugar. The rest is easy! Just an eye, Meyer lemon, a touch of arrowroot starch, and some butter. These light and springy soufflé custards are full of lemon flavor.
---

Photo: Primally Inspired
22. Breakfast Fruit Souffle
Make this easy soufflé with eggs, cinnamon, coconut oil, vanilla, and maple syrup. You can top it with whatever fruits you like to have for breakfast—I'd go with a mixture of berries like strawberries, raspberries, blueberries, and blackberries. Maybe some banana, too!