How to Make Slow Cooker Stuffed Pepper Soup
It's super easy to make this home style comfort food. You'll just need to do a little bit of prep work beforehand, and then you can simply add everything into your slow cooker and leave it to work its magic.
Prepare the vegetables and herbs. Chop the onion. Mince the garlic cloves. Chop up the large bell peppers. Chop up the fresh parsley and set aside a bit for garnishment.
Combine the ingredients. Add the olive oil, chopped onion, minced garlic cloves, chopped bell peppers, oregano, paprika, homemade beef stock, one can of diced tomato (with basil), chopped parsley, and salt and black pepper to taste to a slow cooker and stir to combine.
Cook. Cover the slow cooker with a lid and cook on high for 4 hours or on low for 6 hours.
Serve. Serve warm.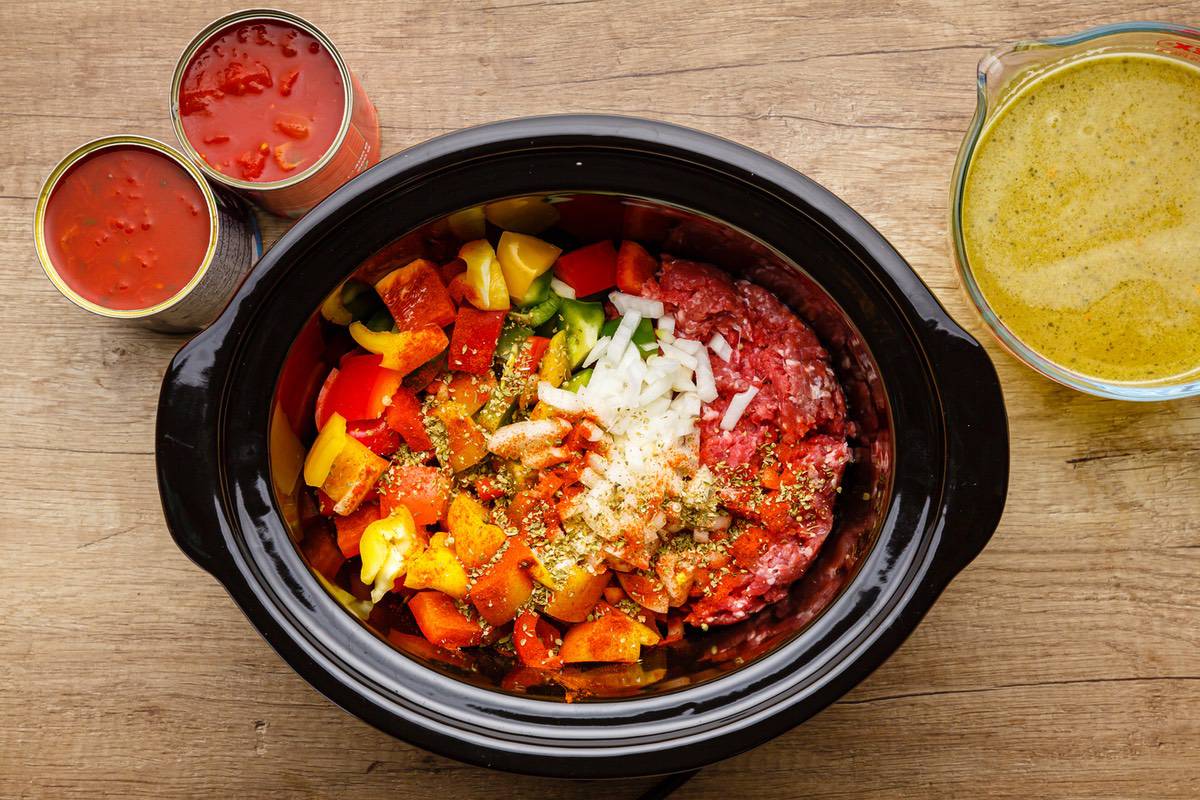 2 Great Reasons You Should Use a Slow Cooker for Soup
Buying a slow cooker was easily one of the best investments I've ever made for my kitchen. As a matter of fact, here are 2 great reasons why you should be using a slow cooker to make your paleo soups:
Perfectly tender ingredients. The process of slow cooking will end up producing perfectly tender cuts of meat and veggies when you're making your soups (and stews too).
Brings out the flavors in a big way. Slow cooking your soups for lengthy periods of time really does go a long way towards bringing out more of the flavor in your ingredients. I've never had soups that are more flavorful than what my slow cooker can make!
Can I Use an Instant Pot Instead of a Slow Cooker?
If you have an Instant Pot then you'll be happy to know that it works just as well as a slow cooker for making paleo-friendly soup recipes. As a matter of fact, here are 3 of our best Instant Pot soup recipes you can try out if you enjoyed this soup:
Can I Freeze Stuffed Pepper Soup for Later?
If you want to freeze any leftover stuffed pepper soup, you'll first want to make sure that it's completely cooled. Then pour however much you have left into a heavy duty freezer-safe container.
You'll be able to keep this soup frozen like this for up to 3 months.
How to Reheat Stuffed Pepper Soup
Many people think that leftover soup tastes even better after a day or two, especially if it's reheated in a slow cooker. With that in mind, I would definitely recommend reheating this soup in your slow cooker as well.
If you're in a hurry to reheat it though, you can just as easily microwave the soup or warm it up in a pot on your stove top.
(You may also like: Easy Ground Beef Stuffed Peppers)
---
1 tbsp olive oil
1 onion, chopped
2 garlic cloves, minced
3 large bell peppers, chopped
2 tsp oregano
1 tsp paprika
4 cups homemade beef stock
2 (14 oz) can diced tomato with basil
4 tbsp fresh chopped parsley plus extra for serving
salt and black pepper to taste
Add all the ingredients to a slow cooker and stir to combine.
Cover with a lid.
Cook on high for 4 hour or low for 6 hours.
Serve warm.