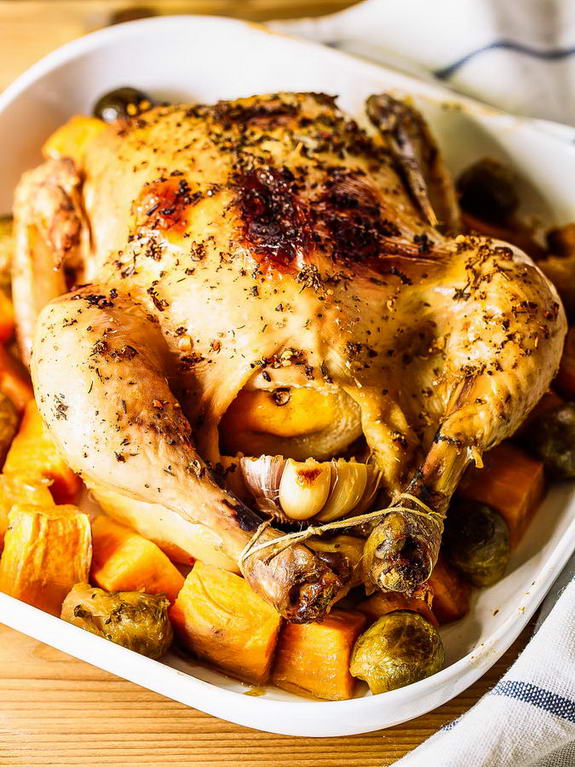 Chicken is one of my favorite proteins and I think I'm not alone in that. I like chicken because its light flavor allows you to infuse nearly any flavor you're in the mood for and to pair it with nearly any vegetable. It's versatile like that. You can also cook chicken in a variety of ways, which make it highly adaptable to your desired cuisine and your available time.
But I'll tell you why using the slow cooker is my favorite way to prepare chicken. When I was little, my mom used to bake chicken breasts a lot, often as part of a casserole. Rice, a can of soup, and a few chicken breasts, all together, baked to…well, I wouldn't exactly say "baked to perfection." See, that chicken was often kind of mushy and dried out. And leftovers were even worse. And frankly, the chicken never had any taste – it didn't absorb the flavors it baked in. Inevitably, my dad and I would dump tons of salt on that poor, dried out chicken. For that reason, it took me years before I could actually say I liked – rather than merely tolerated – chicken.
And that's why once I discovered slow cooker chicken, it changed my chicken world. It does two things my mom's baked chicken could've only aspired to: 1) the long cooking time at a low temperature assures that the meat will be infused with subtle flavor. Every bite is tasty. And 2) the chicken stays unbelievably moist. Since the slow cooker traps all of the moisture in the cooking vessel, that moisture never evaporates. It stays snuggly inside the chicken, which helps keep the flavor in there too.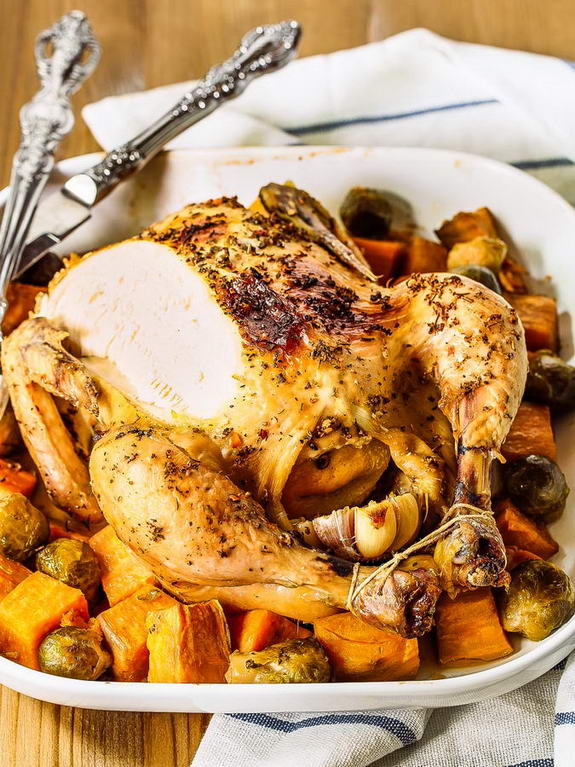 Now I want to quickly chat about a few particulars in this recipe. This recipe calls for 8 garlic cloves, smashed. They go inside the chicken, with the lemon, which means they are there for flavor and not for eating. So, smashing your garlic becomes a simple task. Don't even bother peeling the garlic skin off; since you're not going to eat the garlic cloves, that doesn't matter. Then, take a big knife – like one you'd use to chop veggies or slice the chicken in preparation for serving. Lay the blade flat over the garlic clove and with your free hand, make a fist and bring it down firmly on top of the flat side of the blade on top of the garlic, as if you're pounding the table in anger. In fact, this is an excellent way to get out your frustrations and cook at the same time! Then, check out your handy work. The garlic skin and the garlic itself should be split open and flat. If not, you didn't slam you weren't angry enough so do it again with a little more passion. Then stuff that smashed clove right inside the chicken. Super simple!
And about those Brussels sprouts… if you're not a fan, you can skip them. But I would highly recommend that if you've ever wanted to give them a try, now is the time to do it. They will be super flavorful because they will absorb all the flavors you've been cooking with and then the final 4 – 6 minute broiling will allow them to crisp up at the edges – just make sure they are all directly exposed to the heat and not being hidden under the chicken or any sweet potato chunks. I promise you – you'll find it hard to reject a Brussels sprout when it's been cooked this way!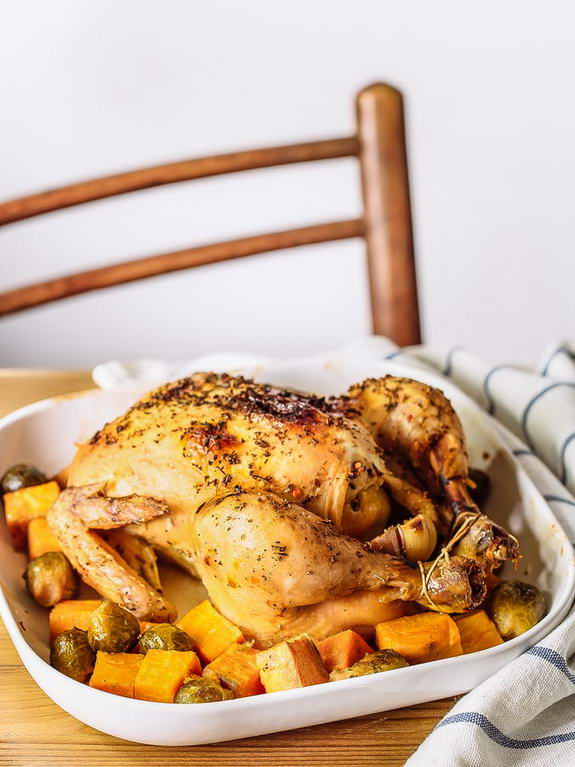 So get that slow cooker out (if you've cooked with me much, it's probably close at hand!) and get your chicken cooking in and soaking up the wonderful flavors of lemon, rosemary, and garlic. Invite a few friends over and enjoy a hearty, healthy, delicious meal, any time of the year.
(Make this next: Slow Cooker Chicken and Gravy)
---
Ingredients

3 pounds whole chicken, neck and gizzards removed

For the rub

1 lemon
1/2 tsp freshly ground pepper
2 garlic cloves, minced
2 tsp salt
1/8 tsp red pepper flakes
½ tsp chopped fresh rosemary or ¼ tsp dried rosemary

Other ingredients

2 large sweet potatoes, cut into 1'' cubes
1 cup Brussels sprouts (optional)
8 garlic cloves, smashed
2 tbsp olive oil
¼ tsp salt
1/8 tsp red pepper flakes
Rinse the chicken inside and out, and pat dry with paper towels.
Zest the lemon.
To make the rub, mix the lemon zest with minced garlic, rosemary, ground pepper, red pepper flakes and salt.
Prick the lemon with a fork and place it inside the chicken cavity with 4 smashed garlic cloves.
Tie the chicken legs together with kitchen twine.
Rub the chicken skin with 1 tablespoon oil, then with lemon-black pepper mixture.
In a bowl mix the sweet potatoes, Brussels sprouts (if using), remaining olive oil and garlic cloves, red pepper flakes and salt and add to a slow cooker.
Lay the chicken inside the slow cooker on top of the vegetables.
Cover with a lid and cook on low for 4-6 hours.
Remove the chicken carefully and place in an oven safe dish.
Arrange the sweet potatoes and Brussels sprouts around the chicken and broil for 4 to 6 minutes or until the skin is crisp.
Serve immediately.