---
Orange chicken is not usually prepared with healthy ingredients. The Asian-inspired dish is one of my favorite comfort foods, so I went looking for an alternative method to prepare it. Drumsticks are definitely allowed on the Paleo diet, it was just a matter of finding more nutritious toppings. In this recipe we avoid any kind of sugary sauce loaded with preservatives. Instead, natural ingredients are combined in the slow cooker to make a delicious, sticky, and (most importantly) healthy sauce.
Cooking drumsticks in the slow cooker is a simple and effective way to make them. You could of course use thighs or wings instead of drumsticks, but in my opinion drumsticks are more fun to eat. Although it may seem like a long list of ingredients for the sauce, the flavor turns out rich and citrusy. Once everything is in the slow cooker you can go about your own business for a few hours and forget about it.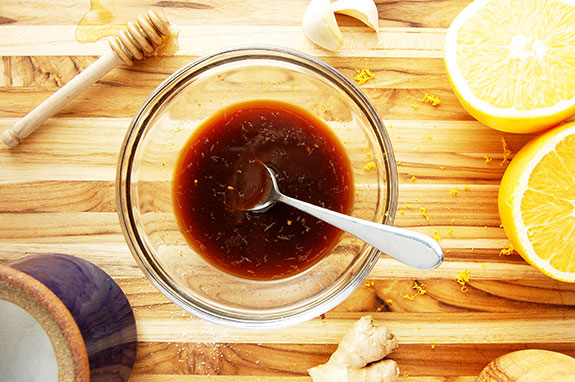 Once the chicken is done cooking, there is just one more step. In order to get the thick, sticky sauce, transfer the slow cooker liquid to a small saucepan and simmer it to reduce. Once the sauce has become syrupy, it can be drizzled over the drumsticks.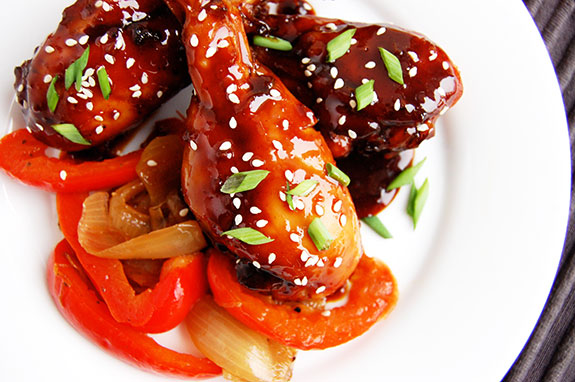 Chicken drumsticks are often enjoyed by many, but are usually coated in an unhealthy sauce or deep-fried. Instead, enjoy a popular finger food with this healthier Paleo-friendly version of classic orange chicken. This recipe is a nice alternative to regular barbecue chicken, instead using a honey-sweetened sauce with orange and garlic. It's finger-licking, lip-smacking good.
---
3 lbs. chicken drumsticks
Salt and pepper
1/3 cup orange juice
1/4 cup honey
3 cloves garlic, minced
1-inch piece fresh ginger, peeled and grated
1 tbsp coconut aminos
2 tsp orange zest
1/2 tbsp balsamic vinegar
1/2 tbsp Sriracha (add more for additional kick)
1 tsp tomato paste
1 tbsp sesame seeds
Green onions, for garnish
Combine all of the ingredients except the chicken in a medium bowl along with half a teaspoon of salt. Whisk to combine.
Season the drumsticks with salt and pepper and place into the slow cooker. Pour the sauce over the chicken and stir to coat. Cover and cook on low heat for 4 hours, or until the chicken is cooked through.
Remove the drumsticks to a plate. Transfer the liquid from the slow cooker to a small saucepan. Bring to a simmer and cook for 10-15 minutes, until syrupy. Pour over the drumsticks to serve. Garnish with green onions and sesame seeds.