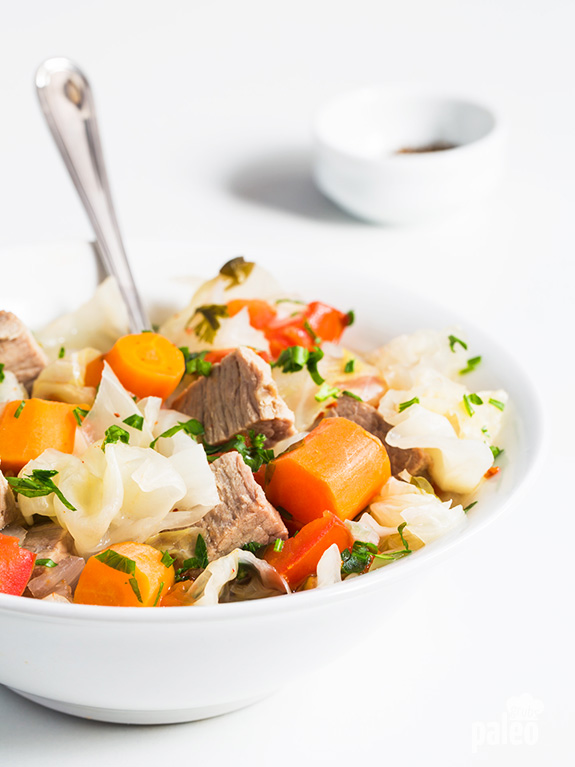 Summer is my favorite season. I like it hot. Really hot. But I don't exactly live in a climate that gives me summer year round – or even most of the year. I live in a place where fall comes suddenly and before you know it, the days are darker than they were and you just want to cuddle up under a blanket and watch movies. Or at least I do. Plus, I have to cuddle up under blankets because I refuse to wear big bulky sweaters.
So when it starts to get dark earlier and earlier and the wind gets a big chilly and the leaves start to fall, I turn to my steadfast friend in the kitchen: the slow cooker.
I love my slow cooker because recipes usually are pretty easy to put together, but they cook for hours and fill my home with wonderful aromas, like someone has been working all day in the kitchen to feed me.
I particularly love recipes with beef in the slow cooker, like this one. You can't get beef more tender than when you cook it in a slow cooker. I always prefer cooking longer on low, because it makes the meat that much more fall-apart-on-your-fork luscious.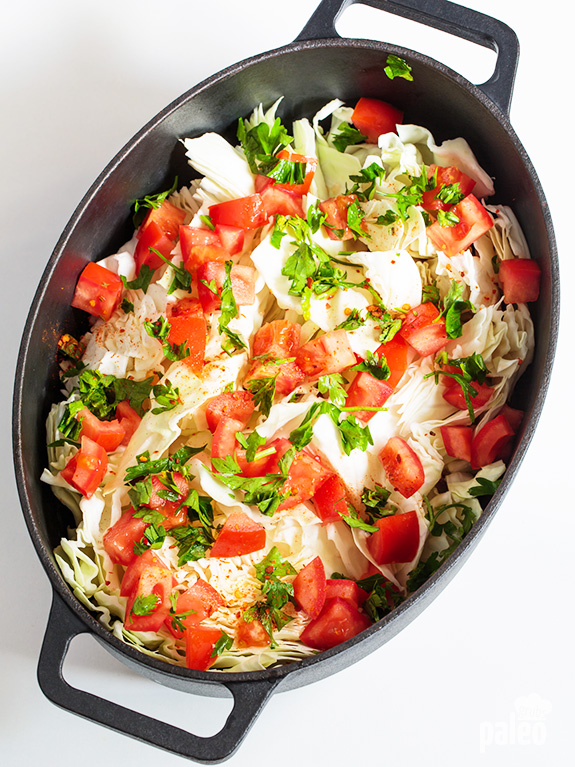 Now I know what some of you are thinking…cabbage? Cooked? But if you don't know already, cabbage takes on the flavor of whatever it's cooking in. It becomes tender and juicy, just like everything else in a slow cooker. And it's the perfect compliment to the clove, garlic, and paprika flavors in this stew.
As for the pickling spice, I make my own in a larger batch and store it in a mason jar with a tight screw top lid. If you'd like to do the same, it is pretty easy to find recipes online – every recipe will be a touch different, and that's ok – or you can of course hunt some down at your local grocery store. Obviously, it's great for a lot of things other than just pickling and the flavors tend to go especially well with beef. But if you have extra and want to give pickling a try, I highly recommend that too. In fact, a few homemade beets or beans would be great on top of this stew.
Even though fall isn't my favorite season, some of the food of fall is my favorite, maybe because it does so much to make me feel happy when it's getting darker and colder out there. And my slow cooker is my favorite way to get all those flavors blended together. So get your slow cooker out and fill your home with cozy aromas and hearty, healthy beef stew.
Other Slow Cooker Meals You May Like…
Slow Cooker Chicken Stroganoff
Slow Cooker Chicken and Gravy
Slow Cooker Chicken Enchilada Soup
---
1 medium head of cabbage, sliced
2 pounds chuck roast, cut into 1-inch pieces
6 medium carrots, cut into 1 inch pieces
1 medium onion, chopped
2 garlic cloves, minced
2 medium tomatoes, chopped
1 tsp salt
½ tsp black pepper
1 tsp paprika
½ tsp chili flakes
1 tbsp Paleo approved store-bought or homemade pickling spice
2 cups homemade beef stock or water
2 tbsp chopped fresh parsley, plus extra for garnishing
In a large Dutch oven or slow cooker place the beef cubes, onion, garlic and carrots. Top with sliced cabbage, tomato and parsley.
In a small bowl combine the beef soup, salt, pepper, paprika, chili flakes and pickling spice. Pour over the meat and veggies.
Cover with a lid and cook for 6-8 hours on low or 4 hours on high. Remove the lid, stir and adjust the taste with more salt if necessary. Garnish with chopped parsley and serve.