---
First, get the sweet potatoes in the oven to start baking. Depending on their size, the potatoes can take 45 minutes to an hour to get soft. I usually estimate half a sweet potato for each serving. Paired together with the hearty meat, it becomes quite filling.
Make the sloppy joes while the sweet potatoes are baking. Sauté the onions and bell peppers first, and then brown the meat. Ground turkey would work just as well as ground beef in this recipe. Then add in the sauce ingredients.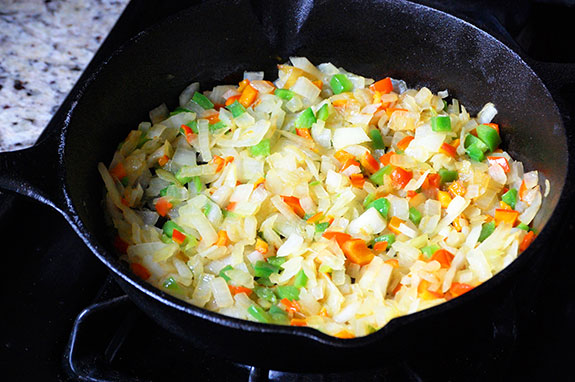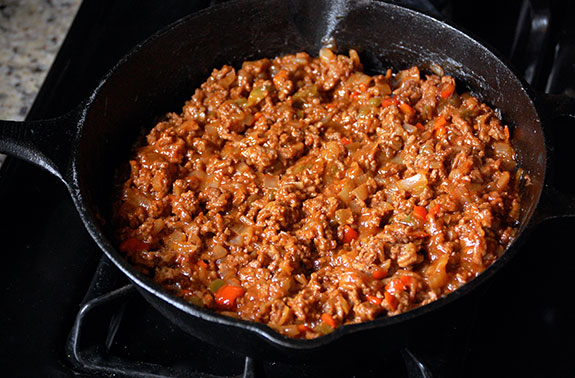 The base of the sloppy joe sauce is ketchup, although tomato sauce can also be used (it just won't be as thick). Start with one cup, and then add more at the end of the recipe if you would like it to be saucier. Spicy mustard and apple cider vinegar round out the sauce, as well as a little bit of honey for sweetness. The honey is optional, but I personally love slightly sweet sloppy joes.
Make sure to taste the sloppy joe mixture as it cooks to see if you would like more mustard or honey, or if it needs a dash more of salt. You can keep the meat mixture warm while waiting for the sweet potatoes to finish baking. Serve them up by spooning the sloppy joe mixture over the halved sweet potatoes. It's still quite satisfyingly messy, and definitely delicious.
---
2 large sweet potatoes
1 tbsp extra virgin olive oil
1 medium onion, finely chopped
1/2 red bell pepper, finely diced
1/2 green bell pepper, finely diced
1 lb. ground beef
1-2 cups Paleo ketchup
2 tbsp Palo spicy mustard
1 tbsp honey
1 tbsp apple cider vinegar
1/4 cup water
Salt and pepper, to taste
Preheat the oven to 375 degrees F. Poke the sweet potatoes with a fork and place onto a baking sheet. Bake for 50 minutes or until soft. Remove from the oven and let cool. Cut in half.
Meanwhile, heat the olive oil in a large skillet over medium heat. Add the onions with a pinch of salt and sauté for 4-5 minutes, until soft. Stir in the bell peppers and cook for another 2 minutes. Add the ground beef and cook until browned, stirring regularly.
Stir in the ketchup, mustard, honey, and vinegar. Add the water and bring to a low simmer, then cover and cook for 12-15 minutes until the liquid is mostly absorbed. Adjust salt and pepper to taste, and add more ketchup or mustard as necessary. Spoon over the sweet potato halves to serve.