There's a lot to say for a warm cup of hot chocolate at just the right moment. And now, with this Paleo version of hot chocolate, you can relive all those special hot chocolate moments and know that you're living a healthier lifestyle at the same time. This simple hot cocoa may be simple, but it has all the flavor and creaminess you expect in a cup of hot chocolate.
Every time I make myself a steaming mug of chocolatey goodness, I remember a particular Sunday night my senior year of high school. And it makes me feel all warm and happy inside, because that's what hot chocolate is supposed to do, right?
It had snowed all day, probably a few feet of snow. Other than that, it was an average Sunday night of finishing up homework and planning to get to bed on time. But then one of my friends called: "let's go sledding!" To my surprise, even though it was after dark on a school night, my parents, and the parents of about 7 or 8 of my best friends, agreed to let us go out.
So we all met at a local sledding hill. Of course, it was dark, and the little kids were all gone… so we became the little kids. Running up the hill and flinging ourselves down and piling up at the bottom, run after run. It was just pure, simple fun.
Once we got cold and tired, my friend Jason, who lived across the street from the sledding hill, led us back to his house. Jason was the youngest of, like, a billion kids, so his mom had the parenting thing down pat. We tumbled into his house, tugged off our boots, snow pants, and wet hats and gloves. The lights in the house were all dimmed – it was getting late – but his mom had already put the hot chocolate on the stove.
Now when I make my hot chocolate, I make it differently than Jason's mom made that night. For starters, I use almond or coconut milk and stay away from the cow's milk. Also, instead of a hot chocolate mix that is made with processed chocolate and white sugar, I use unsweetened cocoa powder or raw cacao powder and a bit of honey to sweeten it up.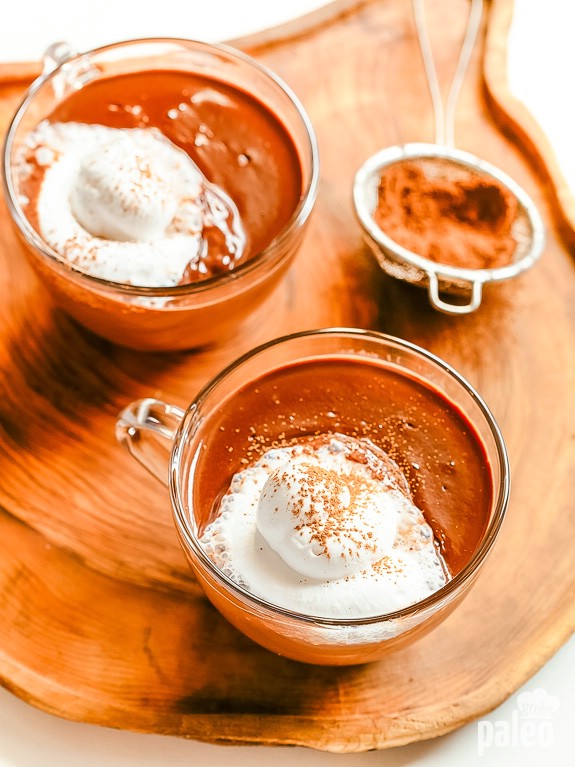 The result is a richer, darker chocolate flavor, with just the right bit of sweetness. And l love to had a dash of cinnamon. It gives just the right hint of another flavor to make the end result truly delicious. But Jason's mom's hot chocolate was a sacrosanct recipe: that mug of hot chocolate was about a lot more than the ingredients.
We sat around Jason's kitchen table, the lights low, sipping on our hot chocolate for maybe an hour or so before we all finally headed home. Maybe it stands out in my mind because it feels like one of the last times I was truly just a kid and so much was about to change. But every time I have a cup of hot chocolate, it takes me back to Jason's kitchen after a night of sledding with my friends.
Now I can relive that memory anytime I want with a cup of Paleo hot cocoa.
(Make this next: Warming and Comforting Hot Toddy)
---
2 cups almond or coconut milk
3 tbsp raw cacao powder plus extra for dusting
2 tbsp honey
pinch of ground cinnamon
whipped coconut cream, to serve (optional)
Whisk together the cacao powder, cinnamon and 4 tablespoons of milk in a small saucepan.
Whisk in the rest of milk and honey.
Place the saucepan over medium heat and bring to a simmer, whisking occasionally.
To serve, pour into mugs, top with a large dollop of the whipped coconut cream (if using) and dust with cocoa powder.