---
Directions for the cauliflower rice can be found here. You can either use leftover cauliflower rice, or you can make it first and then set it aside while the remaining ingredients cook. Shrimp fried rice is just one of the many uses I have found for cauliflower rice, which is, dare I say, much tastier than regular old rice. This recipe for fried rice also doesn't need any sodium-laden soy sauce. Instead, a plethora of diced veggies are added to the cauliflower rice and shrimp to make a more nutritious and balanced meal.
The vegetables are cooked first for this recipe, and then the shrimp is added into the pan. And don't forget of course to add the scrambled egg at the end. I almost ate the entire skillet of this the first time that I made it, but in the end I had to share a little. So the serving suggestion is really just a suggestion; it depends how hungry you are. Or if you're smart you'll make a double batch so that you can have it again the next day.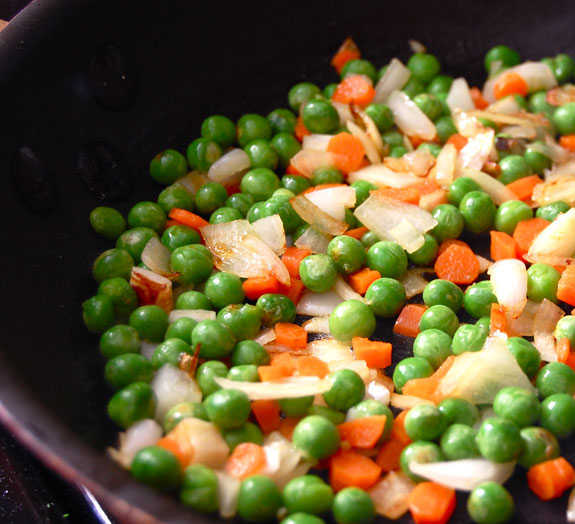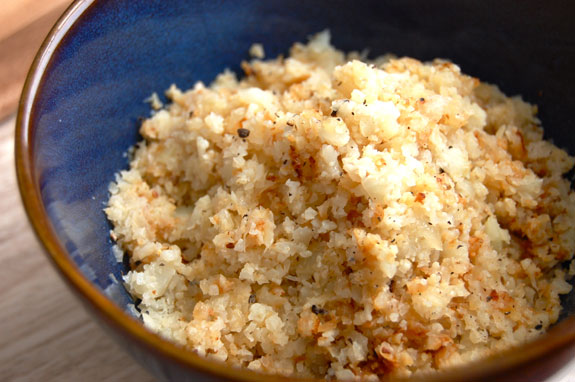 Cleaning up is a breeze when everything is cooked together like in this dish. Dinner on the table in twenty minutes, and a very tasty one at that.
---
1 tbsp coconut oil
1 cup white onion, finely chopped
2 cloves garlic, minced
8 oz. shrimp, peeled and deveined
1 medium carrot, chopped
1/2 cup peas
1/4 cup red bell pepper, finely chopped
2 cups cooked cauliflower rice
2 eggs, beaten
Salt and pepper, to taste
Heat a wok or large pan over medium-high heat. Melt the coconut oil and add the onion and garlic to the pan. Cook for 3-4 minutes until the onion starts to soften. Add the shrimp and cook for 1 minute.
Add the carrot, peas, and bell pepper to the pan. Cook for 3-4 minutes, and then stir in the cauliflower rice. Clear a circle in the center of the pan and pour in the beaten eggs. Stir to scramble the eggs and then combine with the other ingredients. Season with salt and pepper to taste.