---
I have made another version of Paleo alfredo sauce with pureed cauliflower, but I wanted to come up with something lighter and less time-consuming than that attempt. Both versions taste very good, but to accompany seafood and zucchini noodles I definitely prefer this coconut cream alfredo. Cauliflower alfredo is better served with chicken and spaghetti squash.
To create the coconut cream, I refrigerated two 14-ounce cans of full-fat coconut milk overnight. After opening the cans I scooped out the top part that had thickened into cream. I needed the cream from two cans in order to get 1 heaping cup. The leftover watery coconut milk in the cans was incorporated into a smoothie.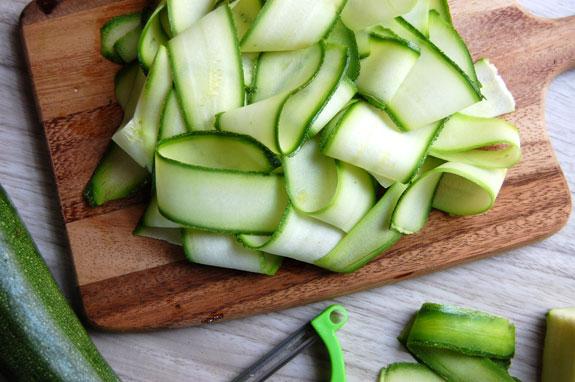 For this recipe I list several different kinds of seafood because I used Trader Joes seafood blend. A new Trader Joes store just opened four blocks from my apartment, and I cannot describe how happy it has made this girl. Free samples all day! Back to the recipe though, the seafood blend provides a little variety, which I like, but you can also use only shrimp, or calamari rings, or scallops, in the recipe instead of all three.
The seafood is simmered with the coconut cream and ghee, and then removed from the pan so that it does not overcook. You want to avoid overcooked seafood, especially scallops, because they can become tough or chewy. After spooning out the seafood to rest in a separate bowl, the alfredo sauce is simmered for 15-20 minutes in order to reduce and thicken. Give the sauce a taste while it reduces to see whether it needs more salt or herbs, and adjust accordingly.
While you are waiting for the sauce to simmer, use the time to grab a peeler and slice some zucchini into ribbon-like noodles. Then all that is left to do is add the seafood back into the sauce, and spoon everything over the noodles to serve up a deliciously creamy dinner.
---
1/2 medium onion, diced
2 tbsp olive oil
6 cloves garlic, minced
1 cup coconut cream
1 cup small scallops, uncooked
1 cup medium shrimp, tails removed
1 cup calamari rings
2 tbsp ghee
1 tbsp fresh parsley, chopped
2 tsp fresh basil, chopped
1 tsp dried oregano
1/2 tsp salt
2 large zucchini
Freshly ground pepper, to taste
Heat the olive oil in a pan over medium-low heat. Add the onions and sauté for 4-5 minutes. Add the garlic and cook for an additional minute.
Mix in the coconut cream, seafood, and ghee. Simmer for 6-7 minutes. Remove the seafood with a slotted spoon to prevent it from overcooking. Reduce the cream mixture to simmer and add the herbs and salt. Cook for about 15-20 minutes, until the sauce reduces by half.
Meanwhile, use a peeler to slice the zucchini into thin ribbons and set aside.
When the sauce is reduced, add the seafood back into the pan and remove from heat. Spoon over zucchini noodles to serve.