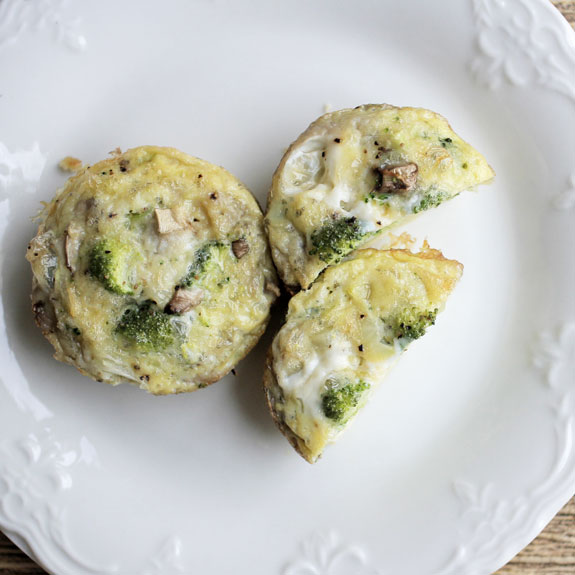 ---
The only ingredients I had on hand were vegetables, but you could also add in your favorite meat to switch up the flavors. These are perfect eaten plain or with some homemade paleo ketchup!
They're also an easy way to get your daily dose of vegetables and use up the produce you have laying around. I just put a pinch of salt and pepper in mine, but they could easily be dressed up with some curry powder or cayenne for more of a kick. If you still need another reason to make these, they make eating eggs way more fun. Because, come on, how could you resist such a cute little egg muffin?
Packed full of protein and plenty of vitamins needed for a healthy body, one or two of these little muffins will be enough to keep you full and energized until lunchtime. You could even make multiple batches with different vegetables to mix and match the vitamins and minerals you're getting each morning. Enjoy! These just may become your new favorite breakfast.
---
8 eggs
1 cup diced broccoli
1 cup diced onion
1 cup diced mushrooms
salt and pepper, to taste
Preheat oven to 350 degrees F.
Dice all vegetables. You can add more or less of any of them, but keep the overall portion of vegetables the same for best results.
In a large mixing bowl, whisk together eggs, vegetables, salt, and pepper.
Pour mixture into a greased muffin pan, the mixture should evenly fill 8 muffin cups.
Bake 18-20 minutes, or until a toothpick inserted in the middle comes out clean.
Serve and enjoy! Leftovers can be saved in the refrigerator throughout the week.